Manchester United academy player Dillon Hoogewerf has bizarrely chosen to mock Harry Maguire with a social media post relating to Tottenham's first goal in Friday's draw. 
Steven Bergwijn handed Jose Mourinho's Spurs side the lead midway through the first-half, with Maguire receiving a fair amount of criticism for his role in the goal.
The United captain was far too easily beaten by the Dutch forward, with his lack of pace brutally exposed in the opening Premier League game after the enforced break.
Bruno Fernandes salvaged United a point at the new White Heart Lane and the unbeaten run continues ahead of a crucial home game against Sheffield United on Wednesday.
But the actions of 17-year-old striker Hoogewerf on social media have come into question as he appears to have mocked the United captain in the aftermath of the goal.
Hoogewerf, who joined United's youth setup from Ajax last summer, shared an Instagram story which included footage of a popular video where a man runs after a cyclist and falls into the road attempting to clip the bike's wheel.
The post was captioned: "What the back of Bergwijn's boost saw when he ran past Harry Maguire".
Here's a screenshot of the Instagram story shared by Hoogerwerf, which seems thoughtless and ill-considered.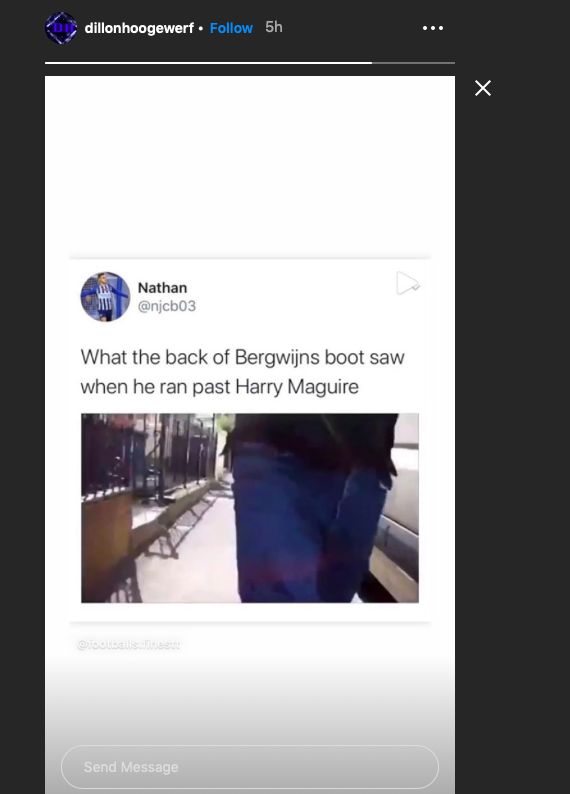 READ MORE: Manchester United youngster responds to Fred verdict and outlines main ambition