In the most difficult of times we need a bit of humour to lighten up our days.
Gary Neville has been vocal about the government during this pandemic and has even suggested that club chiefs are 'frightened' to talk about it on record.
This morning all Premier League clubs met to discuss Project Restart — and initiative with the aim to resume the domestic campaign next month. Similar plans have got the green light in Germany, but they are now seeing a rise in COVID-19 numbers.
British Prime Minster Boris Johnson addressed the media on Sunday evening and outlined that it is okay to play sport with members of your household. Although Gary Neville and brother Phil don't live together, the pair took the mick out of Johnson's quotes from yesterday's speech, as per Sky Sports News.
Neville saw the opportunity to challenge Phil to a 1v1 — exclusively shown on Sky Sports Main Event!
Former Manchester United midfielder and fellow Class of '92 member, David Beckham, also got in on the joke.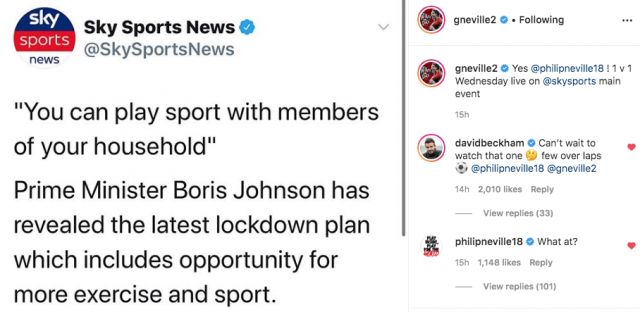 We'll have updates to those Premier League meetings throughout the week.
READ MORE: Gary Neville warns United against £20m deal to sign Ighalo
Want more United? Subscribe to Stretty News' Patreon for bonus content. Also check out the Strettycast – #1 Manchester United podcast.