Just one Manchester United player has made BBC Sport's Premier League team of the season.
As you'd expect with Liverpool dominant throughout the campaign — played up until the season was suspended amid the COVID-19 outbreak across Europe — but is a total of seven.
Seven Liverpool players in the team of the season is truly sickening stuff.
At least our Portuguese Magnifico made the cut.
This is despite Bruno Fernandes only joining United back in January — playing just five games in the Premier League since joining.
That just proves the impact he has quickly made in English football.
Fernandes is the new star and he plays for Manchester United.
I strongly believe he is set to be a big star in the Premier League and we have a player to be very excited about.
It remains to be seen if we'll see Fernandes play again this season but the Premier League is doing its utmost with their Project Restart initiative, which we discussed in detail during today's Strettycast 'Marcos Rojo's Corona Poker Classic' (available on Apple Podcasts, Spotify and in video via Patreon).
The Bundesliga is restarting next week so we'll have to wait and see how successful they are in their attempts to resume football in what they can only hope is a safe environment.
BBC's Premier League Team of the Year: Alisson; A-Arnold, Van Dijk, Soyuncu, Robertson; De Bruyne, Henderson, Fernandes; Salah, Aguero, Mane.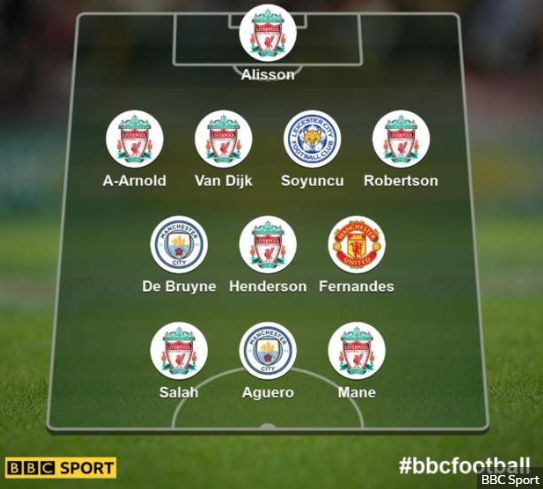 In other news, The Times are reporting that the FA would block Premier League attempts to abandon relegation.
READ MORE: The suspicions behind reports Man Utd will abandon Jadon Sancho pursuit