Offended by everything, ashamed of nothing.
Singapore government briefly launches 'Virus Vanguard' superheroes, including the greatest of all, Must Always Walk Alone Man.
The COVID-19 pandemic has led to football across Europe being suspended, with Manchester United yet to find out when their Premier League campaign will resume.
Prior to the suspension, Ole Gunnar Solskjaer's side were on an 11-game unbeaten run in all competitions, and we were confident of finishing in the top four and going all the way in the FA Cup and Europa League.
Last week, the UK government imposed an extension to the nationwide lockdown as they try to slow down the spread of the virus.
READ MORE: What Bastian Schweinsteiger did to irritate his Man Utd team-mates
In Singapore they have attempted to combat the coronavirus by launching five new superheroes to help raise awareness.
They have been named the 'Virus Vanguard' — and feature Dr Disinfector, Fake News Buster, Circuit Breaker, Care-leh Dee and our favourite Must Always Walk Alone (MAWA) Man.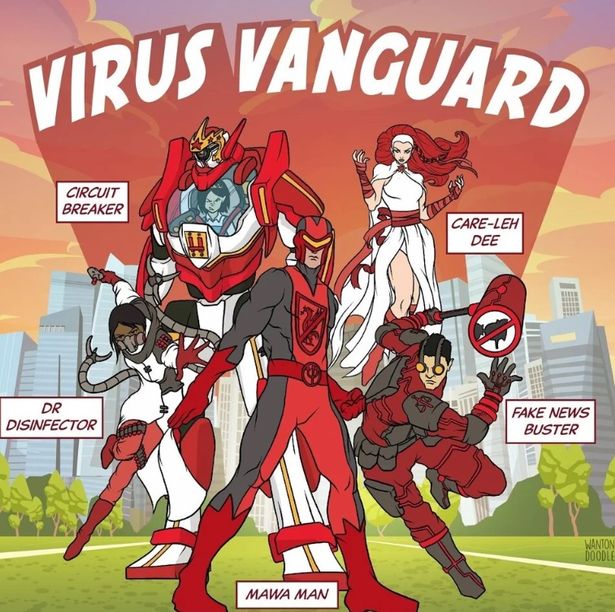 The latter appears to be making reference to Liverpool's anthem 'You'll Never Walk Alone', with reports in the media claiming MAWA Man is actually a Manchester United fan!
MAWA not only hates Liverpool, but he's an advocate of social distancing, and features a Liver Bird style image with a line through it on his chest.
Even better, Yahoo News cites details that reportedly appeared on the campaign website, saying that MAWA Man grew up in the 1980s supporting the Red Devils.
"His hatred for Liverpool so far exceeds his love for Man United that it manifested as a telekinesis power."
Moreover, his belt buckle features a pitchfork similar to the one held by the devil on the United crest.
The superheroes were revealed on Sunday after being launched on the Singapore government's website and Facebook page.
But by Monday night both posts had been removed.
"The Virus Vanguard is undergoing a review," a post read on the Singapore government's Facebook page wrote. "We have received quite a lot of feedback on the characters and we will be reviewing them. We are sorry if we offended anyone.
"As this is the first time we are exploring this content format, we appreciate your patience.
"The Virus Vanguard is a collaboration with the Band of Doodlers (BOD) to create a comic series to convey different aspects of the Circuit Breaker measures."
According to South China Morning Post, more than 500 people signed a petition against MAWA Man, despite his 'power' to enhance social distancing.
"The Liverpool supporters in Singapore unanimously condemn the character MAWA Man and request for it to be withdrawn from this campaign," reads the petition, as Liverpool fans show again they are offended by everything and ashamed of nothing.
Oh dear.