UEFA's all-time best Champions League team features just two ex-Manchester United players.
Cristiano Ronaldo and Gerard Pique both unsurprisingly make the team for their remarkable success in the competition.
Admittedly, the pair both enjoyed their sustained periods of European dominance away from Old Trafford, but were part of Sir Alex Ferguson's 2008 winning squad.
Spanish legend Pique was struggling for game time at this stage in his career which was understandable given the fact he behind Nemanja Vidic and Rio Ferdinand in the central defensive pecking order.
Meanwhile, 2008 was the year when Ronaldo established himself as the best player in world football.
The Portuguese star scored the opening goal in the final against Chelsea in Moscow.
READ MORE: Man United set example again during COVID-19 crisis with donation to local hospital
Pique was part of Pep Guardiola's Barcelona side that has been described as the best team ever build. He has won three Champions Leagues with the Catalan giants since leaving Manchester in 2008.
Ronaldo won four Champions Leagues with Real Madrid and is looking to replicate the feat before the end of his career at Juventus.
Which other former United players deserve a place in this XI Reds? Scholes? Ferdinand?
See the team below, courtesy of UEFA: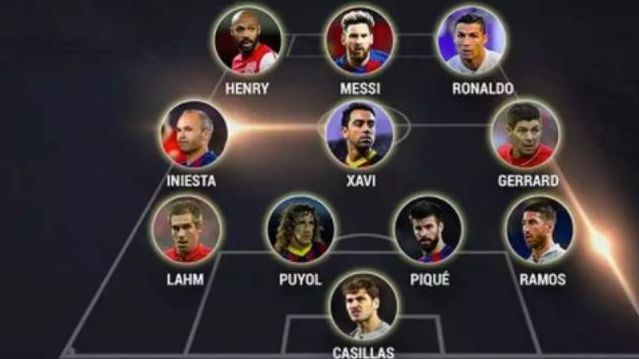 Listen to this week's podcast – Strettycast is also available on iTunes and Spotify.