Rio Ferdinand raised an interesting point about Manchester United full-back Aaron Wan-Bissaka when heaping praise on the new signing.
Wan-Bissaka has been exceptional for the Reds this season, finally filling the void in the right-back position.
While he is not yet the complete full-back, the 22-year-old is almost flawless defensively and deserves huge credit for his performances in the monumental defensive efforts in games against the likes of Manchester City and Chelsea this season.
Wan-Bissaka does not share the same attacking prowess as Liverpool's Trent Alexander-Arnold, but is far more proficient in a defensive capacity and is seldom beaten on a one-on-one.
United great Ferdinand thinks Wan-Bissaka could work well in a new role under Ole Gunnar Solskjaer.
"One-versus-one he will match you physically, he will run with you, he will slide on the floor if you're getting away from him a little bit more and he has to go into overdrive," he said in an Instagram Q and A, as quoted by Manchester Evening News.
"He can cover people, unbelievable. He could play right side of a back three at Man United if they wanted to, I think he'd be brilliant there."
READ MORE: Jack Grealish tipped to complete Man United transfer and succeed at Old Trafford
We doubt playing Wan-Bissaka will have yet been considered by Solskjaer to be played at right centre-back  given how effective he has been on the flank.
But the United manager often opts for a five-at-the-back system with split strikers against dangerous attacking sides and we feel Wan-Bissaka could perform well alongside Harry Maguire and Eric Bailly at centre-back.
If there is a criticism of Wan-Bissaka, it is is final delivery and this role would let him focus on entirely on his defence.
Natural full-back Luke Shaw has also thrived in the left centre-back position during United's impressive 11-game unbeaten run.
This would also afford room in the side for Diogo Dalot, who has been starved of first-team game time under Solskjaer this season.
Dalot's talent shouldn't be ignored and he still has a promising future at the club. The Portuguese youngster's dribbling and crossing ability would make him suited to the right-wing back role where he is allowed more freedom in attack.
Wan-Bissaka is primarily a right-back and this is likely to be a case of if it's not broke, don't fix it for Solskjaer when football returns.
But playing Wan-Bissaka in a back three is certainly something to think about, particularly if there is a central defensive injury crisis at the club.
Here's how the Reds could line-up with Wan-Bissaka in the right centre-back role.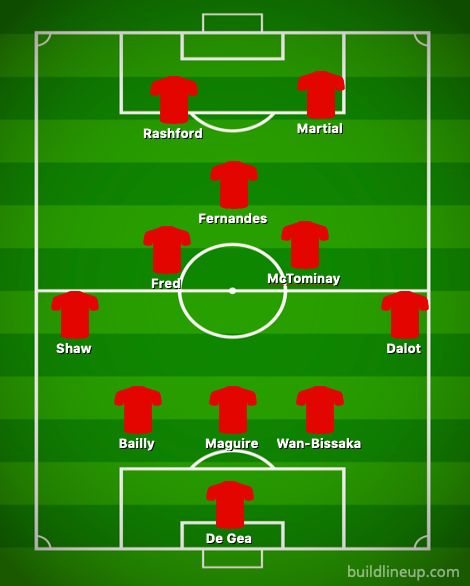 Vote for Stretty News!
Stretty News is running in this year's Football Content Awards at Tottenham's stadium. Even though the event itself is in doubt after the coronavirus outbreak, you can still cast your vote for the Premier League's Best Club Content Creator.
You can also vote via Instagram and Twitter — find out how here.