A 3-0 win over Watford ended what was a good week for Manchester United.
For the third time this season, the Red Devils won back-to-back Premier League games, and this one came after beating Chelsea 2-0 at Stamford Bridge. Ole Gunnar Solskjaer has three wins over Frank Lampard this season; his record against the top six has been good since becoming United manager.
And because of our performance against the Hornets, especially in the second-half, United dominate this week's BBC Sport team of the week with three players included: Harry Maguire, Bruno Fernandes and Anthony Martial.
READ MORE: Video: Bruno Fernandes happy family got to see his first goal for Man Utd
However, a weekend without Liverpool being in action means the league leaders have no players available for Garth Crooks this week, although they face West Ham tonight. Premier League stars Pierre-Emerick Aubameyang and Olivier Giroud feature in a front-three along with Martial.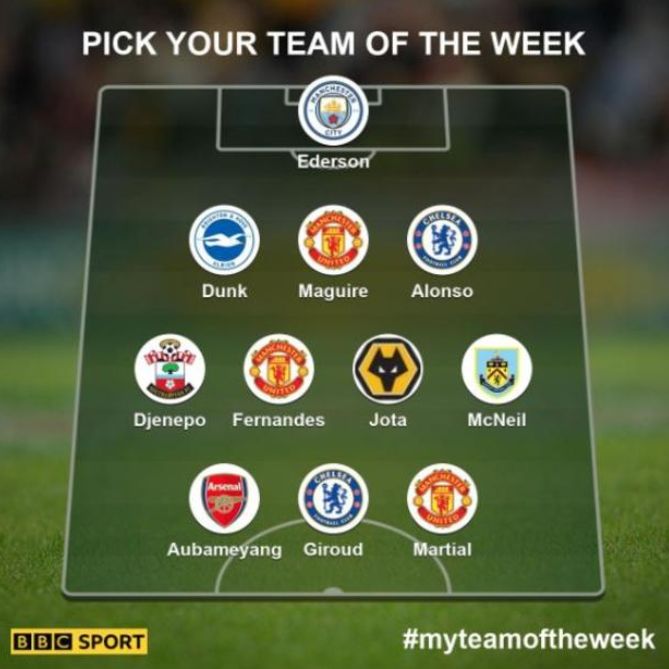 Giving reason for each player selection, this is what Crooks said about Maguire, Fernandes and Martial.
Harry Maguire
"Earlier in the week against Chelsea, Maguire was the villain after getting away with an unacceptable challenge on striker Michy Batshuayi. Against Watford he wasn't exactly the hero, but he played a pivotal role in securing a clean sheet for the Reds. Two matches, two wins, two clean sheets and six points suggest United are building from the back. I still think they need another top-class defender to play alongside Maguire if they intend to be taken seriously as a top-four team. With an in-form Martial – and Mason Greenwood and Marcus Rashford waiting to return – United have the firepower. What they need is a Virgil van Dijk-type figure alongside Maguire in defence."
Couldn't agree more and the defender United should be targeting in the summer Kalidou Koulibaly.
Bruno Fernandes
"This lad looked good on his Premier League debut, but to be taking Manchester United's penalties so early in his career at Old Trafford is a statement in itself. Since the injury to striker Rashford and the prolonged absence of midfielder Paul Pogba, United have had problems with penalty-takers, but Fernandes could be the answer. There is also a developing relationship between Fernandes and the fans, which is hardly surprising. They know a top-class player when they see one."
Looks like a proper United player. The difference he makes to the team is already clear to see.
Anthony Martial
"I was tempted to put Greenwood into my TOTW, but Martial scored a brilliant headed goal against Chelsea in midweek and produced a sensational chip to beat goalkeeper Ben Foster when the chance appeared to have gone against Watford. Make no mistake, Martial seems to have taken over from former striker Romelu Lukaku as United's whipping boy. The France forward may be slightly temperamental, but he can play. If United fans want to get the best out of him, their boo-boys need to treat him with care."