Angel Gomes has laughed off suggestions that he was sent home from Manchester United training last week.
The academy graduate was not in the squad for Man Utd's FA Cup fourth round win over Tranmere Rovers on Sunday.
His absence was followed by reports that he had been sent home from Carrington earlier in the week and dropped for the Tranmere game after arriving late for training.
READ MORE: 5 English clubs interested in taking Man Utd youngster on loan for remainder of season
But Gomes responded to the allegations from one Twitter account, @Journo_Jamie, with two laughing emojis.
— Angel Gomes (@agomes_47) January 26, 2020
'Journo Jamie' or Jamie Allen has not replied to Gomes' tweet. He just deleted his initial allegation instead — but luckily we have a screenshot of what he posted. It read: 'Angel Gomes apparently late for training so was sent straight home. No chance he was going to start against Tranmere. Funny how people moan about Ole team selections when they've no idea what goes on behind the scenes — including me!'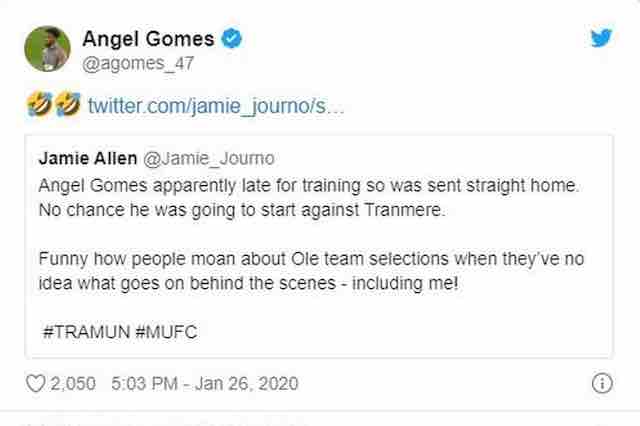 How strange is that? A so-called journalist delivering a big piece of news about a player being sent home from training for arriving late, only to go on and admit he has no idea what goes on behind the scenes!
No wonder Gomes was laughing at him.
There was no official explanation for Gomes' absence yesterday but we don't think Jamie Allen has a clue about the matter.