Manchester United picked up a morale boosting three points on Wednesday night as they produced a swashbuckling performance to see off their former manager José Mourinho and end his promising, unblemished start to life at The Lane.
Tottenham and City, at the start of the week, appeared daunting prospects, with many predicting damaging results could well have seen Ole Gunnar Solskjaer on the brink of losing his job. Dare it be said that United will head to Eastlands brimming with confidence that they can achieve a result which will inflict further misery on Pep Guardiola, yet strangely enough the misery of a thoroughly unpalatable Liverpool title win would be even stronger.
That prospect will remain grim irrespective and the truth is United need to get their own affairs in order and take care of number one.
Floundering, stuttering starts and mid-table flirtation have been familiar ground delving into United's archives: This led to discontent from a number of supporters, but one in particular stands out in United folklore in 1989. 30 years on from Pete Molyneux's legendary 'Ta ra Fergie' banner, I speak to the man himself about what made him vent his frustrations on a bedsheet, whether Sir Alex Ferguson would have survived the millennial surge of keyboard warriors and whether he sees Ole Gunnar Solskjaer being on the receiving end of more bedsheet calls to go.
You have jokingly described yourself recently as 'the pr*ck who wanted to get rid of Fergie', could you tell our younger readers what were the reasons behind your 'Ta Ra Fergie' banner specifically?
Only with the passage of time did I attain 'prick' status. When I held the banner up on 12 December 1989 against Crystal Palace there were 33,514 inside Old Trafford and the vast majority cheered and applauded the action. The noise travelled round the ground from J Stand like a line of falling dominoes. The three United fanzines at the time all wrote supportive pieces about the protest in their next issue.  I wasn't a hero or anything, I just articulated in paint on a bedsheet the feelings of most Reds at the time. Fergie still didn't win the league for another four years but from 1993 onwards with titles, doubles and The Treble fans and pundits took the view of "I wonder what happened to that pillock who wanted Fergie sacked?" Pr*ck, pillock or whatever, I just laughed it off – after all, the team I loved were back on top of the football world and that's all I'd ever wanted.
The reasons for the banner were brewing for a long time. I starting following United with a passion in 1964 after my dad took me to the Youth Cup matches that year. I was nine and those matches, with George Best starring, gave my life meaning and definition. United won the Youth Cup that year for the first time since the 'Babes and for the last time before the 'Class of 92'. I progressed to watching the first team later that year and over the next four seasons United won the league twice and became the first English team to lift the European Cup. I witnessed it all and those magical years provided me with highs that sex or chemicals rarely matched.
As young Pete grew into a teenager he dreamed of following United all over the country and abroad to see his team maintain their rightful place amongst Europe's elite. But Busby's retirement triggered a decline in our fortunes; the fall from grace was swift and painful. By 1974 United were in the Second Division and instead of travelling to the cathedrals of football in Madrid, Milan and Munich I had to find contentment at Leyton Orient, Bristol Rovers, York and Oldham. Nevertheless, I never gave up on the dream. My loyalty developed into obsession; from 1971 to 1980 I missed only one United match – competitive or friendlies – a testimonial at Aberdeen in October 1972. Managers Docherty, Sexton and Atkinson did their level best to claw United back to the peak but the 70s and 80s belonged mainly to Liverpool and it was their fans who were living my dream.
When Fergie arrived in November 1986 we'd gone 19 years without winning the English Football League. He guided us to 11th that first season, then 2nd but back to 11th in 88/89. The football was very mediocre; we scored only 45 goals in 38 league games – our third lowest since 1922. Our average home gate had dropped from the 50,000s in previous decades to an average of 36,487 in 88/89. Despite trying to be loyal and optimistic many Reds were having doubts. In August and September '89 Fergie went on an expensive shopping spree buying Webb, Ince, Pallister, Wallace and Phelan. He'd now bought a full new team since arriving. But before the autumn leaves had fallen from the trees United toiled in the bottom six, City had hammered us 5-1 and Spurs dumped us out of the League Cup 0-3 at Old Trafford. Goals were still at a premium; the football was woeful.
I'd had enough. It wasn't just the opponents, the humiliation or even the bloody annihilation. It was a deeper, nauseating realisation that United's rightful place amongst England and Europe's finest was still light years away despite a succession of managers and millions of pounds invested in top players. But I couldn't stop going; loyalty was in my DNA. Social media wouldn't arrive for over a decade so other than moan to my mates there was no platform to vent the bile that had built up inside. I decided I needed to make a protest. So one day in November 1989 I took a big blue sheet off my double bed, found a tin of black paint in the shed and made a banner that perfectly expressed the feelings of this disillusioned northern boy: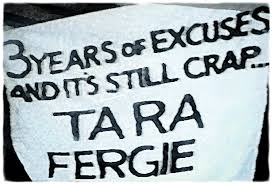 Indisputably, social media and fan reaction has expanded no end, to the point where there is almost no hiding player these days. Do you think Sir Alex, in that testing period, would have been under more pressure or would have survived the fan power of today?
In my opinion there is absolutely no doubt that Fergie would have been under far more pressure and far sooner than the three years I gave him had the event of '89 occurred in 2019. I grew up in the TV era, so it's always been difficult to imagine what people did before television. It must be equally difficult for anyone born after the millennium to imagine a world without the internet. So you have to realise that before 2000 there was no consolidated forum to gauge opinion of football fans or people in general. The newspapers would catch a flavour of whether match-going fans were happy or not from the crowds' reactions but we didn't get a view of what United supporters felt in Kent, Kenya or Kathmandu. The web enables a vast collection of opinions and an intensity of emotions that is unprecedented in life and football.
I imagine Fergie would have survived his first season of 11th and the second that brought a runners-up spot. But the Twitter knives would have been sharpening by September 1988 and the great man would have gone sometime that autumn had Jack Dorsey invented the 140-character platform thirty years earlier.
What have you made of Solskjaer's reign so far? Positives and negatives.
Firstly, I am in the camp that Van Gaal and Mourinho should have gone when they did. With hindsight they weren't the right fit for Manchester United's footballing tradition. We didn't build statues to Busby and Ferguson because they won games or trophies by attrition. Ole's appointment was a surprise (reminiscent of first hearing Cantona had come from Leeds) but then I thought, "Interesting, worth a try…let's see what happens". Of course no Red, not even if their wildest dreams expected those first 17 matches to deliver performances or results of such a high standard. Similarly none of us then expected the next 12 games fall away in such a drab and disappointing manner.
Why that happened is still one of the biggest mysteries in my 55 years watching United. Ole put it down to fitness levels, saying the team he inherited mid-season couldn't maintain the high-pressing game we'd seen and loved between December 2018 and March 2019. He promised to fix that with better/different pre-season training. So far we've seen little to suggest the diagnosis was correct or the surgery. But I'm firmly in the 'Ole must be given time' camp for three reasons:
He does have clear management skills
He completely 'gets' the club. Ole has a similar mentality to Sir Alex in his perception of where Manchester United should be in the football world, what type of football we should play and what's precious to the fans.
United's short-term rotation of managers since Fergie left, coupled with significant number of players purchased by those three managers, means Ole inherited a mongrel of a squad assembled by Moyes, Van Gaal and Mourinho. Some of those players lost their way for whatever reason and needed/need to be moved on. Solskjaer has only had one proper transfer window and has bought well with James, Maguire and Wan-Bissaka. He was right to strengthen the defence first and he was certainly correct in shipping out Lukaku and Sanchez. He has the nucleus of a half decent team. He also has several very capable youngsters who have been reared on United's way of doing things and are ready to give their all for the shirt. What's missing is the midfield engine room. With or without Pogba it is the most ineffective midfield United have had since 72-74 as we tumbled out of the top flight. He needs to get to January and see if he can fix that with a top class player, who will then play alongside Pogba, or if the Frenchman isn't staying he buys two top class midfield men. It maybe though that we have to wait for the summer to attract the quality player(s) we need.
So I think we've got to give Ole another twelve months and judge progress then. Any sacking before that will just perpetuate the problems of the last six years.
It's clear results, on the whole, haven't been good enough this season, do you feel there is an appetite for patience or, if there are more damaging defeats over Christmas, will it be Ta Ra Solskjaer?
I see a clear split between the supporters inside the stadium who I believe are prepared to give Ole time, want him to succeed and are prepared accept the bumps in the road (Newcastle, Bournemouth away) to see if he can make it work. Then there are the Twittering classes. Some of whom are the 'nouveau' fans who never lived with failure and want instant gratification. Just to be clear that's not every United fan on Twitter, many are very good. But the impatient ones are like kids who stamp their feet and sulk when parents say they can't have a biscuit. True United fans have just got to stand their ground and tell them they'll get a biscuit in good time. Having said all that I'm realistic enough to know that a run of really bad results would see any manager off, but I honestly don't believe we will have such a run. Also we are likely to still be in three cups after Christmas anyway.
Finally, do you live in regret at the Fergie banner, as the subsequent trophies speak for themselves, or do you stand by your reasons?
Absolutely no regrets! That's not borne out of arrogance; I genuinely believe I did what I did based on sound reasons as well as a passionate heart. But what gets lost sometimes is that I did wait THREE years before making a judgement that he wasn't the right fella given what he'd spent and the time he'd had. Since Fergie United have had four managers and none have got close to three years and there are several other managers at top clubs (City, Arsenal, Chelsea) who haven't got close to that longevity either.
The truth of the matter is few, if any, knew for certain that Fergie was the right man. But three points are beyond doubt. One, in the end Alex Ferguson was the right man to lead United back to the pinnacle of domestic and world football. Two, I was wrong. Three, I'm so bloody glad I was wrong.  God Bless you Sir Alex!