Pre-match
There is absolutely no doubt about it, today is a must win for the Reds. Going into a home game against Villa you would normally have every expectation of a positive result but the pressure is on, helped in no short measure by José's immediate impact at Spurs.
Events in North London have totally changed the dynamic in and around the battle for qualification for next season's  Champions League. Spurs are developing momentum and of course will be visiting Old Trafford this week with José at the wheel. That match looked like it would be a good opportunity for us before José's appointment but now there is just a little bit more at stake.
With the away game at City following next weekend, it is clear that we have got to win today. Obviously not the greatest result on Thursday but that of course should have no bearing on today's game. I am feeling positive about it and am expecting a bit more of the Rashford & Martial show today. The clear message from the Sheffield roller coaster is that we are a real threat going forward. I will be really disappointed if Ole doesn't carry that into today's match, time to 'let the horses run free'.
READ MORE: FA Cup: Man Utd draw Wolves away in third round
Looks like pre-match scoops are off the agenda today, so we are driving straight to the game today, usually just a 20 minute hop if the traffic is on our side. 
In Old Trafford
It's a long story but I am not in my usual seat today, I will be in the lower East Stand and my other half will be cheering on from the Stretford End. We do get moved quite a lot anyway, often in cup games we are relocated due to larger away allocations which is fine as you get to enjoy a different view of the game. So it will be today, much closer to the action so a few goals would much appreciated! I am definitely not in the mood for a stress laden afternoon in the cold, it is December so it's freezing cold and probably time to bring out the '12 days of Cantona' song.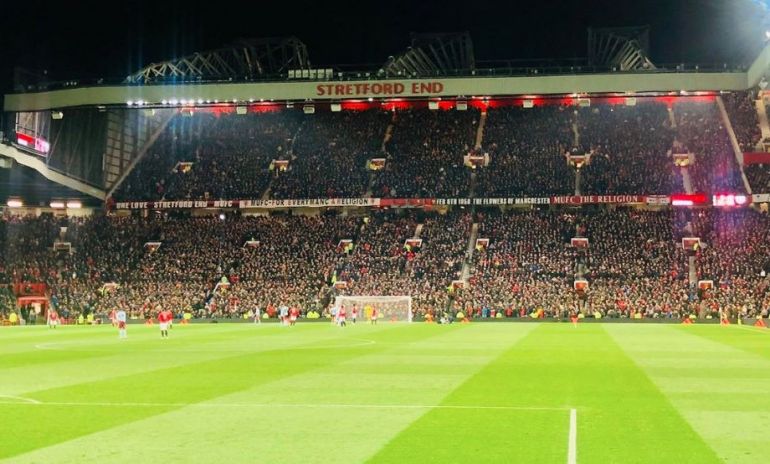 Another benefit of the different seat today is avoiding the climb up the Eiger! Really not the best part of the Old Trafford experience, I am tempted to move permanently as there is an opportunity to move next season but we have formed good friendships over the years in our block so it is a tough call!
Team news and no surprises, Mata gets a start and surprisingly Jones doesn't make it even to the bench. That was a car crash selection last week and for me just exposed a bit of Solskjaer's naivety there, bringing someone in cold into a tricky away game was an example of where we are not always playing to our strengths. As I head out to my seat there is an amazing sunset over Old Trafford. Red sky at night, surely a positive omen!!??
It is not long before my pre-match optimism is drained following a Grealish strike coming just over the 10 minute mark. There is resigned disgust around me and general recognition that today is going to be another real struggle. Far too many loose passes and a general lack of movement (Martial particularly guilty) is nullifying our attacking options. Rashford manages to head in a late first half equaliser but make no mistake about it, that was a dire first half and the natives are restless. 
The second half sees some more industry, we are less profligate and we are creating chances. A great header from Lindelof gives us the lead and maybe we have turned a corner in this must win game. Just two minutes later a desperate case of ball watching let's Tyrone Mings connect with a volley with no-one in a red shirt anywhere near him. It is so bad Mings looks a mile offside but VAR has a say and we are back to square one.
Cue anxiety ridden last quarter with limited threat but plenty of angst. Martial gets a bit of stick as he is substituted, Greenwood replaces him but has simply not been given enough time to make an impact. A draw then in a game that we needed to win and the dissatisfaction from all around me is palpable. Tremendously disappointing result but an even worse overall performance. 
Leaving the ground
There is no disguising it, heading out into the December evening is a bitter experience with the realisation that there is zero encouragement going into a very difficult next two fixtures. We look one-dimensional again, teams don't seem to work to hard to get the ball from us and defensively we have clearly gone backwards again. For me Williams had a good game so unless he was injured his substitution was a mystery. We are lacking some tactical ingenuity and frankly at times our decision-making from the bench has looked highly questionable.
I sensed a change of mood in the stadium today, fans I think are resigned to the fact that many on show today are simply not going to make it at Manchester United and the question now must also be directed at Ole. Two successive defeats in the next couple of games is an eminent possibility so where would that leave the manager? Personally I feel that the good will is on the wane and another change before the New Year will become inevitable if performances like this continue. Simply not good enough, the fans know it, the players  know it, the question is does Ed?