Many Manchester United fans' patience was significantly tested at the start of this season. United's form has picked up in recent weeks, frankly it had to, but their start was nothing short of dismal. The blame for that cannot solely lie on a solitary individual's shoulders, but it is no coincidence that bleak start was characterised perfectly by Nemanja Matic featuring heavily in the middle of the park.
Like the manager who signed him, taken from Chelsea, optimism was high when José Mourinho brought the Serb to Old Trafford, who dominated midfields on countless occasions on the way to Mourinho's last title win as a manager. This was a sign changes were happening in Manchester, some even predicted Chelsea letting him go would gift United their first title post Sir Alex Ferguson.
Much as the sky is blue and water is wet, things unravelled in usual spectacular fashion for Mourinho at United, sorry for the impending doom Spurs fans, and Matic's form nosedived in equal measure.
After a brief resurgence under Ole Gunnar Solskjaer last season, Matic's uninspiring performances and, to put it kindly, sluggish mobility has meant that his status in the team is hovering dangerously, perilously close to the 'deadwood' tag that, unfortunately, still clouds some in this current United setup. In short, Matic is not part of the vibrant, counter attacking philosophy Solskjaer is starting to implement.
READ MORE: Man Utd & Tottenham combined XI: The big question as Mourinho lands new Premier League job
In his absence, Scott McTominay has developed no end and has become a real find for United, who 'gets' it. Fred is also starting to emerge from the tumultuous tunnel that a first season in England can invariably affect South American recruits, though the jury is still out on his long-term credentials at the heart of United's midfield.
If the footballing reasons were not compelling enough, the latest turn of events should effectively seal Matic's fate at United:
No doubt United have social media penalties and sanctions for improper use, but it remains to be seen whether Matic has 'officially' crossed the line.
Upon Mourinho joining Tottenham, a post from popular footballing meme page 'Benchwarmers' depicts a man waiting solemnly and frustratingly with no one around him. The post was captioned 'Matic waiting for January so Jose Mourinho can sign him'.
The post was not only 'liked' by Matic on Instagram, it was accompanied by a comment from the seemingly approving Serb with applause and a laughing face.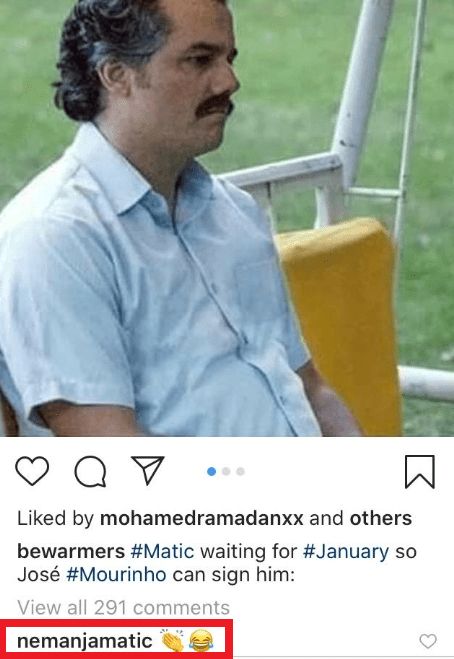 As you might expect, subsequent comments followed from livid United fans effectively explaining to Matic where the exit door was, and who could disagree?
Ole Gunnar Solskjaer's deadwood purging mission has been well documented and is already well underway but, importantly, not complete. Solskjaer should be congratulated for wielding the axe on bad eggs Alexis Sanchez and Romelu Lukaku, yet history dictates that Matic also falls into that category, having played his part in two Mourinho sackings.
There will be few tears shed if, correction… surely when, Matic leaves the club and it would be another big plus in Solskjaer's evolution.
For many this will be the last straw, if his performances on the pitch haven't already seen to that.
I couldn't finish this piece without making it plainly clear – United need to rid themselves of characters like Nemanja Matic in their quest to get back to the top.