Like everyone else watching, bar Chelsea fans of course, James Maddison was impressed with Marcus Rashford's stunning free-kick in Man Utd's win over Chelsea on Wednesday evening.
Ole Gunnar Solskjaer's side knocked Chelsea out of the Carabao Cup to book their place in the quarter-finals, where they will face Colchester United.
Rashford opened the scoring from the penalty spot in the first half but Chelsea equalised through Belgian striker Michy Batshuayi in the 61st minute.
READ MORE: Frank Lampard believes Chelsea were better than United in Carabao Cup showdown
It then took a 35-yard free-kick to win the game for United, again thanks to Rashford.
And Maddison, who is heavily linked to Manchester United, sent a message to his England teammate after the match.
Back in October, the Manchester Evening News claimed the Red Devils are optimistic about signing the Leicester City playmaker.
Maddison replied to Rashford's post on Instagram: 'Nah, that free kick.'
And Rashford responded, '[I've] been watching you mate.'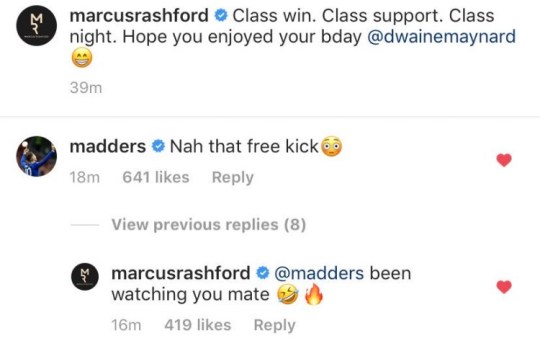 Screenshot from the Metro.
Meanwhile, Solskjaer insists he wants Rashford to score more scrappy goals, and said here from his post-match interview with MUTV.
The manager has a point. 
Although United are getting plenty of penalties these days, we need to start showing we can score from open player, like we had to against Norwich City on Sunday.
Anthony Martial is back from injury which is a boost — and the Frenchman's return has sprung Rashford back into form.
United will still need to go out and sign a striker in January, whether it's Mario Mandzukic from Juventus or someone else.
It would help being a more experience frontman with a track record for scoring goals from open play.