As editor of a leading Manchester United blog, I don't think our dislike for Manchester City needs explaining. 
They continue to make it easy for us to laugh at their expense. 
They have been found out to be paying social media 'influencers' to attend games and speak up the Etihad atmosphere. 
What atmosphere? It's not something they're renowned for — unlike inflatable bananas, blue ketchup, Kangol hats and Ben Sherman shirts that have been worn for weeks.
READ MORE: Solskjaer gives verdict on Roy Keane's call for Man Utd to sign Harry Kane
Below you'll see a completely genuine advertisement: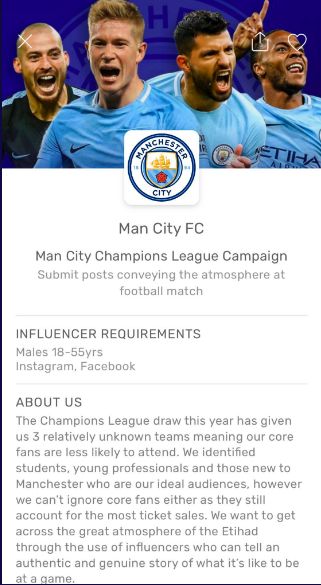 It's hard to stomach the sheer arrogance and how they've belittled clubs with less financial strength, referring to them as 'relatively unknown' clubs. 
The blues aren't the biggest club in their own city — and never will be — so the Berties deserve the backlash they will get for this.
Can you imagine United doing the same, as in search for social media influencers to hype up the Glazers or convince their followers that Ed Woodward is some football expert? 
Let's not give them any ideas…
But it must be a concern that their core fans won't go to watch their side against smaller teams as that's the main reason behind this advertisement, not to show off the deafening noise their fans create on match day.
'Authentic and genuine' my arse.