Sky Sports pundit Danny Mills has named precisely zero Manchester United players in his combined XI with Liverpool ahead of the big Premier League clash this weekend.
The two teams have had completely different starts to the 2019/20 season, which will make any United fan feeling a bit depressed. 
Liverpool sit eight points clear at the top of the Premier League table and after enjoying a perfect start, winning all league games to date. This weekend Jurgen Klopp's men travel to Old Trafford to face 12th place United, who are two points safe from the drop zone.
READ MORE: Liverpool fan: Glazers 'bad but not quite Hicks & Gillett'; never seen a tactically worse United side
It remains to be seen if Ole Gunnar Solskjaer can turn this around with pressure building over his job. He needs to get Anthony Martial and Paul Pogba back to full fitness, as well as inject Marcus Rashford's veins with some confidence. 
However, all three players mentioned above have not been deemed good enough to make Mills' XI below: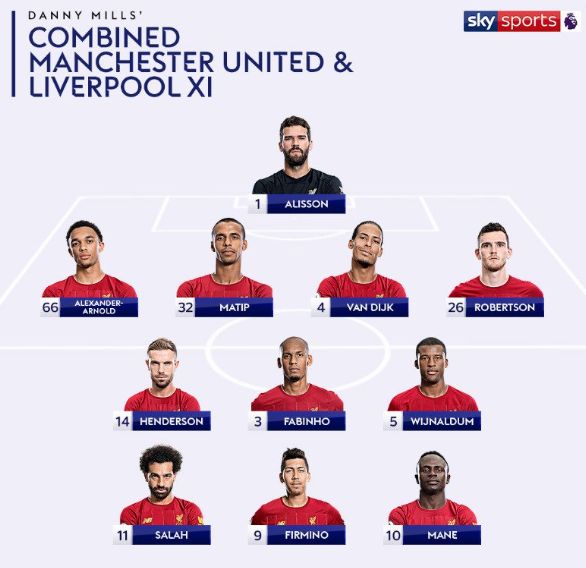 On form over the past year at least, we can't argue with the Sky Sports pundit on picking Allison over David de Gea, but if we can get the Spaniard back to his best he'd certainly be my pick.
Trent Alexander-Arnold comes in at right-back, though we think Aaron Wan-Bissaka looks far more assured than the Liverpool defender. The rest of Mills' defence is sadly bang on!
In midfield, he's gone with Jordan Henderson, Fabinho and Gini Wijnaldum. Whatever you think of Pogba, you've got to fit him in there. And the Frenchman would preform better if surrounded by better players.
Given our showings in front of goal this season, and Liverpool's strong threat in the attacking third, we're not in a position to contest his calls on Mohamed Salah, Roberto Firmino and Sadio Mane. 
*Sigh*