As a young Irishman growing up in Cork during the 1980's, Roy Keane left school without any form of qualifications or education, but, what he did have was an element of grit, determination and desire.
Born into a working-class family, Roy was surrounded by relatives who were active and passionate about sport. Many had played football for junior clubs in Cork and this sparked an interest within him. However, he decided to take up boxing at the age of nine.
After training for several years as a youngster, he managed to win the four bouts within the novice league he entered. Boxing wasn't for Roy, he wanted to become a professional footballer and set his eyes on putting the wheels in motion.
Whilst playing for Rockmount A.F.C in his native Cork, during his teen years, Roy began to show signs of a promising footballer. This was highlighted as he was voted as Player of the Year in his first season. 
READ MORE: Doomsday at Old Trafford
As the years progressed, many of his teammates were offered trials with clubs in England. Unfortunately, Roy was not. 
Not one to let this deter him, he suffered another setback when he was also rejected for the Ireland Schoolboy squad as a 14-year-old. Coaches at the time stated that Keane was "just too small" to make it at the level required. 
Throughout this period, he took up temporary jobs to keep him ticking over, predominantly manual work whilst waiting for a breakthrough in football. 
Eventually in 1989 he signed for semi-professional Irish club – Cobh Ramblers. An example of his dedication and desire in becoming a professional footballer was highlighted when he would regularly turn out for the youth side as well as the actual first team, often playing twice in the same week.
His hard work and ever improving performances paid off, Keane had caught the eye of a Nottingham Forest scout. He was then asked to travel to England for a trial, where the infamous Brian Clough would have the opportunity to view his ability and make a judgement.
Clough was impressed with what he saw and asked the Nottingham Forest board to strike a deal. A fee of £47,000 was agreed with Cobh Ramblers, Roy Keane was now a professional footballer.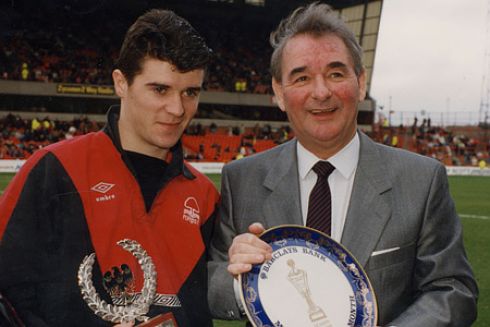 Initially Roy struggled to adapt to life in Nottingham, he would often ask the club to grant him a few days' leave, so he could return to Cork. He soon overcame this and repaid Clough's generosity with his performances on this pitch. 
During the 1990-91 season, Nottingham Forest went on a run which secured them a place in the FA Cup final. Contributing with 3 goals in this competition, Roy discovered that previous form did not excuse mistakes on the field. 
In the third round, Keane made an error against Crystal Palace, gifting a goal to the opposition. Forest went onto win the fixture, but upon returning to the dressing room, Keane was confronted by an irate Brian Clough. In a fit of anger, Clough punched Roy Keane, knocking him to the floor. 
It wasn't to be for Nottingham Forest that year, they went onto lose to Tottenham Hotspur in the final. With consistent performances Roy began to attract attention from other clubs in the Premier League. 
Blackburn Rovers who were backed by their owner/local entrepreneur Jack Walker, began to show their interest in Roy Keane. Then managed by Kenny Dalglish, who viewed Keane as an essential piece in the squad which he was assembling. 
Armed with the knowledge that other clubs were beginning to show interest in him, Roy negotiated a new deal with Forest and ensured it included a relegation escape clause. 
Sadly, Brian Clough's final season at Nottingham Forest ended with relegation from the Premier League, Blackburn made their move. They pounced and agreed a fee of £4 million, Roy verbally agreed to join the club and informed Dalglish of this. 
An error with the paperwork meant that Blackburn could not complete the transfer and looming in the background was Alex Ferguson. 
Manchester United had lifted their first league title for 27 years that season. Fergie's title winning side was littered with top talent and centre midfield particularly, offered competition for places.
Enticed by the challenge of playing for Manchester United, Keane visited Fergusons property and they struck a deal over a frame of snooker. Blackburn's loss was United's gain!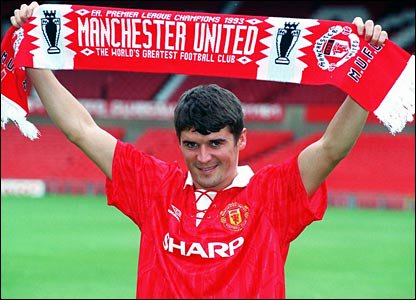 Despite signing for a then record transfer fee, it offered no guarantees of a place in the starting line-up. Competing with the likes of Paul Ince and Bryan Robson, Keane would have to demonstrate his ability consistently again.
Not fazed by the challenge, he became a first team regular and the summer of 1995 led to numerous senior figures leaving the club. Paul Ince was sold to Inter Milan and more responsibility fell on the shoulders of the young Irishman. 
Alongside the likes of Peter Schmeichel and Eric Cantona, Roy Keane became a leading figure and example for the youngsters coming through. Led by Eric, Roy had first-hand experience of what it meant to lead by example and set standards for those around you.  
By 1997 Manchester United had dominated the Premier League, lifting four league titles, from a possible five. The first team squad had been rejuvenated with the Class of 92, Paul Scholes, Gary Neville, Nicky Butt and David Beckham all justifying Sir Alex's leap of faith, times were good. 
The end of the 1996/97 season represented another period of change for Manchester United. The King – Eric Cantona made the shock announcement that he was retiring from football aged 30. 
Not only were United losing a formidable player in Eric, it meant that there was an opening for the captain's armband. Ferguson rewarded Roy Keane by appointing him the new club captain. 
A new era at United began and although his first season as captain didn't go as planned, rupturing his cruciate ligament and spending the entire season on the side lines. He made up for it in his first full season as skipper. 
The treble winning season 1998/99 embodies all of Roy's great qualities. His mindset and outlook, that never say die attitude, the relentless desire to achieve greatness and push those around him onto another level. That played a huge part in that magical season.  
Of course, who can forget that night in Turin? Dragging us back into the semi-final against Juventus, beating none other than Zinedine Zidane in the air to get us back on the scoresheet.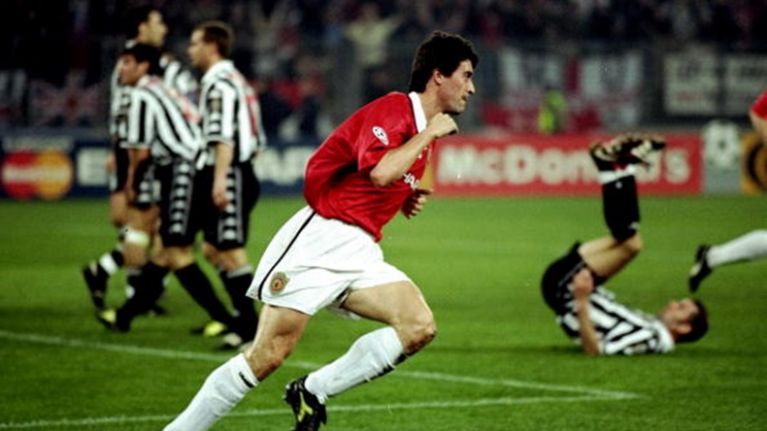 His style of play enabled Scholes to play further forward, brought United's strikers into play and the team sprang into life when he came into possession, with Beckham and Giggs running off him and the full-backs pushing on.
The relationship between manager and captain was never better than this period 1998-2004. Keane was effectively assisting Sir Alex by setting the standards on and off the pitch and ensured they were maintained, leading by example and practicing what he preached.
Highlighted within Rio Ferdinand's autobiography:
"I got the ball and passed to Gary [Neville], who was on my team. In a normal game that was a great ball – pass to your teammate, go up the pitch. And then Keane turned round and just started going,
"Pass the fucking ball forward, take risks, you're not at Leeds or West Ham now, you're at Manchester United!' 
Throughout the Premier League era, Keane would battle his foe – Patrick Vieira. The French talisman and Roy would often clash on the pitch and at times, in the tunnel! 
As we approached 2005/6, the relationship between Roy and Sir Alex became a tad strained. Unexpectedly on the 18th November 2005, Keane left Manchester United by mutual consent. 
Departing the club as Manchester United's most successful captain, he overcame two serious career threatening injuries, put his body on the line and without a doubt, always gave 100% when he stepped onto the pitch and lead the team into battle. 
Cristiano Ronaldo has since hailed the influence that former players United players have had on his career. Ronaldo said "I realised that I was good at Manchester United, when I played with players like Giggs, Keane or Ferdinand. I had talent". "The English mentality is different and those people helped me a lot to be what I am now. I have to thank my colleagues in Manchester".
As my title states, Roy Keane's career is overlooked and underrated. He is a divisive figure for many, based on his comments, but what you cannot deny is that he was a formidable player on the pitch, a man who led by example and demanded nothing but the best from those around him.