Douglas Costa has slammed one of his former representatives after Giovanni Branchini claimed Manchester United were interested in signing the Brazilian winger during the summer.
Branchini, who helped negotiate Costa's move from Bayern Munich to Juventus but is no longer connected to the player, had told the Daily Mail: "I sincerely say that Allegri and Sarri have never thought of letting him go.
"The interest of Manchester United was strong, a club that has always been interested in the Brazilian. 
READ MORE: Man Utd defender could make first appearance of the season vs Leicester City
"It was not the only club but in England it was certainly the most active team on the trail of Douglas Costa."
He added: "He loves Juventus but is able to adapt to every reality. Premier League is a beautiful championship but for now United have failed in all their attempts to convince Juventus to sell him."
Costa didn't waste any time responding to his former representative. The Juve star hit back at Branchini in an Instagram story on Monday night.
"I'm writing to deny the baseless news published today, which said I was in negotiations with some clubs during the last transfer window," Costa wrote.
"Since the start pf this season, I've been clear that I wanted to stay here to win trophies and give blood for the Juve jersey.
"Junior Mendoza is my only agent and the only person authorised to speak on my behalf."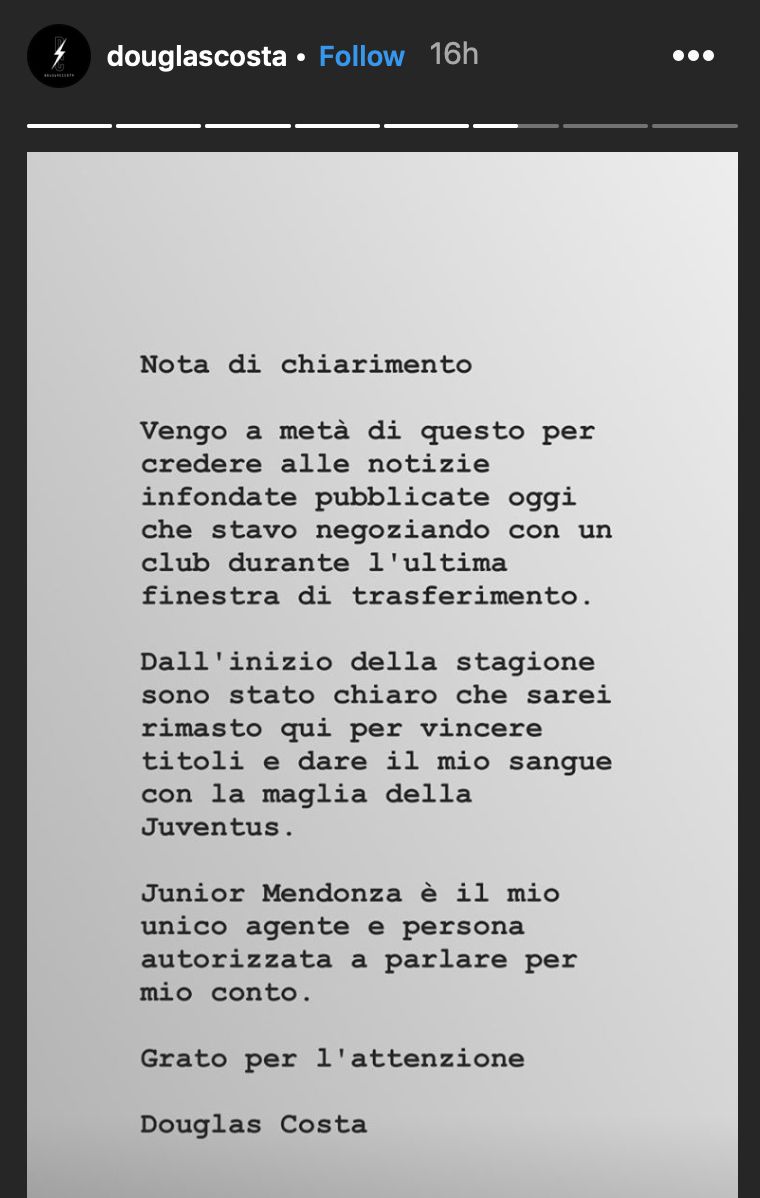 How weird is that? An agent coming out talking the talk about a player who is no longer his client? 
We don't know the full story but something must have happened between the pair.
However, there wasn't a lot of talk about United chasing Costa this summer, but there was a year ago when José Mourinho was in charge. The Red Devils were also said to be targeting fellow Brazil winger Willian, who remained at Chelsea, though Ole Gunnar Solskjaer could still do with some attacking reinforcements.
But rather than a winger, United should be prioritising a striker in January or the summer transfer window. It's always difficult to sign top players halfway through a season, so United may need to plan ahead and start working on deals to pursue next summer.