Manchester Evening News have somehow got their hands on a Fantasy Football league containing the United squad, and Chris Smalling currently tops it after two games.
Harry Maguire is doing the best (113 points) out of our new signings in fifth, with a total of 9 players shown in the picture.
Wales international Daniel James is sat in ninth with a username (DJtalent) we may decide to use as a nickname in future columns, laughingly.
The league is titled The MUFC Tiki-Taka Fantasy, so you'd hope they were more realistic this time last season when managed by José Mourinho. Something along the lines of 'Bus Parking Championship' maybe.
Or maybe whoever is responsible for creating the league went down the route of irony!
READ MORE: (Photo) Pogba reunited with Ravel Morrison at Man Utd training ground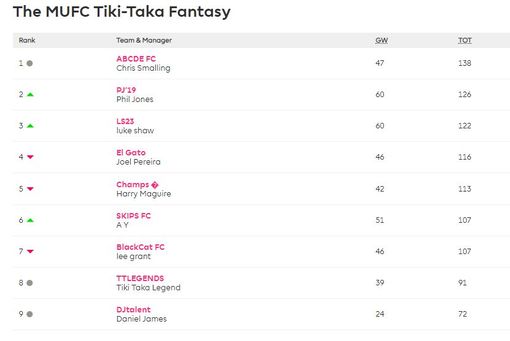 We have our very own league for Stretty News readers which you can join with the following code: q32dsz
It's always a bit of harmful fun to have with your mates and we may even have a prize for whoever is top of the league come the end of May.
But most importantly right now is United doing enough to finish in the top four.
I can't wait for the days I can end the above sentence with 'to win the league'!