Alan Tonge is a firm believer of learning through experience. It's been 23 years since he retired because of a horrific spine injury at the age of 24. But the lessons that the game taught him have led him to where he is today.
Now a Sports Research lecturer at UFCB, Alan has a shine in his eyes every time he is asked about his career. From the outside, it won't seem that this man could have played for Manchester United someday. Today, he's living a different life altogether.
Seated at the Velopark Cafe, looking vaguely outside at nothing in particular, Alan reminisces how things could have been back in the late 1980s. His leather bag sits on a chair beside him. That shine in his eyes tells you how close he was to a dream.
"It does not break my heart but I would have loved to do it – walking out onto Old Trafford from the tunnel. That is my one massive regret. That would have put the cherry on the cake."
In a completely different lifestyle now, Alan has left his career behind to a large extent. But he fondly remembers everything he started with.
"I can recall from being as young as four or five years old playing in the garden and my dad constructed some goal nets for me. We always used to play out scenes like Man United having Liverpool in the last minute of the Cup final."
Alan's real footballing journey began when he joined Falmouth Boys and was then picked up by Bolton Schoolboys – the side he played for in the Under-11s level. A period at Moss Bank followed before he joined Bolton Lads Club.
He feels that he was made to feel like a star player at the Bolton Lads club, because of whom he was also handed a trial by Man City.
At the age of 14 or 15, Alan was invited by Macclesfield to play with some Man United players and have a trial with the Red Devils.
"After that trial week ended, they said that they would like to hand me a Schoolboy contract. I can remember running home, running through the front door. They offered me another apprenticeship, so I knew where I was going after school. But I was reasonably academic at school. So I had a different side to my identity too."
At around 16, Alan began playing for the Man United Reserves and reached the semi-final of the FA Youth Cup too. He was even in the squad in a Cup game against Histon. At the end of his apprenticeship, Alan was handed a one-year deal by United.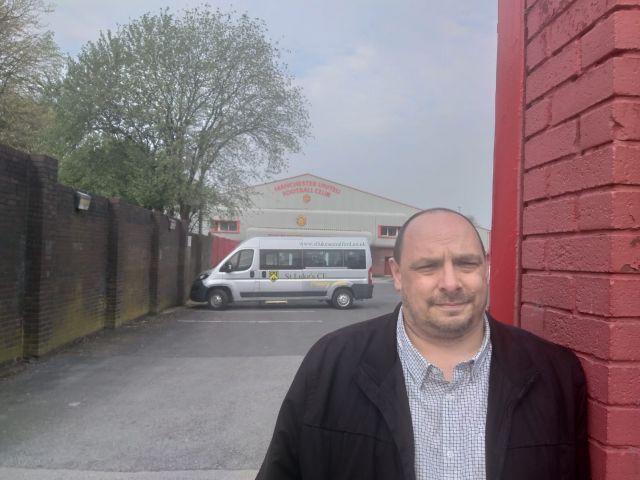 After being told by Sir Alex Ferguson that he might not make the cut for the first team, Tonge had joined Exter in 1991. He did very well for the Grecians during his time there before a serious spine injury cut his career short and he was forced to retire at the tender age of 24.
"The only way I can describe it is you get somebody who is 24. Who has done a degree and has become a journalist. He has started writing in the papers and someone tells him- 'Alright, you're finished. Done, forget your degree. Forget your articles. Your social media work. You have to do something else tomorrow.' That puts a big stress on you."
After he was forced to retire, it all came crashing down on Alan. He had to start all over again. His mental health crippled, leaving him isolated and pretty much broken.
"You are left to your own devices. You've got to pick up pieces. My family was a big help. You have to go somewhere to keep you moving.
"If you are passionate about something, chances are it is going to be a big part of your identity and when that thing is not there anymore, whatever it may be football or dancing, it'll take blowing to get over that."
Life became tough after football and Alan lost his way for two or three years. He still feels that while football can never be replaced in his life, his interest in academics led him to do a degree in Sports Science.
"Since I needed something to do within sport, I thought it gave me a platform to develop on. This was at University of Bolton. Since I had come from deselection due to injury, the side of education about sports psychology really appealed to me."
He could seek inspiration from some lecturers at the University of Bolton and decided to do a PGCE in Teacher training. Months after the training ended, Alan managed to land the role of a Sports Lecturer at Manchester College.
Soon enough, Alan pursued a Masters in Philosophy from Liverpool John Moores and that Masters' led onto a PHD about the challenges players face in their journey and how they impact their identities.
It's been 15 years since he started teaching students and Alan seeks inspiration from the younger ones every day. He derives satisfaction from that, years after looking to do the same from winning football matches.
"Time's flew. Every year, I'm getting older and the first years remain the same age! But they always keep me young. They keep me inspired. Because its always good to see them doing well."