Nobody with a brain wants Liverpool to win the Champions League but only Tottenham stand in their way.
As we edge closer to kick-off, David Beckham decided to weigh in on the pre-match buzz by revealing who he will be backing to win the game tonight.
To no surprise, it's Tottenham… his grandfather's club of choice.
Becks knows what it's like to play in a Champions League final — winning the competition during Manchester United's Treble season in 1999 — with his corner-kicks contributing to two of the most iconic goals in the club's history.
The former United midfielder tells a short moment via Instagram Stories featuring his son Brooklyn wearing a Spurs shirt as a child. He explains how his grandfather always kept David and his children in trend with the latest shirts, which I've no doubt will bring back some memories tonight.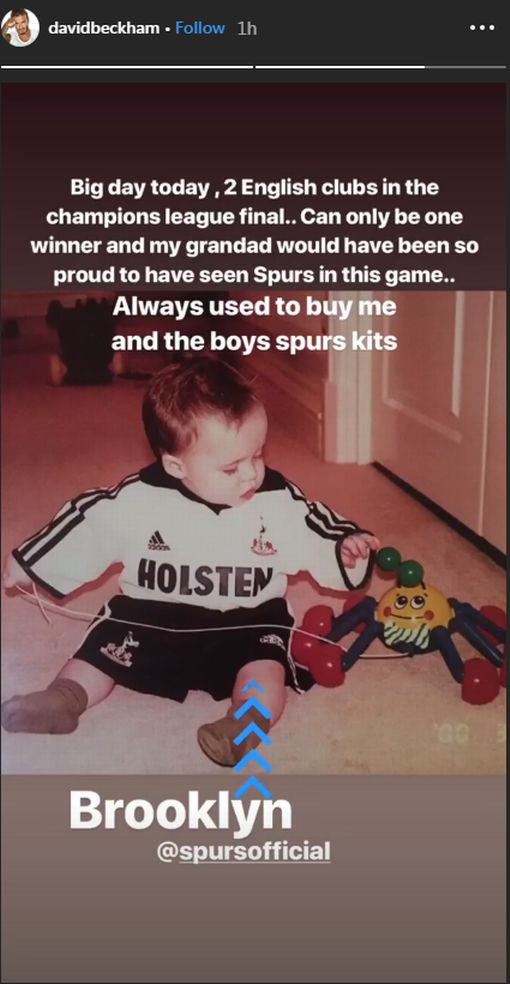 A valid reason for Beckham wanting Spurs to win.
Whereas mine comes from sheer hatred towards Liverpool.
It will be a tight encounter but Liverpool are favourites for a reason. They ran Manchester City extremely close to the Premier League title and reached this stage last year, therefore, it shouldn't be a new experience to them like it will for Spurs.