Romelu Lukaku continues to be linked with a move to Inter Milan but it's worth taking into account the other options he may have to leave Old Trafford this summer.
It seems as though his transfer to Inter is set in stone, though The Times reports that United will demand a fee in the region of £75m, which is what they paid Everton for Lukaku in 2017.
A very good striker but not quite the player United need at this moment in time. Ole Gunnar Solskjaer should also have a good idea of what type of striker he wants at United next season, and selling Lukaku should see the Reds move for one.
Juventus are second favourites to land the Belgian striker, but he's not a player they're going to try fit into a team that already has Cristiano Ronaldo, who is going to be their main attacking threat again next season.
Then the odds start getting big for those who fancy a punt: PSG at 22/1 and Barcelona at 33/1 but there's hardly been a whisper about Lukaku joining those clubs in the gossip columns, never mind a return to Goodison Park.
Romelu Lukaku transfer odds (SkyBet)
Inter Milan – 4/9
Juventus – 9/1
PSG – 22/1
AC Milan – 25/1
Atletico Madrid – 33/1
Barcelona – 33/1
Bayern Munich – 33/1
Everton – 33/1
Real Madrid – 33/1
Antoine Griezmann latest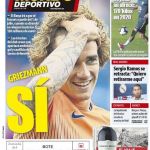 In other news, reports in Spain suggest that Antoine Griezmann is still poised to sign for Barcelona.
The rumours died down a bit with Barcelona prioritising a move for Ajax skipper Matthjis de Ligt, but Friday's edition of Mundo Deportivo goes in heavy on the Griezmann deal.
Knowing how Griezmann operates, driving a PR trail whenever he goes, we can expect United links to continue until he has been unveiled at the Nou Camp…