Author of No Ticket Required, Robert Davro, writes about jibbing into football matches with Manchester United and Bournemouth.
The book is available in paperback but Robert didn't see the point in re-releasing copies for just one chapter, so he has generously sent the latest chapter to Stretty News to publish!
Sit back and enjoy reading about the trip to Turin.
Juventus 2018
You always know that the summer is drawing to an end when thoughts turn back to the match and the draw for the group stage of the Champions League. I always assume that we will get out of the group but on occasions, it hasn't always happened, so waiting for a big tie in February is a risky strategy. I usually have to pick one from the group stage due to work, family, budget, etc.
The first match would be away to Young Boys of Switzerland, but this sadly wasn't an option as my other half was away in Spain that week with her Book Club group. Book Club? From the outside it appears to involve a lot of wine and very little reading. A couple of the members freely admit to having never read any of the books! I couldn't really argue though as I've been gallivanting around Europe since the day we met, so I wished her well and resigned myself to watching that one on BT Sport. Juventus and Valencia were the other two options, which made up a very good draw – with three top trips in the offing. Valencia was very tempting as I've been there before and it's a great city, with one of Europe's great stadiums. The Mestalla is a proper Spanish football ground with three-quarters of the stadium uncovered, and the stands are steep; very, very steep. I went in 2010 and had a great time; the weather was ace, the bars were good, it has a beach and the 'Little Pea' made sure United left with a win.
Let's be serious; if you're only going to do the one match then it had to be Juventus – 'The Old Lady'- Italy's most famous club and our main rivals in Europe during the 90's. We had some sensational matches against them as we were finding our way in Europe. I went to every home game against them but I had never been away. The semi in Turin in 1999 was one of a handful of matches over the years that I'm truly gutted to have missed. Two-nil down in the first 10 minutes, we came back inspired by Roy Keane's career-defining performance to win 3-2 in one of the club's best performances ever. I had been to Inter away in the quarter-final, and Brondby before that, so Juventus came around too quickly and I missed out on this epic.
Wills and Alan; being devotees of Avios points, had used these to jump on flights direct to Turin on the morning of the game and this left me and One Puff to sort our way. £37 return from Bristol to Milan with Ryanair did very nicely. One Puff and I do like to do these things properly; and a two-night stay is essential in our world. A week or so later though it dawned upon us that Inter were at home to Barcelona the night we landed and so this was already shaping up to be a good trip.
I picked up Duff and two and a half hours later we pitched up at Bristol Airport and headed for the Airport bar where we found a few Reds scattered about. We got chatting to a few of them and didn't find anyone who had a ticket – so we were in good company – and nobody really fancied their chances of getting one either. They just seemed happy to be going over for a good piss-up. A couple of Manc lads had their girlfriends with them and appeared to be fairly sensible whilst sat in the airport bar – but it didn't take long before we discovered that they weren't.
Once on the plane we found loads of United on-board and a few songs went up as we took off. We spoke to the fairly sensible lads with their other halves about our lack of tickets and all was fairly calm. As the flight wore on they were downing shorts like they were going out of fashion and getting louder and louder; they basically chanted United songs flat out for the entire journey. To begin with they were funny but after 10 minutes they became a pain in the arse.
On arrival, we shot out of the airport and headed for the bus stop as we planned on getting into the city as soon as. Inter Milan were at home to Barcelona that night and I thought that jibbing that one would be a decent warm-up for the main event in Turin the following night. Our flight landed at 7:20 local time with the match kicking off at 9, so getting there for kick-off was not going to happen.
Very slowly the bus to town filled up and with just a few seats left the gobshites from the plane appeared, staggering towards the stop. They got the last few seats at the back and carried on singing flat out for the duration of the fifty-minute journey but thankfully we were sat near the front. As the bus approached Milan central station I was onto Google Maps and sussing the quickest route to our hotel to dump the bags and check-in. Ten minutes later and we were there and five minutes after that we were heading for the metro. The thing that shocked me about Milan was the number of people sleeping on the street. I have been there many times over the years but hadn't really associated the city with this level of homelessness. It was a dark, wet night and they were everywhere. I had looked up the route on the metro to the ground and had the app on my phone. The last time I went to San Siro the metro didn't run all the way there so this was a bonus and would get us there in about 20 minutes.
We didn't have a cast iron plan and getting in wasn't going to be that simple as the game had already kicked off and I presumed all the turnstiles would be locked. I had done my homework though and had Googled the names of all the sponsors of the Champions League. A lanyard with one of these companies would give us a chance. A quick look on the internet came up with Heineken lanyards for 8 euro, but the downside was the postage was 15 euro from the Heineken shop in Amsterdam. One Puff and the wife spend most of their lives drinking heavily on cruise ships and a couple of weeks before Turin whilst on their latest voyage it stopped in Amsterdam and they had booked a guided tour to the Heineken factory. He popped into the shop at the end of the tour and bingo; two lanyards were acquired and they were even in the sale. I printed off a couple of ofChampions League logos and attached these to the lanyards so this was to be our way in.
We came up the escalator and on stepping out of the station the most wondrous sight greeted us; the San Siro, all lit up and looking like a giant spaceship. This is one of the greatest stadiums in world football and although run down and neglected it still has a magic to it. The rain was hammering down as we stood and gazed at this beautiful sight until the roar of the crowd reminded us that the match was on and we needed to get in sharpish. I was wearing a black coat with a hood and shoes (I was trying to look Italian), while Duff was wearing trainers and a Boss zip-up top which wasn't ideal for the monsoon-like conditions; it was proper pissing down. We jogged up to the ground and made the rather worrying discovery that some clown had built a massive perimeter fence which ran the entire way around the stadium. We sheltered under the canopy of one of the many foods, beer and swag stand located outside the end of the ground we had arrived at and considered our options. A lap of the ground was plan A and so we set off around the perimeter looking for a way in; one turnstile was still open and a few people were going in and so we observed for a minute to see if this was do-able. It was a trickle of people going up in ones and twos but there were plenty of Carabinieri and stewards who were checking and scanning tickets, so we moved on.
We got halfway round and there was no way in; stewards were loitering in groups on the inside of the perimeter fence and so with nothing to lose we strode up to a gate and called one over. We had our lanyards around our necks and I told One Puff to stick tight and follow me the minute the fella opened the gate. The steward came over and I held up the pass and said "BT Sport Angleterre" and waited. He smiled and opened the gate; it was still pissing down and this probably helped as I'm sure he just wanted to get back under cover as soon as he could. We shot through and headed towards the ground grinning to ourselves. I had to resist the urge to run as I wanted to get in as soon as, but we needed to keep our cool and not draw any attention to ourselves. Once undercover we walked slowly to our right and passed the entrances which didn't have any turnstiles, they were just entrances with two stewards with handheld scanners manning each one. We walked past maybe five or six and the fifth one was manned by two very young stewards, a boy and a girl in their early twenties. I made a note that these were the two to try first. I then spotted a couple of chaps heading up one of the massive cylindrical walkways which lead up to the upper tiers, and we followed them and started heading up. I had no idea where they or we were heading so we turned back and headed for the two young stewards. "BT Sport Angleterre" and a flash of the pass and we were through; the stairwell was full of Inter lads smoking and queueing for the world's worst toilets and thirty seconds later we were strolling into the stadium. We had come up in the corner by the Curva Sud (Inter's home end) we were on the side of the ground so we headed towards the halfway line
The seats were padded and this was clearly the posh seats on the lower tier, and at the back were either executive boxes or bars but we couldn't really tell. A few players? Celebrities? We're drawing a lot of attention with everyone stood up and looking back and taking photos. This meant that the stewards were checking briefs if you wanted to go towards the back and so we stayed put on the walkway and leaned on the barrier, looking out at the stadium. After five minutes the players ran out to rapturous applause and so we now needed to find a seat for the second half. We headed down and plotted up in seats a few rows apart at the end of the aisles. I initially had three seats to myself but was very aware that in the posh seat folk usually arrive late as they are too busy loading up on free drinks at half-time. Sure enough, after five minutes I had to move, I had clocked a row of five empty seats about four rows down on the other side of the aisle and headed straight for these seats.
As I went down, One Puff was being turfed out of his seat by a steward. I sat down and watched Duff wandering along the walkaway at the top looking for a seat. Shortly afterwards, three Chinese fellas arrived and asked me to move, so I moved one seat and they were happy and I stayed there for the rest of the match.
Barcelona, missing Messi, were by far the better team and kept hold of the ball and sure enough scored with a decent goal by Malcom. The three hundred or so Barca in the top tier at the far end jumped around although I couldn't hear them. Inter in comparison kept up a constant wall of noise with the Curva Sud in fine voice with some quality songs, all accompanied with drums and flags. Barcelona held the lead for four minutes and then Icardi, who had looked to be Inter's main threat, scored a cracking goal in the 87thminute and the place truly erupted. The noise was great and I went up and celebrated with my new Inter friends all around. The stadium announcer then shouted out "Icardi" numerous times with a pause in between for the crowd to repeat. I screamed out "Icardi" and was proper enjoying being in this great atmosphere within this great stadium.
One Puff had made his way into the upper tier and was bouncing around with the more boisterous Inter lads up above. The final whistle sounded and Inter celebrated big time, as this was clearly a massive result for them and the team were applauded off the pitch. I stayed put for a good five minutes just taking it all in, it could be another 10 years before I come back, and I might never have this opportunity again. It wasn't full but the attendance was over 75,000 so not a bad turnout. I rang Duff and arranged to meet him by the swag stall we had sheltered under earlier and was soon enjoying a couple of beers with him and some very happy Inter Milan fans.
We jumped on a tram back towards the centre of the city and got off at the last stop which was the Terminal stop just around the corner from the Duomo. We wandered into the square and looked up at the amazing cathedral which did look impressive all lit up at night. The first time I had been here it was heaving with thousands of Reds but this was 20 years ago and the square was now very quiet, well it was quiet except for the booming rave tunes coming from a balcony over to our left. We wandered over and there was a nightclub with flashing lights and some full-on bass being pumped out over the square. It seemed a strange location to have a club, right alongside one of the world's largest cathedrals, and everyone going in seemed to be about 12 and wearing clothing, not at all suited to a winter's evening in Europe. We decided to find a bar more suitable for a couple of fifty-somethings with a jibbing obsession.
We found a bar after a fair bit of searching, as virtually everywhere was shut. The bar was small and packed with Carabinieri all smoking and drinking coffee; it had an outside bit with heaters and so we ordered a couple of two-litre beers and settled in. We basically ordered the biggest beers we could, figuring that is was likely to close soon and we probably wouldn't get another round in. We supped away and congratulated ourselves on another top jib. It had been remarkably straight forward really but the lanyards had been the reason it went so smoothly. That's a big part of it; you need confidence, a bit of front, but you also need to look right. I had taken plenty of pictures in the ground as I needed to be posting these to help promote this book and we scrolled through these as more police arrived for a fag and a coffee. I had a peek at Instagram and it turned out that we weren't the only United jibbers in the San Siro that night – respect to the other lads who had made it in.
Sure enough, the bar closed but as the two beers we had cost us 30 Euro I wasn't that disappointed and so we headed off towards our hotel. Google Maps said 1.3 miles and we were hopeful of finding another bar. All we found were more homeless lying about on the streets and then we got a soaking from a Milan downpour. A relatively early night by euro away standards and a fairly sober one but we had pulled off a decent jib which filled me with confidence for the main event in Turin which was yet to come.
We just made breakfast the next morning and then headed out for the main station and the train to Turin. Now here is where I have a rather disturbing admission to make, I had allowed One Puff to purchase us both a return ticket from Milan to Turin. When he first made this quite frankly bizarre suggestion I was disgusted with him and questioned why I was even considering travelling with such an oddball. He then explained that the return fare was about £16 and that at our age diving into theGents every time a Hector appeared was a tad sad. He did have a point and so we arrived at the platform gate with phones at the ready to show our super modern app train tickets. The guards just waved us through. The train was way smarter and far more modern than the shite 1970's carriages you get back home. Every seat had USB chargers and were free of chewing gum. All the carriages had a giant TV monitor in the middle showing a map of the journey, the next station, and the speed – 249 KPH. That's twice the speed of a train over here. As we sped alongside the motorway, the traffic appeared as if it were stationary as we sped by.
Wills then sent me a 'pin' on Google Maps? What sorcery was this? Turns out that it showed the way from Turin station to the hotel we were staying in, well handy! What wasn't quite so handy was that he then sent One Puff directions to a restaurant they had plotted up in. Once out of the station I followed the route on my phone. Duff also had his phone open on Google Maps. To cut a long story short we walked up and down the same stretch of road four times arguing with each other about the route before we realised that we were both heading to different places! A quick call to Wills sorted out the confusion and we were soon walking into the restaurant expecting to find Wills and Alan. They were there along with all the Andover and Salisbury contingent which was a great surprise. We joined them and ordered a Peroni and some much-needed food. We had missed the grand entrance of young Liam who had travelled from Wigan and surprised his dad John who had no idea he was coming. The waiter asked if we were United and then for a score prediction. Most of us predicted 3-0 Juve and he wasn't happy. "Fuck Juve," he said. It turned out he was a Napoli fan and was praying that we beat the hated Juventus.
I had a copy of the book with me and that was passed around. Luke and a few of the lads were aware of it and had had a read which was good to hear. After a couple more beers the restaurant was running out and so we headed to our hotel, dropped off our bags, and then headed for the main drag. Whilst strolling around Turin I couldn't help notice the very old trams that were rattling around the place. The main roads had wide modern trams but all the side roads had these proper old skool trams which were incredibly narrow and fitted perfectly through the arches which tended to connect them to the main streets. Should I ever write another book it's going to be all about great tram, tube and train journeys – so actually not that different to this then! We ended up in a couple of Irish bars (where else?) and met up with loads of familiar faces which is the main reason most of us go.
With no tickets, me and One Puff headed to the ground early; free buses were running but we needed to get there on our own and not be driven straight to the United end. We did consider the bus, thinking that it might drive straight into the away compound and so avoid the first perimeter checks, but in the end, dismissed this as we wanted to enjoy the buzz of the metro to the ground.
We headed up to Central Station and easily jibbed the tube to Bernini metro station which was the nearest it got to the ground. We popped up by a large junction with trams running both ways, but as we weren't sure which way the ground was we crossed over and asked a couple of chaps who were stood by the roadside. They spoke English and straight away mentioned United and the match; they were waiting for a cab and I suggested that we share the taxi. Two minutes later we were in the cab and heading to the ground, but the traffic was a nightmare and we crawled along for about 15 minutes before finally arriving. The two fellas were dull as ditchwater but refused to take any money from us and wished us good luck? Strange chaps.
We dived into the nearest bar and grabbed a couple of beers to keep ourselves refreshed before attempting the jib. After a bit of banter with the bar staff and a few words with a couple of Reds who were on the table next to us we headed up to the ground. As we turned the corner the ground came into view and I wouldn't say it was spectacular but it looked decent and was surrounded by a wide-open area and car parks. We headed closer through the swag and food stalls and started to suss the place out. The Allianz Stadium, to give it its official name, was opened in 2011 and replaced the unloved Stadio delle Alpi. It holds 41,507 with plenty of room for jibbers.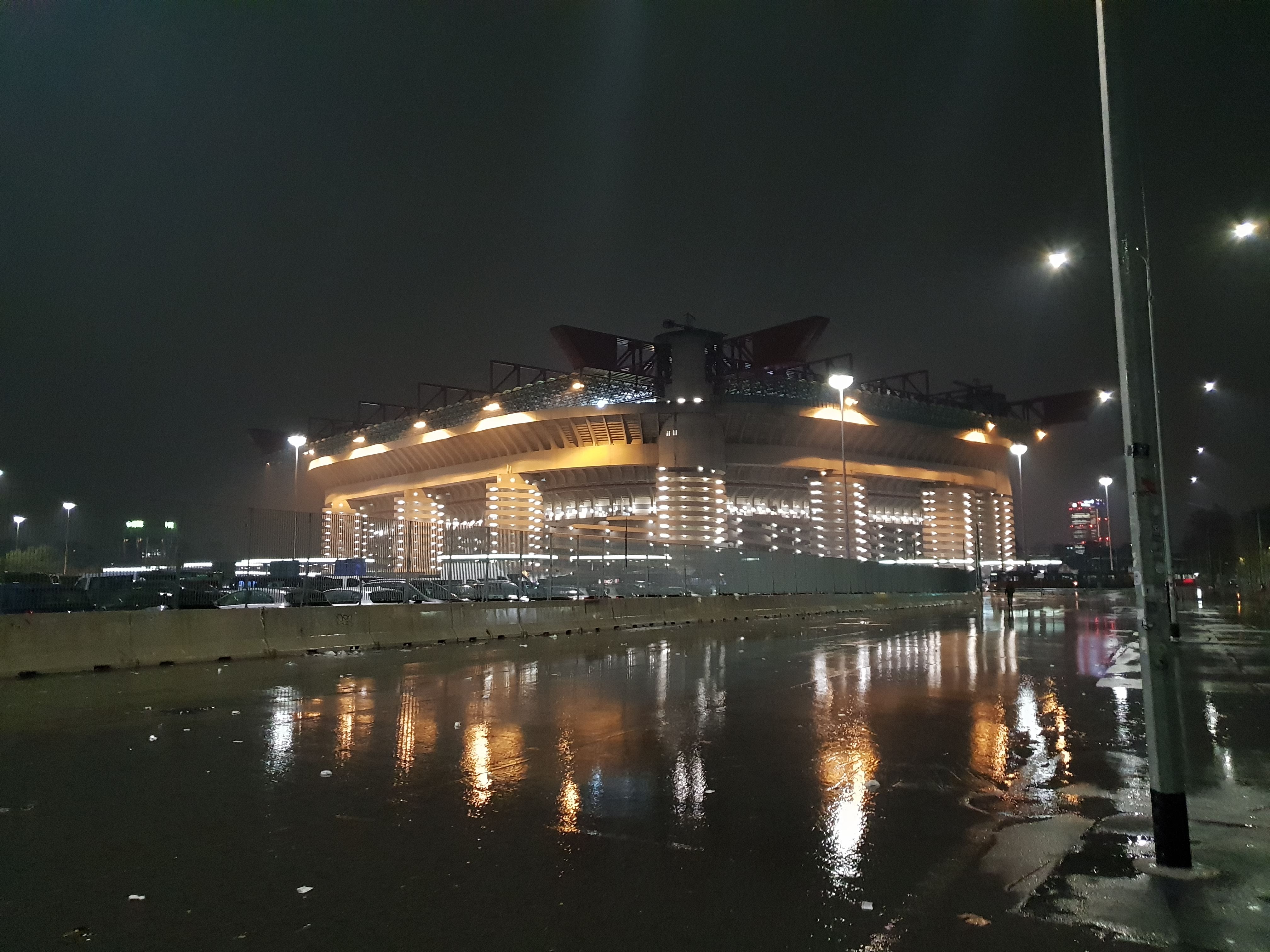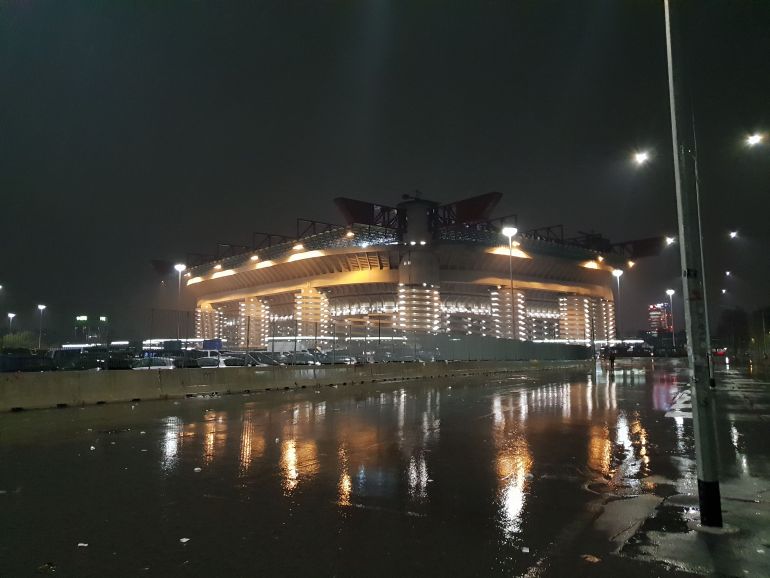 All the entrances were very narrow and heavily stewarded with vast open areas in front of them, and while a few Juve fans were going in there were nowhere near enough for us to make a move. We headed left past a few entrances but none looked any different, so we then approached a big fenced off area with the ground to the right and a car park to the left; folk were going up to a big gate, showing passes/tickets and then crossing the car park to another gate and again being checked before going into an open bit with queues of people in. This was looking more like it and where we needed to be going. We followed the perimeter fence which then ended and we could walk into the car park unopposed. We headed towards the gates where folk were being checked and allowed through. The first check was now to our right so we would not need to go through this one which left the gate to our left as the only obstacle. We walked slowly towards the two gates until a group of about eight approached the first gate; and we sped up so that we would join them as they crossed between the two gates.
We mingled in and the first couple showed their tickets and the gate opened for us all to walk through; we had our lanyards on and waved these as we strolled though. We kept going and headed for the two queues of people lined up either side of a road leading up to the ground. We got in line and then stewards appeared and separated the line to allow a car through. A steward asked me if I was English. I grinned and shook my head and he walked off. As the queue edged forward, I spotted Choccy McClair to my left but resisted the urge to say 'Hi' as I didn't want anyone around me to know that I was English. By now I could see a line of stewards stretched across the entrance with hand held scanners, beyond them was a metal detector, which you had to walk through one at a time, again with stewards either side. The stewards were very thorough and stood very close to each other so pushing through with someone was not going to happen. Three or four times I neared the front of the queue and then, pretending to receive a phone call, had drifted back down the queue all the time waiting for an opportunity. One Puff was doing the same; and it was then that I noticed a lady to the right of the steward furthest left. She was leaning up against the barrier and taking photos of the stadium; and every now and again she edged forward and actually passed the steward before joining her mates once they had gone through the ticket checks.
I've no idea if she was a master jibber or just an amateur photographer but she had slipped past – fair play! I took her place up against the barrier and held up my phone and went through the motions of taking numerous pics. All the time I had my eye on the steward who was basically stood next to me. The minute he looked away I took one step forward and paused again taking pictures. I waited for maybe 30 seconds and then walked off towards the airport style scanner. I smiled at the stewards either side and walked through. It buzzed and a steward came over and frisked me and then let me carry on. The next hurdle was a row of small turnstiles but I managed to slip through with another fella without breaking stride – result! Another large open area then led to an entrance into the ground. There were stewards dotted about around the entrance but they weren't checking any tickets. Once in, what I would describe as a sort of hall with various corridors leading off, I sat on a bench and observed for a good five minutes. Each corridor obviously led somewhere as groups of people were heading down them and all showing wristbands to the stewards that were stood on the doors. Various signs highlighted the way to go for the 'Sky Boxes' and 'Championes Suite'. I couldn't see where the wristbands were coming from. Everyone had one as they entered the hall. Had I missed somewhere on the way in?
I waited until a good-sized group was heading to a corridor and joined them. Both of the stewards were stood to my left so I made sure I was to the right of the group and as I walked in, I smiled and lifted my right arm to show the steward my imaginary wristband. I had a coat on so could have had a band under my cuff. I strolled on and came to another entrance, same again and I was now into a huge restaurant.
What a result I had found Club Juve! Straight up to the table at the end… "wine or champagne, Sir?" I helped myself to a champagne and headed to my right. The room was full of tables with groups of people all enjoying a meal and buffet areas where you went up and helped yourself to the delights on offer. I sat at an empty table not knowing if the seating was unreserved or whether the tables were all booked? I took my coat off and sipped my drink whilst scanning the room. Everybody was eating so although I wasn't that hungry I ventured up and helped myself to pasta with a Bolognese sauce and a chicken breast with a sprinkle of cheese to finish it off. It was bloody lovely as well, and shortly after two fellas came over and asked if they could sit at my table. This was a result as I now knew that you could sit anywhere which meant I was not going to be chucked out for crashing someone's table.
Everyone in the restaurant had a green wristband on so every time the waiter came round, I had to put my hand under the table in case he clocked that I didn't have one. I rang One Puff to see what he was up to and he too had done the camera trick to get past the initial checkpoint and had then gone through the scanner but had been sussed trying to get through the turnstile without a ticket. He claimed that his 'friend' had his ticket and that he was a guest and a very helpful steward then produced an iPad and asked him his friend's name. The stewards, he said, didn't appear to suspect that he was a jibber and genuinely wanted to help him find his 'friend'. I told him to go away and come back saying that his friend had emailed him his ticket but that his phone had now died. Again, they were sympathetic but wouldn't let him in. If I could have found where the wristbands came from, I might have been able to go back out with one.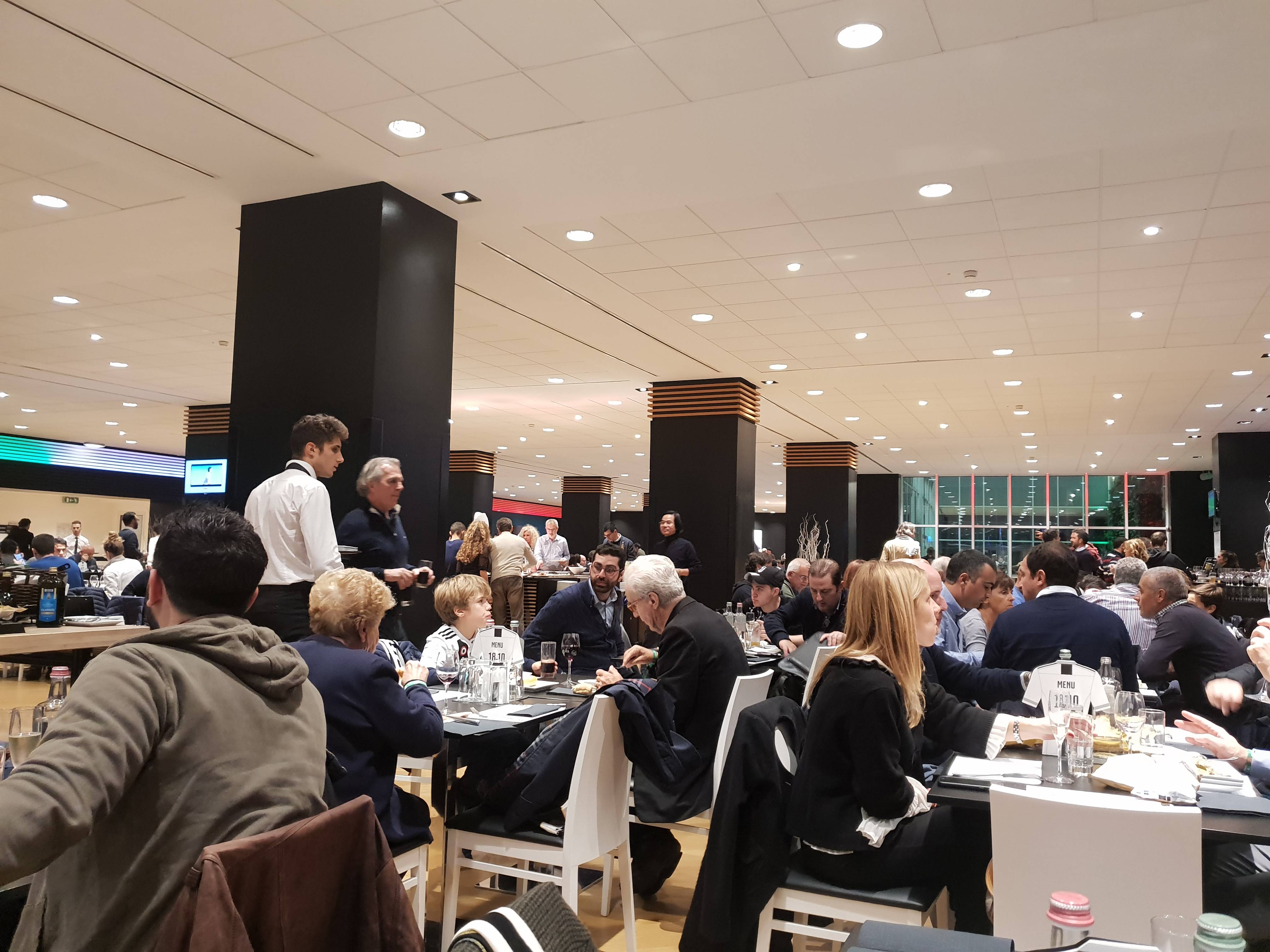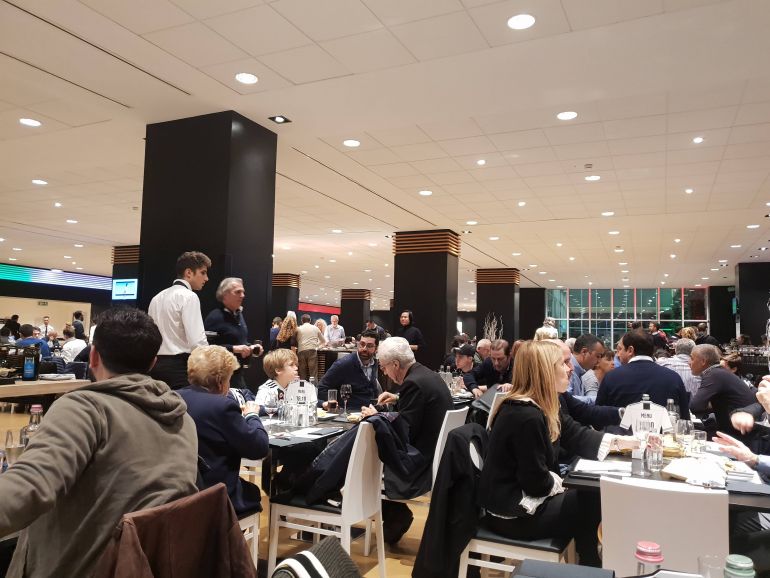 After another champagne, it was time to move and see if I could find a way into the stadium. I found a new corridor that led to the toilets and again had to swerve past a steward checking wristbands. I then ventured into another VIP area where you actually had to pay, shocking! I waited for a bit and then again tagged onto another group, passed the stewards and down a corridor and through yet more doors, down some stairs, passing a couple of lift doors (more stewards) and along a corridor to a fire escape. The people I was with pulled down the lever and walked through onto the concourse. Without following this group god knows where I would have ended up as there is no way I would have opened that fire escape door on my own. Surely it should have been an exit from the ground? It didn't make sense but I was on the concourse and buzzing.
From the concourse, tunnels led to the stadium; I took the right one and wandered up into the arena. It looked smart, but I was on the side at the opposite end to where United were. The main home end was right by me with flags, drums and fellas up on poles at the front. I walked down towards the front, where the seats to the left of the gangway were cushioned and well nice, and to the right were standard seats. I plotted up in the cheaper ones and just took in the spectacle. It wasn't long before the light show started. How crap is this? They basically pumped out some shite rock music at very high volume with a mad light show and the odd firework thrown in. At a teenage girl's concert or Disneyland this would have been fine but at the home of one of Europe's grandest football clubs? It was wank. The intimidating Juventus away? The feared Italian Ultras? It was embarrassing, but sadly more and more clubs are turning to this sort of nonsense (Chelsea anyone?). At least Chelsea play some decent ska music to accompany it but at football, really?
The United end (corner) was still fairly quiet but the rest of the ground was starting to fill up. I had to move seats just once before settling in on the end of an aisle for the entire match. Once the game kicked off the United end was in fine voice with the whole end bouncing. I'm often in the home end at euro-aways and usually not that bothered, but I was well envious this time of the lads in our section as this was a proper end and the support throughout the match was quality. I could clearly hear "a bunch of bouncing Busby babes" which went on for about twenty minutes.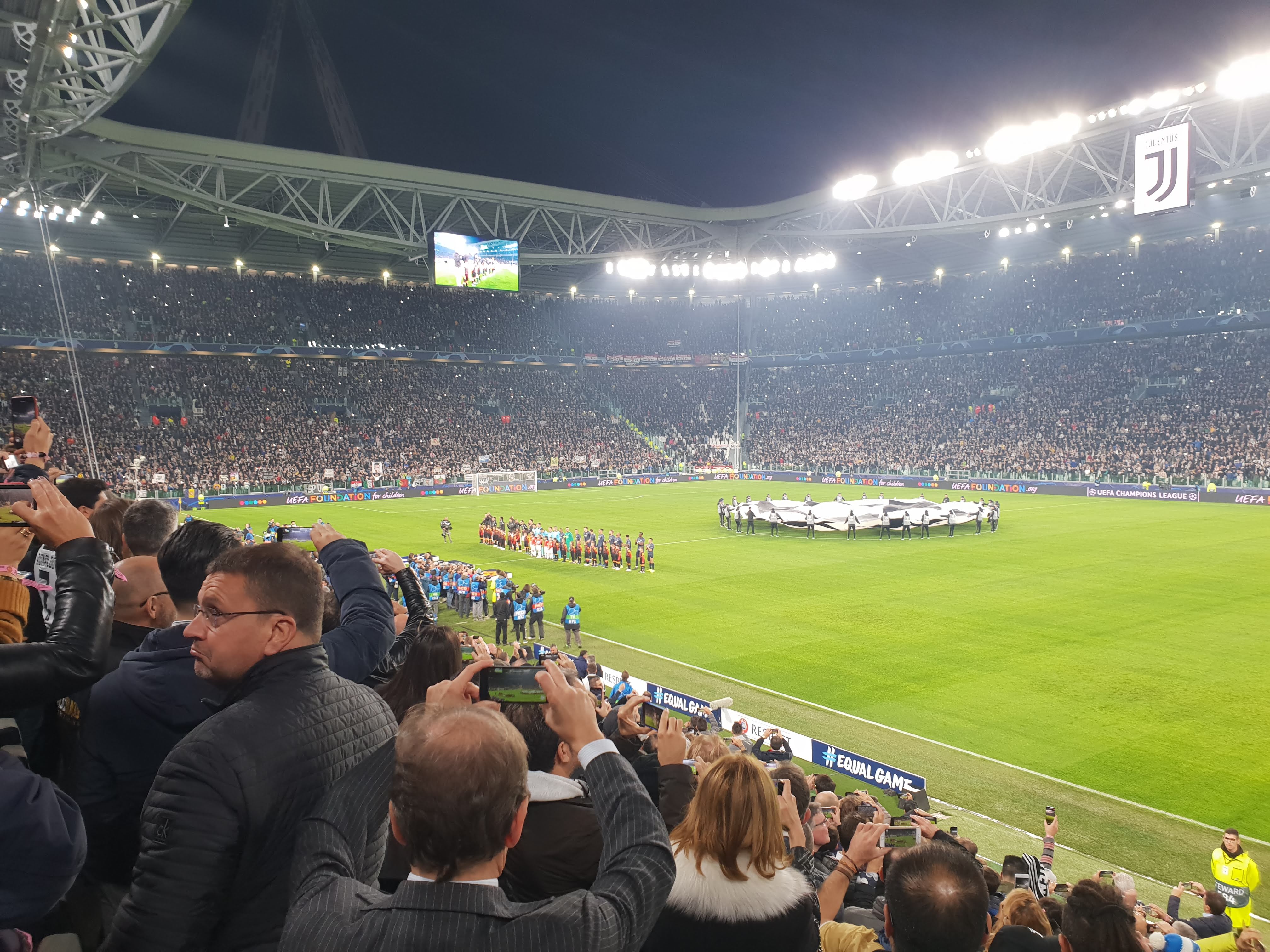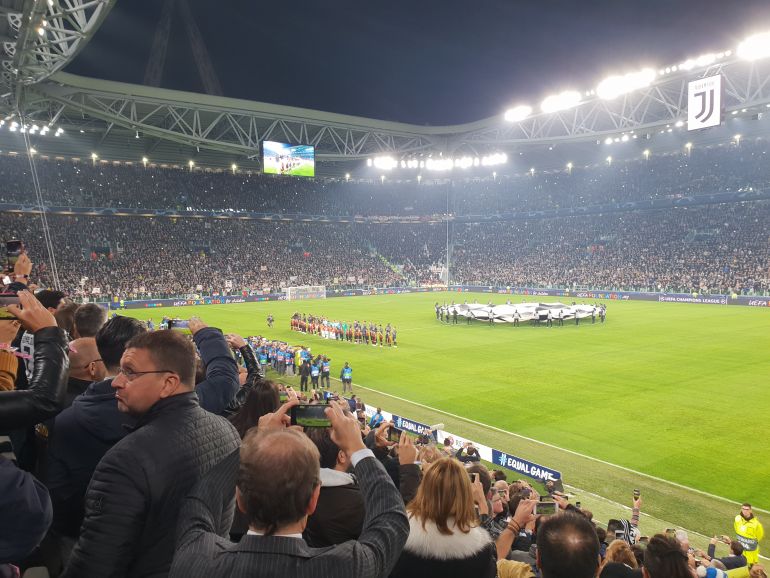 Juventus were the better side for sure but we hung in. Ronaldo scored a superb goal mid-way through the second half but this was always going to happen so I wasn't that bothered. At half time I spoke to One-Puff who was in a bar with a few Reds near the ground but said he was about to jump in a cab and head to town for the second half. I then headed back towards the Championes Suite for a complimentary half-time refreshment, but stewards were checking wristbands in one of the corridors so I backed off and returned to my seat.
The second half continued and Juve missed a few chances and with a quarter of an hour left it was still one-nil. Could we nick a draw? After a rare attack, we won a free kick just outside the area and up stepped Juan Mata. He stuck a superb free-kick straight into the top corner and I exploded with joy. I leapt up and ran down a couple of steps punching the air before suddenly remembering where I was. I quickly returned to my seat and spotted two proper units also bouncing up and down to my left. I punched the air and they grinned back at me. I sat down and braced myself for some grief. A bloke behind shouted 'Merda' a couple of times but I think he was shouting at the team not me. Had I been behind the goal I'm sure I would have been battered but I was fine and when the second went in I had no worries and was up again. It was a bit of a scramble and initially, I wasn't sure if it had gone in so it wasn't a mad celebration like the first but I was now proper buzzing. Against all the odds we were winning away at Juventus; not just any old club, JUVENTUS. The United end was going ballistic and there was a chap at the front in a RBN bobble hat and a yellow jacket who really stood out. He had been bouncing around all game, top work fella.
The whistle blew and Jose went onto the pitch and managed to upset the locals even more. I applauded and lingered for a bit just taking it all in. Moments like this don't happen that often so I was going to make the most of this. Once out of the ground I headed towards the United end past shed loads of coaches taking their fans back to all over. I then walked past the entrance to the VIP bit I had gone into earlier and carried on until I was outside our end. The police presence was heavy as expected and Juventus fans were streaming past but they weren't mobbing up or hanging about which was a surprise. I got chatting to a lady who had watched the match in a nearby shopping centre; she had come over with her 14-year-old son but only had one ticket, so he had gone in. What a top mum, imagine that. When I was 14 I would have been listening to this on the wireless, not bouncing around with a couple of thousand lads in Turin. After about half an hour a few United started to appear and Gowski and Alan were virtually the first two out. Buses were lined up to take us back to town and we jumped on and even bagged a seat. They were buzzing as much as I was. Five or six of the massive airport style double buses then pulled away full of United lads. All the day trips and organised coaches were elsewhere, this was just the lads and a great turnout it was. Carabinieri vans were at the front and back of the convoy with motorbikes on either side. We were blue-lighted  straight back to the drop off point just down from the station, it was quality. Every junction was blocked off by the motorbikes and so we flew straight back to town. As we left the stadium Juve were all walking away from the ground and stood outside bars. They must have been devasted as 500 United drove past singing and jumping around in delight.
We got dropped off and then all walked up towards the station and all the bars we had been in pre-match. It was a great moment all marching up the four-laned road belting out "United, United, United". I got chatting to John, one of the Andover lads, and we ended up in an Irish bar – the wrong one. All the others had headed to a different bar – never mind. We got a pint in and celebrated with all the lads who were in and the odd female (Melissa).
We then headed to meet up with the others – and this bar was quality. As I walked in Owen and his lot were bouncing around and working their way through the United songbook. Pretty much everyone I knew in Turin seemed to be in this bar and it turned into one of the great European nights. It might sound mad considering how crap we have been playing this season, but this night was right up there with some of my best ever. The result, the United end, the jib, even getting the bus back to town. I loved every minute of it and it reminded me how good our following is. One Puff had watched the second half in this bar with a hundred or so Reds and Louis and a few of his lot who had left the match early thinking we would lose. They were keen to avoid the inevitable lock-in after the match, but why would you leave early? A truly schoolboy error from lads who really should know better! One Puff said that when Mata scored loads ran out to celebrate in the street and he could see and hear Reds in both directions who had come out of other bars to celebrate. Plenty didn't make it to the match, which is a shame but with 2,000 allocations, what can you do? Well, you could jib.  The bar showed the match highlights which obviously went down a treat and we danced and sang until the bar finally closed about 3 ish. They must have rung last orders at least five times but then carried on serving, what a top boozer.
Another beer then followed in a kebab house, which was full of some very pissed Welsh lads, before we staggered back to our hotel. The next morning we got up (too late for breakfast) and headed out into Turin. We found a decent coffee place with outside seating under a covered walkway; it was very Italian and I imagined myself as a modern-day James Richardson from Gazzetta. I had ordered a coffee and a croissant and was feeling very European and stylish, but Duff then ruined the mood entirely by coming out with a Peroni.
We were soon on the turbo train back to Milan and its very impressive central station. The place is spectacular with high vaulted ceilings and amazing architectural style. As I was gazing up in wonder Duff appeared again with another pack of beer; it was me who was going to have to drive home from Bristol so he was determined to make the most of the day. That's it really. The very noisy lads on the flight out kept a very low profile on the way back. I'm guessing they may have overdone it a bit. Another great trip with a top bunch of mates, another quality jib. You can't really ask for any more, well you can actually. You can hope for a win, and against all the odds we even got this, MUFC…………..OK.