Manchester City winger Raheem Sterling has deleted a tweet with a humourous transfer message to Borussia Dortmund sensation Jadon Sancho.
While the pair are together on international duty, The Independent recently ran a story linking Sando with an £80 million move to Manchester United.
Sterling knows Sancho from the Dortmund star's time at City earlier in his career and given his form in Germany this season, it's no wonder he wants his club to re-sign a player who left because he saw his opportunities in the first team likely to be limited.
It's probably a lot more likely that United will sign Sancho than City, with Pep Guardiola having a dig at the winger last week, but at least Sterling will get to see his mate more often should he arrive at Old Trafford.
The deleted tweet featured a picture of Sterling and Sancho in mid conversation. Sterling then adds a mock-up caption of him asking the English youngster about his buy-back clause.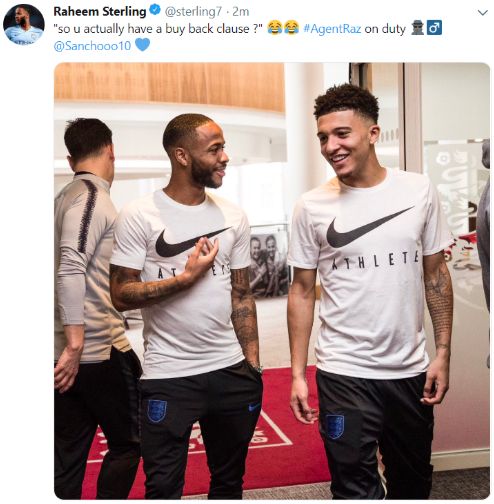 This is not the sort of tweet a club like Borussia Dortmund would appreciate, so perhaps Sancho begged him to take it down! Hah.