Romelu Lukaku was unable to build-up on his impressive performance against Arsenal in the FA Cup when Manchester United recorded a 1-0 win over Leicester on Sunday.
He found himself back on the bench as Marcus Rashford played centrally with Alexis Sanchez and Jesse Lingard operating at either side.
Lukaku provided two assists against Arsenal but had little impact when he came on to replace Rashford at the King Power Stadium. There was only 12 minutes left to play but the Manchester Evening News described his performance as "blunt".
One moment stands as Ashley Young gets notably frustrated.
An opportunity opened up for the England international to drive at the Leicester City defence but Lukaku stood idle, demanding the ball to his feet rather than running towards goal, which would have probably gave the full-back more space to run in behind.
Young was left with no other option but to play a risky pass to Lukaku, only for the Foxes to win back possession.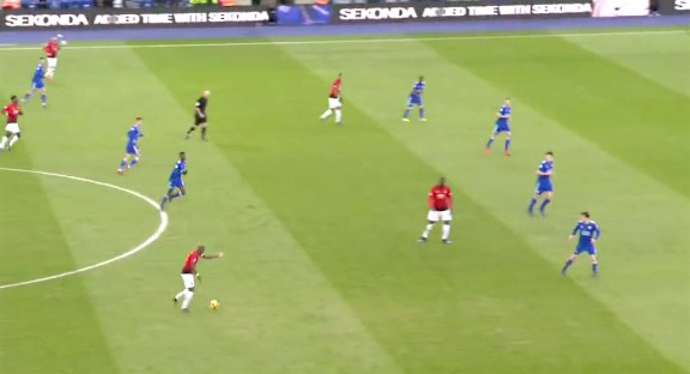 See footage below.
Run! pic.twitter.com/zoIyECrygg

— Best of Football (@BestofFootball8) February 4, 2019
United fans were also frustrated by the sluggish piece of play, expecting more from their £75 million signing (as per BBC Sport).
United fans feel Lukaku should show more willingness to help teammates out.
---
WTF is Lukaku doing, you are 15 minutes on the pitch and you can't be bothered to run counter attack… #LEIMUN

— PartizanNiksic (@Partizan_Niksic) February 3, 2019
Wtf is Lukaku doing? Make a run FFS! #LEIMUN

— Ræhan (@RehanTCh) February 3, 2019
Any chance of making a run Lukaku? 💩

— Dave Steele (@Dave_Mufc) February 3, 2019
What does Lukaku actually bring to our team? Yeah he's tall but he doesn't even win headers. He only came on for 10mins and looked too tired to make a run. He's like a donkey in front of goal, someone get him a taxi back to the bench cheers😂#LEIMUN

— Thomas (@Thomas61094934) February 3, 2019
Lukaku just out there lugging around. My man. Run.

— PawPaw (@SirToonday) February 3, 2019
Lukaku looks gassed already! He is moving like he played the entire 90. Young is having to tell him to make a run

— MUFC-4-ME (@VI_stcroixboy) February 3, 2019
It's like lukaku forgot to run into space #MUFC 🤦🏾‍♂️😳

— WD (@wez_deniro) February 3, 2019