Diogo Dalot has been ranked in the Golden Boy 2018 award.
The annual accolade, presented by Italian newspaper Tuttosport, honours the best footballers under the age of 21 in Europe.
From a competitive list of 100, Manchester United's Diogo Dalot has been listed as the 14th best football of that age group. Votes were cast by 35 journalists from 20 nations across the continent.
Ajax starlet Matthijs de Ligt was crowned the most promising U21 player in Europe. He beat Roma winger Justin Kluivert, Liverpool's Trent Alexander-Arnold, AC Milan striker Patrick Cutrone and Real Madrid newcomer Vinicius Junior to the award.
Last year, Kylian Mbappe was named Golden Boy for 2017.
Dalot is in good company here and hopefully he can continue improving year after year. We have not seen enough to suggest he deserves to be higher in these rankings, but early signs are certainly positive with the 4-1 win over Fulham being a stand out performance from his debut campaign at Old Trafford.
Look at the chart below, you will notice how Dalot finishes just one place behind PSG striker Mbappe.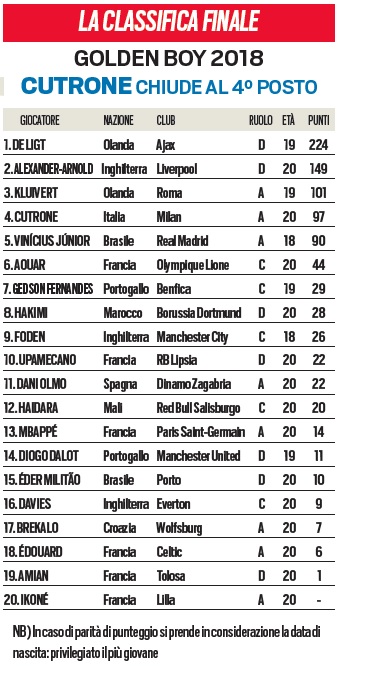 It's important now that the club and whoever takes charge next season (the management will change at some point, surely?) makes sure to nurture Dalot's talents because he looks capable of being our full-back for the next decade or so…