Serbia are out of the World Cup meaning Nemanja Matic can get a much-needed rest ahead of the 2018/19 campaign with Manchester United.
A winner takes all clash with Brazil in the group stages saw the Selecao eliminate Serbia, so Matic has gone on holiday before linking up with his club team-mates for pre-season tour.
Matic joined United a year ago from Chelsea – a decision the Blues deeply regret – and that is likely to stand in the way of our pursuit for Brazilian winger Willian.
READ MORE: Man Utd on 'constant alert' as deal for €60m target may be softened by 28-year-old going other way
Chelsea went against Antonio Conte's wishes by selling the Serb midfield anchor after signing Tiemoue Bakayoko, who didn't have the best of debut seasons whilst adapting to the English game. They will be hoping to see a significant improvement next term.
Anyhow, Matic uploaded a photo to Instagram to show everybody he's enjoying his break in the sun, but Manchester has seen similar weather of late.
He could easily come back and sun himself in or around the Salford Quays area…
Former team-mate Zlatan Ibrahimovic was quick to pop a joke at Matic though, suggesting his skin doesn't take to the sun very well.
"You forgot the suncream," the LA Galaxy striker commented only for Matic to reply: "My body like only Manchester weather."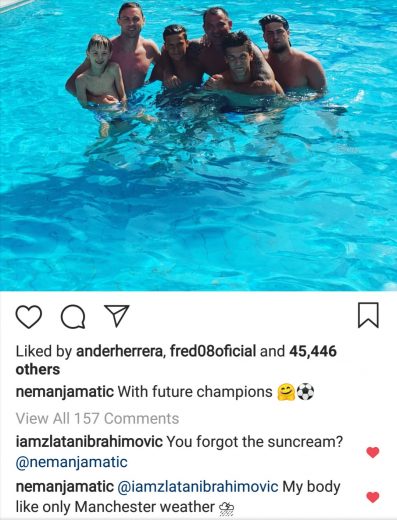 Someone tell Matic it's just as good in Manchester at the moment.