Brazil train in London this week before traveling to Anfield for a World Cup warm-up match with Croatia on Saturday. Then it's to Vienna to face Austria ahead of their World Cup opener against Switzerland in Rostov on June 17.
This means Fred, too, has flown to England and there are reports suggesting he could potentially complete a transfer to Manchester United.
READ MORE: Shakhtar fan on what to expect from Fred who appears set for Man Utd
Wishful thinking…
Obviously, United would prefer to conclude a deal for Fred before the World Cup and Manchester Evening News revealed last week they are close to reaching an agreement with the Shakhtar Donetsk midfielder. The MEN also had it on record that Fred's agent, Gilberto Silva, flew to London last week and held additional dialogue to escalate the move.
Speaking to the press in Rio de Janeiro last week, Fred said:
"There have been some advanced talks since January when I almost went to Man City. Soon after City, United talked to Shakhtar and my agents. And today, if I'm not mistaken, there is very strong interest from United.
"My head is in the World Cup. My agents are taking care of it. I try to do my work in the field and leave extra field for Gilberto Silva. My staff are looking at what is best for me. Who knows after the World Cup I can make the best choice for me."
Fred doesn't have the same aerial presence as Marouane Fellaini, but Mourinho needs to replace the Belgian midfielder should he leave, as well as Michael Carrick, who retired at the end of the last season.
United stepped up their interest in Fred after City ended theirs. Hopefully, we get our man and he's good enough to rub it into Pep Guardiola's face.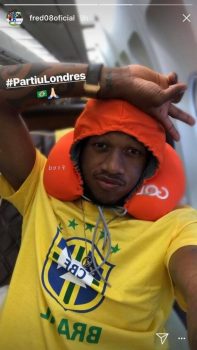 Here's how fans reacted to the news on Twitter:
Fred and Jorginho/Milinkovic-Savic please. If we don't get at least two midfielders, two fullbacks I'll be very disappointed. A right winger would be nice too. #MUFC #TransferTalk

— cody (@codeslie) 28 May 2018
.@CraigNorwood has started to follow Fred Rodrigues on Instagram. This only happens once a deal has been completed, more to follow. #mufc

— MUFC (@Mourinholic) 28 May 2018
Fred, Bale & Alderwield would be a fantastic window. Still need a left back and right back, but I'd love Fosu Mensah to be given a chance on the right. Been brilliant at Palace when played there. #mufc

— Ben Pearce (@benmu7) 28 May 2018
Brazil will train in London this week before they travel to Anfield for a World Cup warm-up with Croatia on Saturday, papers making out Fred is in england to talk to #mufc about transfer from #shakhtar

— Transfer Claptrap (@transferdicky) 28 May 2018
Fred has liked this 'Welcome to Manchester' comment on Instagram. #mufc pic.twitter.com/UrX1oZAk6c

— United Xtra (@utdxtra) 28 May 2018
I expect the deal to be done this week tbf as Fred is in England

— Its Blxine (@ItsBlxine) 28 May 2018