Chelsea winger Willian appeared to take a swipe at Antonio Conte on social media following victory at Wembley over Manchester United, a club he could yet end up joining, according to Manchester Evening News.
Willian is, without question, one of Chelsea's more consistent performers, but he has found himself out in the cold in recent weeks.
READ MORE: '90% done' as Man Utd player edges closer to exit
Thankfully for Willian should he stay, Conte is reportedly set to leave Stamford Bridge, as per the Guardian.
The Brazil international seemingly took a swipe at Conte, posting a picture of the Chelsea squad's FA Cup celebrations on Instagram, but using several trophy emojis to obscure his manager.
When asked recently by ESPN Brazil about his relationship with Conte, Willian replied: "Oh boy, do you really want me to tell you?
"Let's save it for another interview."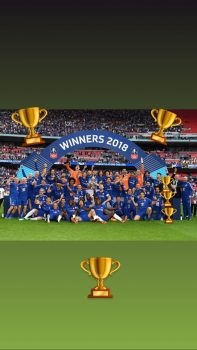 Mourinho was quick to walk over and path Willian on the back as he came on as a substitute for Chelsea on Saturday. There's definitely something brewing but maybe the Brazilian will want to see who the Blues appoint next before jumping ship? Just a thought.
Anyhow, Chelsea fans reacted angrily on Twitter to his Instagram post:
Sell Willian @ChelseaFC his attitude is worthy of a child of 5 years

— LuK'sS (@LoftusBlues) 20 May 2018
Never liked or rated Willian anyway. Now he should be sold & if it doesn't involve Martial thenid sell him abroad.

— Reevesy (@DavidTReeves) 20 May 2018
Willian can fuck right off now. If It were down to me I would sell him abroad. Whatever his relationship with the manager – he should not be washing our dirty linen in public. https://t.co/V5PTYBe7vH

— TerrenceTheCat (@TerrenceTheCat) 20 May 2018
We should sell Willian.smh

— Citizen Don Kekye ❓ (@citizendonGh) 20 May 2018
Who gassed Willian , sell him ASAP , he performs only for 2 months in a season https://t.co/rS5JnIq94t

— Srinjoy (@Srinjoy011) 20 May 2018
I agree, Chelsea should definitely sell Willian this summer. To Manchester United!