Manchester United striker Marcus Rashford showed his gratefulness as Cristiano Ronaldo sent him a pair of red Nike Air Max 97 CR7 trainers.
Cristiano Ronaldo may not have shared the Old Trafford dressing room with Rashford during his time at United given the Wythenshawe lad would have been 11 when the Portugal international left for Madrid, but he was still more than willing to sort the youngster out with new footwear.
A sheer token of generosity.
Ronaldo collaborated with Nike to produce trainers worth £145, but he will be undoubtably happy with the plug on social media.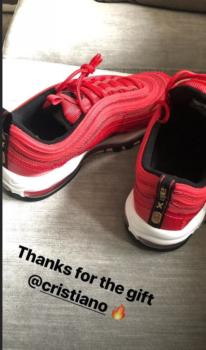 The trainers in question have been designed to pay homage to Ronaldo's mother; she used to patch his shoes back together when he was younger as he would constantly create holes in them. Many of us would have put trainers through hardship in our younger years, kicking footballers or any objects we could get our hands on to replicate great sporting moments.
They carry Ronaldo's CR7 mark on the heel inside a golden sphere and have already sold out.
Best of luck to Ronnie as Real Madrid look to put the final nail in Juventus' coffin by progressing to the Champions League on Wednesday night. Hopefully he can set the world alight like last week when his overhead volley left legendary goalkeeper Gianluigi Buffon stood idle between the sticks.