There are two kinds of football fans in the world. Stephen Hawking, rest his soul, would say no, there are infinite varieties. In the broader sense, he's right. Our minds, if not our physical bodies, live in a multiverse in which our individual preferences are binary and distinctly polarised, but collectively overlap and interconnect like a pile of DVDs spilt on the floor. In the narrow context of this conversation, however, there are just two strains of footballus doticus. Let's call them the duck-billed platitudes and the stat rats.
The stat rats are the game's latest evolutionary branch. They are mostly young, lean, quick, and chatty. They spend their lives hoarding numbers, organising them with meticulous, loving care. The duck-billed platitudes are a long enduring species. They are often big and round, brightly coloured, with disproportionately short limbs and a discernible squint. They spew forth myopic adages they believe to be wisdom tried and true. Occasionally, a rat will happen along mid-spew, steal their wisdom, and leave a few shiny numbers in their place, thinking it a fair trade. The platitudes just squint as the rat scurries away, muttering angrily about the nerve.
On the outside, I look like a prototypical platitude except that I tend to shy away from bright colours. On the inside, I am something of a rat. Inevitably, my mind is filling with numbers. When someone spews a platitude in my general vicinity, I tend to run it through the numbers, then make what some might call a correction or ruining their fun but I think is an equitable exchange.
Ask Jimmy McBride. Judging from his opinion regarding Alexis Sanchez and Anthony Martial's comparative value, he is a DBP.

Restraining myself, I didn't reach for numbers immediately. I confined myself to generalisations.

That turned out to be a mistake.

I brought it on myself, of course. "Sounds to me" is bound to trigger any animal, let alone a DBP. And Jimmy knew the right response. Words like "obvious" make a stat rat's nose, whiskers, and ears all twitch like someone caught in a grand mal seizure. Our eyes roll back in our heads. Rather than forcing something into our mouths to keep us from biting our tongue, we tend to go straight for a handy data hoard.
Cue Transfermarkt. I double checked Martial and Sanchez's numbers then fired back.

Now, Jimmy is good at this game. Realising the numbers didn't back him up, he tried to introduce a new element that would make the data appear irrelevant.

Only, I was serious. I then rattled off a three-tweet response.
[Note: That's how obsessed I am. Even with 280 characters, I needed three shots to get my point across]
The gist of it is I was serious enough to check whether Lingard was in fact better than both. Because the argument was about who is the best attacking player, I combined their goals and assists and divided minutes played this season by the total. That tells us how often each has been directly involved in a goal, which I am referring to as goal rate.*

When I shared the information and pointed out Lingard was only better than Alexis, Jimmy was a good sport, liking the tweet. That doesn't mean he's a convert or isn't muttering about my nerve somewhere at the other end of the Twitterverse.
I can see why he might. The data doesn't take into account how much each player tracks back after losing possession.
I am not Jimmy. I am not Jose Mourinho. I don't think supplementary defending should be the determining factor. Attacking players are expected to produce goals, not prevent them. When Chris Smalling headed in the goal at Crystal Palace that began United's improbable comeback a month ago, it was unexpected. When defenders do those things, we call it a bonus or gravy. Similarly, when Romelu Lukaku clears a corner from his own box at a crucial moment, that is also not what he was signed to do.
Accordingly, I want the attacking players out there who will produce the most goals in the shortest time. Alexis Sanchez needs 20% more time to match Jesse Lingard's output and 50% to match Martial's. We very well may lose the Frenchman in the offseason because he is not playing.
There are times when tracking back is important. For instance, if United's defence can't cope with the occasional error. But the Red Devils aren't conceding goals left and right on the counterattack. They are the league's second-best unit in the defensive third.
In fact, file this under things that make you go hmmm. Before Sanchez was acquired and began running back all the time to recover lost balls, when Martial was in the squad and didn't, United was boasting the Premier League's top rearguard.
Why did they slip? In part, Martial wasn't turning the ball over nearly so often as the Chilean. Also, when he trusted his midfielders and defenders to cover for his gaffes, they had a release valve up the pitch when they won the ball back. When Alexis drops back, there is one less link to Lukaku. Didn't we used to revile Wayne Rooney for constantly coming back to get the ball? What changed?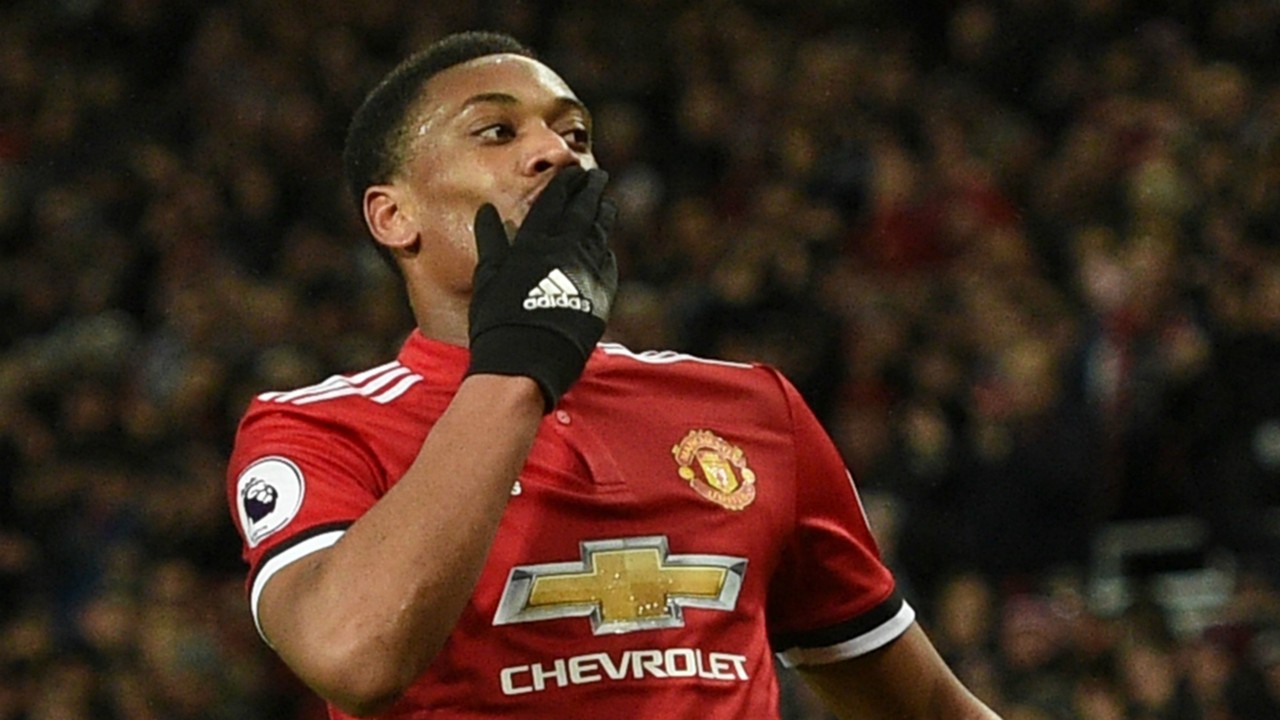 Finally, there's this whole notion that hustling and tracking back mean you are contributing more than Martial, or Mesut Ozil at Arsenal, or Dimitar Berbatov when he loitered at Old Trafford. It's a myth. Oh, the player is expending energy, running about madly, looking extremely busy. That's what it looks like. Same thing that's asked of you in your job, right? That's why you love it. And how much does all that hard work get you on payday? Not nearly as much as the CEO.
In truth, working your ass off for little or no joy is being inefficient. Picture your favourite billionaire in your mind. Is he rolling up his sleeves, jumping in to fill a gap in the assembly line or sales force? Is he sweating? Or is he sitting calmly behind a desk or conference table? Maybe on a deck chair aboard his 80-metre yacht? Notice how Donald Trump works. The US president starts his day with a few tweets, gets his critics in a lather, his supporters in raptures, maybe knocks some other billionaire's stock for a loop [put your hand down, Jeff Bezos] or pisses off Xi Jinping, then hits the links to shoot a relaxing 18.
In essence, that's a forward. The man who makes £200,000/wk+ should sit back, letting his teammates do the grunt work, then profit from the opportunities all that graft produces. That's assuming you want to win a title.
If Anthony Martial wasn't taking his chances and reaping those profits, I would have been all for signing Alexis Sanchez. But he was.
Ask yourself what would have happened at the Ramon Sanchez Pizjuan in the Champions League knockout round first leg if Martial had been on the left flank. Simple maths say there is a 91% chance United would have scored an away goal against Sevilla because he has a hand in one every 99 minutes. There was only a 58% chance when the boss went with Alexis.
If Jose Mourinho is such a pragmatic manager, why isn't he playing the odds?
Please, can I have my club back now?