Should I complain about Jose Mourinho first or cut him some slack? Because I'm going to do both.
I don't know. Since I've always been an oddball let me get the negative waves out of the way first.
Had my fill of the entitlement from fellow #ManchesterUnited fans.https://t.co/hmyxWKFvPJ

— ✍️Martin Palazzotto (@PickettPocketPr) March 17, 2018
I was concerned coming into the FA Cup quarterfinal. The Champions League second leg against Sevilla was a decidedly poor performance fuelled by the manager's conservatism. At no time did Manchester United appear interested in breaking down the visiting Sevillistas even though Vincenzo Montella was being just as cautious. Just as Mourinho had sat Paul Pogba again, the Italian had left Wissam ben Yedder's eight goals in as many Champions League matches (including qualifiers) on the bench. It was an open invitation to attack that Mourinho never accepted.
As Tuesday's match progressed I worried whether United would be made to pay if it did not score before Montella finally turned to his Frenchman. It was a case of worst fears realised.
Mourinho's interviews in the wake of that defeat were even more ominous. He has an ego on him. Every successful manager including Pep Guardiola and Sir Alex Ferguson does and did respectively. I don't begrudge him that. The danger is he doesn't possess the self-awareness to dial it back when necessary. Reminding United fans how he had beaten them twice in the Round of 16 wasn't the best idea. Getting into a 12-minute argument with the entire press corps before the Brighton match was worse. I began to wonder if the self-destructive streak that raged out of control at Chelsea had arrived at Old Trafford a year early.
The FA Cup quarterfinal began in the evening, in a snow flurry. It was so cold David de Gea wrapped himself up like a mummy on the bench to conserve his warmth.
During the game, the BT Sport cameras stayed on Mourinho as he chatted happily with Brighton right-back Ezequiel Schelotto, like they were old friends. In fact they are. The Argentine may look 18 but is in fact 28. He was a supporting cast member in Jose's treble-winning Inter squad. Before that reunion, the Portuguese also had some cheerful banter for Chris Hughton, whose expression suggested a) he had no idea what his opposite number was on about, b) was in no mood to smile, or c) was simply too cold for his facial muscles to function.
The conversation with Hughton occurred before Romelu Lukaku's header from Nemanja Matic's first-touch cross opened the scoring. It was odd to see Mourinho so relaxed when everyone else was tense. Further, it was annoying given he had emphasised in interviews that he didn't want his players enjoying themselves too much. Leading by example is always the best approach isn't it?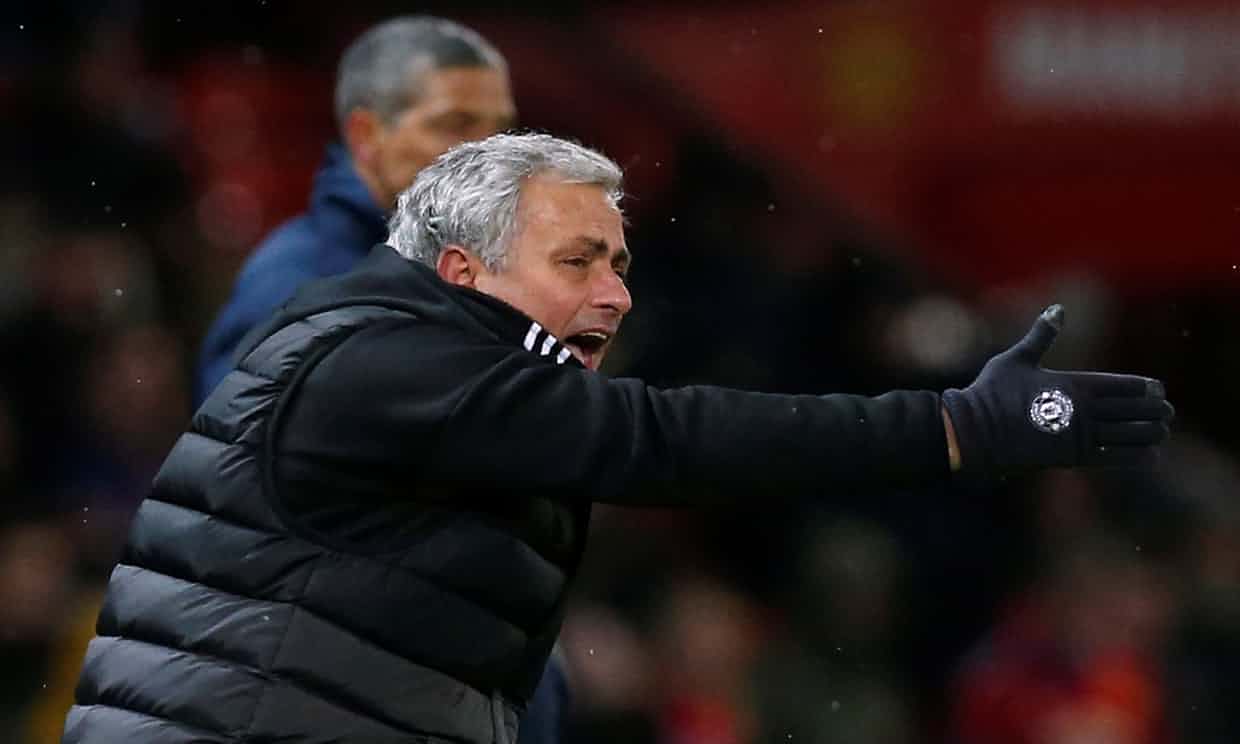 In the end, United defeated Brighton 2-0. Matic, who had served up the ball for Lukaku's header was on the opposite end to score the second. The manager wasn't impressed. He chose this win to lace into his players rather than after the mid-week embarrassment. Maybe he put it off rather than kick them when they're down. Some coaches think you should be encouraging after poor performances and hard following good ones to establish the even emotional keel the Portuguese values. Reverse psychology, like anything else, is fine if it works.
More satisfying than relief the match was safely put to bed with Matic's finish was the manner in which it shut up Ian Darke and Steve McManaman. The two announcers had been droning on about United's insipid performance. The Red Devils weren't thrilling the crowd, bossing possession, nor threatening to score with every touch. Never mind that Brighton is a side that just defeated Arsenal far easier than United had earlier in the season. Mourinho's squad weathered a violent storm at the Emirates. The Seagulls traded blows with the Gunners at the AmEx. Shots both attempted and on target were virtually even despite Arsenal's advantage in possession. Even without Glenn Murray starting, this was no easy match.
Quick segue: why is every recent United opponent so content to leave its talisman on the bench?
Regardless, the point here is that Brighton are a decent Premier League side with a well-organised defence that is dangerous on the counter. Nevertheless Darke, McManaman and half-time studio mouthpiece Jake Humphrey were relentlessly pushing a narrative that United just weren't good enough. Darke had just prompted McManaman to prattle on again about how United weren't creating enough chances when Matic headed the goal in from Ashley Young's set piece.
2 – Nemanja Matic has both scored and assisted in a game for the first time since August 2014 for Chelsea against Everton. Collectors.

— OptaJoe (@OptaJoe) March 17, 2018
It would have been nice to hear some humility and self-deprecation from one or the other regarding how the goal had silenced them. Instead, they wiped the egg from their faces off camera and changed the topic. If two or three television announcers were the only people peddling this false narrative, it wouldn't be so bothersome. Instead everyone is. It's all we've been hearing about United not just since Mourinho's arrival but also throughout the David Moyes and Louis van Gaal eras. I feel like Hawkeye listening to Black Widow during the battle scene in the first Avengers movie. You and I remember Manchester United very differently people.
I have no clue where this idea that United at one time played positive, attractive football originated. They've had skilled players who provided memorable moments, sure, but United has never been Barcelona or even Arsenal. God forbid. Even in their heyday under Fergie, United were defensive-minded and boring for long stretches. How do you think Fergie Time came about? You don't need to switch on to win games late all the time if you've been on the front foot from the off.
The Old Scot even gave a post-match interview once in which he cited a goal kick from Edwin van der Sar that found Ryan Giggs, who sprang a forgotten United striker in on goal for the finish. He labelled it the ideal attack, admiring the play's simplicity and efficiency. It's also exactly what Mourinho would applaud, as he did last week when De Gea, Lukaku, and Marcus Rashford executed the play to perfection to open the scoring against Liverpool. Route one football. United has always played it.
Jose Mourinho has his psychological issues. They include an overinflated sense of self-worth, selective memory, and a persecution complex. On the one hand it's extremely frustrating and often embarrassing. On the other he's no different from the typical Manchester United supporter.