With Manchester United and Liverpool sitting second and third, only two points apart, a normal season would view this match as critical to both team's title hopes as well as a matter of pride. A normal season.
This one is not, however. City are too far ahead to be caught, Chelsea too far behind for United's Champions League place to have been put at risk by defeat. For Liverpool, the loss does open the door for Tottenham to move third tomorrow evening. They now must fight it out with Spurs to avoid the need to qualify for the group stages. If Chelsea gain revenge on Crystal Palace tonight, the Blues will still be four points adrift the Merseysiders.
So, job done for United. Here is a full squad report card.
Jose Mourinho: 9/10
Had the Paul Pogba saga been resolved this would be a perfect ten. The issue is not resolved, however. Leaving the Frenchman out doesn't confirm that so much as Pogba's silence. The midfielder has a strong social media presence he could have used to deny any rift. He has not. That speaks volumes.
Regardless, Mourinho issued the perfect gameplan for his side. Call it a defensive masterclass or parking the bus as you prefer, both tactics and squad selection were spot on. The key element was the wave of long passes back to David de Gea. Purists will roast Jose for not playing out from the back but having his number one continually go route one eliminated Jurgen Klopp's celebrated Gengen Pressen. Having De Gea seek out Lukaku, who was instructed to flick on for Marcus Rashford, exposed Liverpool's poor defence.
Mourinho's second-half substitutions were (again) markedly effective. Marouane Fellaini was a presence in the box. Jesse Lingard made defenders hesitant to commit too far forward even though an equaliser was needed. Matteo Darmian coming on in the final 30 seconds of added time killed the game off.
Jose Mourinho digs out Gary Neville after Manchester United's victory over Liverpool at Old Trafford. Neville had claimed that Marcus Rashford deserved to be sent off at half time and Mourinho jokingly replied "it was lucky the referee wasn't influenced by his opinion." pic.twitter.com/PaTxEJuWYD

— Man Utd Videos ⚽🎦 (@ManUtdVines) March 10, 2018
David de Gea: 7/10
I am not penalising the Spaniard for having little to do. Nor am I faulting him for not making another amazing stop to save Eric Bailly's own goal. As brilliant as De Gea is, he struggles with his decision-making.
He hesitated to come out on an early ball that Chris Smalling was shielding from Mo Salah. Smalling eventually conceded the corner but the cameras caught his frustration afterwards. It could have been disastrous.
Late on, Liverpool were winning corners and flooding the box. The Spaniard was forced to punch out several balls. He became trapped in the sequence, doing so once on a looping cross with no one near him. It fell to Roberto Firmino outside the box. Nothing came of the mistake but a catch and clearance would have eaten valuable time.
De Gea has amazing physical talents as a shot-stopper. His brain must catch up with his body.
Antonio Valencia: 8/10
The Ecuadorian was immaculate in his defending down Liverpool's left flank. He forced both Sadio Mane and Roberto Firmino to seek joy in the middle, where numbers were waiting. Understandably, he did not venture into the attacking third very often. When he did, it was effective. The only blemish on his performance was the high boot that nicked Mane's shoulder and drew a yellow for reckless play.
Eric Bailly: 6.5/10
The Ivorian almost went in the book but it was the own goal that marred his first Premier League start since 2017. He misjudged the flight of Mane's otherwise harmless cross. Had he not been slightly ahead of the ball, he could have used his right foot to clear towards the sideline. Otherwise, Bailly was his typically dominant self.
Chris Smalling: 9/10
Everyone's favourite whipping boy had yet another solid performance despite being shifted to the left side of the box to accommodate Bailly. Smalling was strong on the ground and in the air. He made all the right choices and was never drawn out of position. His reward for another reliable outing was an inadvertent kick in the balls from Dejan Lovren on a late corner. Another day in the life of Mike Smalling.
Ashley Young: 9/10
This was the critical matchup in the game. Mo Salah simply had to be neutralised. Jose Mourinho's favourite left back did exactly that. Barring Rashford's brace, this was a man of the match performance. The Egyptian found himself in the box with a half-chance only once the entire match. Caught on the wrong side, Young harried him just enough to produce a poor touch but no penalty, allowing Smalling to arrive in support. Even better, Young chose his spots well and forced Salah to work on defence.
Mohamed Salah's heat map vs Manchester United. pic.twitter.com/COaXDfps8d

— Footy Jokes (@Footy_Jokes) March 10, 2018
Nemanja Matic: 7/10
Defensively, Matic was his usual club bouncer self, not allowing anyone wearing the wrong shirt into the box. His passing was inconsistent, however, as it has been for a few games. Whether his late goal against Palace emboldened the Serb, or he was overcompensating for Pogba's absence, he tried dribbling past defenders too many times. It rarely ended with a completed pass.
Scott McTominay: 7/10
The young Lancastrian Scot continues to grow. He was again reliable as part of Mourinho's two-man shield in front of the defence and was better on the ball than Matic. His positioning needs work, though. Several lunging tackles on the day demonstrated as much.
Juan Mata: 8/10
He's small. He's slow. But he keeps living up to the English translation of his name: Johnny Kills. He just seems to show up unexpectedly to do damage, like BB-8 in the latest Star Wars trilogy. Playing him is like Mourinho taking the role of Obi-wan Kenobi. This is not the droid you're looking for. The bicycle kick Mata couldn't quite pull off would have been the perfect poetic ending to put this match away.
Alexis Sanchez: 6.5/10
Full disclosure: I am not a fan of the deal or the player. His arrival has disrupted an attack that was in ascension just before his signing. His enthusiasm is unmatched; I will give him that. There are times he fights and wins possession to create havoc in the final third. There are moments when he intervenes in his own to save the day. Between, there are simply too many poor choices to dribble rather than pass and too many flops and arguments with the referee. Kicking the ball away on a free kick might have been his way of preventing another moment like the one at Selhurst Park. The danger wasn't there in this instance, however, and he could, no, should have been booked. He almost drew another with his sauce when Craig Pawson had a word.
Marcus Rashford: 9.5/10
I saw where another outlet graded the youngster a perfect ten. Granted, it was an almost perfect performance. He did precisely what Mourinho desired when writing his name on the teamsheet, running onto balls, stretching Liverpool, exposing the individual weakness of their defenders. He also pulled out a new trick. Rather than running to the end line as has been his wont, he employed a perfect Anthony Martial cut-back to move to the middle, teed up for his right foot, and drove it into the far side-netting, beyond a helpless Loris Karius' reach.
To be honest, the second goal was more luck than brilliance. Karius overcommitted on the initial penetration, and could not recover when Virgil van Dijk's deflection caught Trent Alexander-Arnold overpursuing. True, that is hardly Rashford's fault. The late tackle near the sideline that elicited a caution from Craig Pawson was.
Romelu Lukaku: 9/10
Liverpool once had a striker named Emile Heskey who was notorious for not trying to score. Instead he held up play like the Kray twins held up banks, setting up his teammates for all the glory. That was Lukaku's role today. Get on the end of long clearances and find Rashford. Job done in exemplary fashion.
Marouane Fellaini: 8/10
It's been a while since the Belgian Chia Pet came off the bench for Mourinho, but he showed why the boss so desperately wants him there. He headed several balls out of United's eighteen, settled down possession in midfield to keep the ball away from Liverpool while his defenders caught their breath, and was as effective as if he had been featuring regularly. He's probably still leaving this summer for a team that will start him, but he's been far better than United supporters have deserved, considering their attitude towards him.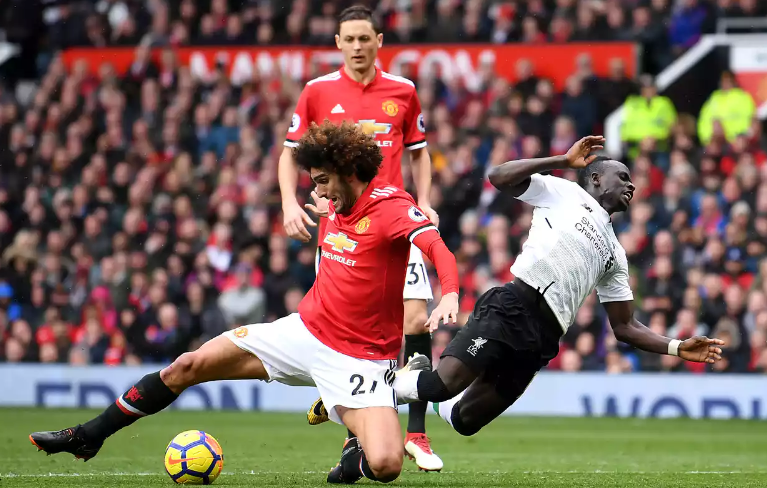 Jesse Lingard: 7/10
He didn't show us anything special but neither did he do anything stupid. That was all Mourinho wanted from the precocious academy product to see out the match.
Matteo Darmian: 10/10
The Italian didn't veer from Mourinho's instructions in the slightest, killing off the final half-minute by waiting patiently for Alexis to stroll off the pitch. Excellent work.
Liverpool equal their longest winless run against Manchester United in the Premier League 🙈 pic.twitter.com/VB3Nd7Rpyu

— B/R Football (@brfootball) March 10, 2018