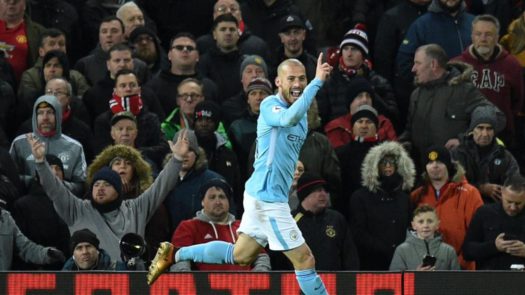 There are ways to lose a football match against your nearest and noisiest rivals. Sunday was not one of them. Few would associate Arnold Schwarzenegger with Manchester United.  However, when assessing the defeat which opened up a seemingly unassailable 11 point lead, a quote of his seemed rather apt: 'When you go through hardships and decide not to surrender, that is strength'.
Feeble, meek, piss poor, irrespective of the strength of word which springs to your mind, the manner of the defeat was indigestible and a white flag. The resignation among fans as Bernardo Silva expertly, and annoyingly repetitively, kept winning a succession of throw ins and corners to run down the clock was the surest indication that the ghost has almost officially been given up.
As much as United won't publicly admit it, their race appears to have been run, it is a nigh on formality, barring the collapse of all collapses, that the ribbons around the silverware will be blue again, but of the lighter variety.
Dodgy referee, rotten luck, however you want to sugar coat it, some glaring chinks in the armour were brutally exposed:
No Pogba, No Party.
Thoughts immediately turned to the derby as soon as Pogba was dismissed from the Emirates pitch after what seemed an innocuous trod on Hector Bellerin. The rights and wrongs of the expulsion are for another occasion, and the club accepted the three match punishment.  Pogba, to that point, had an absolute blinder and his influence is backed up by the stats. He was seen as the potential chief tormentor, and counter punch to the likes of David Silva and Kevin De Bruyne. United sorely missed his ability to instigate swift transitions from defence to attack.
In his absence Ander Herrera was asked to fill in.  The Basque seems a shadow influence to last season, where many were touting him as a future captain.  He appears more and more like a bull in a china shop rather than the firefighter he was. This left Nemanja Matic with a thankless task of shackeling the aforementioned duo. With Michael Carrick not in the picture for much longer, and Marouane Fellaini's transformation getting to his and his agent's heads, United desperately need a commanding midfielder to assist Matic and Pogba.  Andreas Perreria is away until June 2018, so unless our current staff can regain their form, another signing might be needed.
Ageing Full Backs
This was an area City were widely ridiculed for last season. Guardiola recognised this was an Achilles heel and oversaw an unheard and seemingly obscene spending splurge. Veterans Sagna, Zabaleta, Clichy and Kolarov all binned, the boundless Kyle Walker and Benjamin Mendy acquired to give them searing pace down the flanks. As consistent as Valencia and Young have been for United this campaign, their ageing legs were giving a battering with the blistering pace of Sane and Sterling. Danny Rose has widely been touted to switch South with North and Luke Shaw finally gave fans a glimpse of the form he threatened to provide under Louis Van Gaal against CSKA Moscow. The likes of Darmian and Blind do not appear to have certain futures and it is not implausible that United will invest in both full back positions.
Square pegs, round holes
In almost deja-vu fashion, United set up in adventurous style against Guardiola's City, only to get decimated and overran. In 2016, Lingard, Mkhitaryan, Rashford and Ibrahimovic all lined up in a bold team. Fast forward a year, Rashford, Martial, Lingard and Lukaku, all looked exciting on paper, potentially leaving Herrera and Matic horribly exposed. Martial on the right, Lingard in the "10", not their natural positions and Henrikh Mkhitaryan nowhere near the fold after a string of woefully abject performances.
There is a reason Mourinho has been reticent to blood Rashford and Martial together, one of them is shunted into the other wing position. Some will rightly argue that good, hell frighteningly talented players that they are, should adapt to any situation. Both are still learning their games but it was telling that moments after Martial reverted to the left, he fired a shot in and Rashford converted from the right, punishing Fabian Delph. It felt like players were being shoehorned and Mourinho's game plan hugely backfired.
Speaking of which…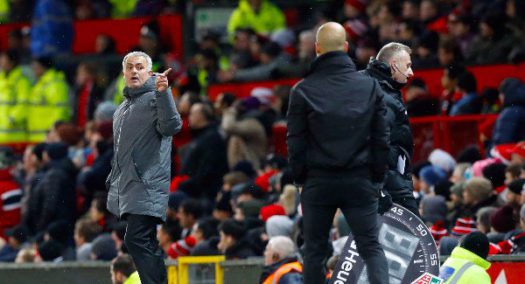 Change in system, change in result
Normally this gives off positive connotations, not on this occasions. United thrived at Watford and Arsenal playing on blistering counter attacks, owing much to the 5-3-2 system enabling licence to the wing backs. It brought much needed confidence to the previously beleaguered Swede, Victor Lindelof, knowing he had the security of the extra centre back. Paul Pogba and Jesse Lingard were able to springboard United from Romelu Lukaku's hold up play in devastating style. Going to a back four, leaving two centre midfielders appeared an aberration with Lindelof the fall guy from the change in style. Being dropped after performing well in the previous couple of games cannot help the man settle in properly.  Mourinho will stick to his guns and defend his decisions, however negligible.
Which brings me to my next point…
Reactive rather than proactive
It only takes a hypothetical second to change the course of a game.  Letting the game drift until roughly the 75th minute left nowhere near enough time for Ibrahimovic and Mata to make their mark. It was telling that United looked their most menacing after the latter was introduced, with a mere nine minutes to play. United desperately needed to fashion opportunities, and who better to provide that little bit of ingenuity than the diminutive Spaniard. It looks wise after the event, and Lingard had been in a rich vein of form, but to me he does not seem a natural ten. United meandered through treacle and it was painful watching.  It was the stone-faced reluctance from Mourinho to influence proceedings positively when they needed it most that was the most disappointing however.
Lukaku's struggle shows no sign of abating
The magnitude of Lukaku's travails were epitomised by fans chanting the name of a 36 year old just returning from an horrendous knee injury.  A well taken stab against C.S.K.A Moscow was hoped to be a turning point in Lukaku's fortunes, having ended a barren spell. His struggles against big teams have been well documented and will remain under the microscope for the foreseeable future. Fans expect a sense of timing from Lukaku; to reach the nadir of your United career in the biggest of tussles though is the timing of the wrong sort. His telling contributions resulted in City's goals and firing straight at Ederson from point blank range. He was bullied by Otamendi for the most of the game.  The Argentinian himself lost the battle of strength against powerhouse Jesse Lingard.  This perhaps says it all to where Lukaku is at at the minute.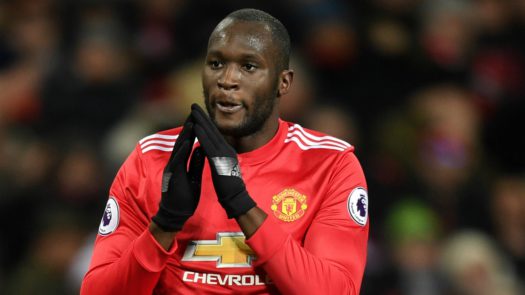 For a man of such broad shoulders and physical stature, you'd think he'd have the confidence slash arrogance to match. Eleven in ten stunning first matches and he looked a natural fit to be United's main man. Some might say devoid of service, confidence undoubtedly. Bournemouth and West Brom seem presentable opponents to rediscover that early season form. Boy, he needs it.