Manchester United scored only two goals against Leicester City at Old Trafford on Match Day Three. Should supporters be concerned or are we just spoiled?
Manchester United 4-0 West Ham. Swansea City 0-4. Manchester United 4 2-0 Leicester City. I can't speak for all United fans but Saturday's scoreline left me feeling like a pattern had been broken, as though the team had somehow come up short.
The Reds still top the league. Jose Mourinho's squad has yet to concede. They continue to push, probe, aggressively search for goals. It just took longer to find them this time. On paper, Leicester is the best side United has thus far faced. On the pitch, the Foxes took Arsenal to the brink on Match Day One, scoring three before capitulating to a pair of goals in the final seven minutes. Logic suggests United, paying far more attention to its defensive integrity than the Gunners, shouldn't have put up four against Craig Shakespeare's side. Emotions dictate otherwise.
Part of the problem is that I continue to fancy myself a better manager than Mourinho despite 15 years of overwhelming evidence to the contrary. During the week, I penned a piece for, as television people would say, another network. I suggested the Portuguese had hit on the correct strategy in starting Marcus Rashford over Anthony Martial, that he should stick with it even though the Frenchman was scoring whereas the teenager wasn't. I was confident he would. Don't fix what isn't broken, I wrote.
Famous last words. Jose did not stick with his strategy.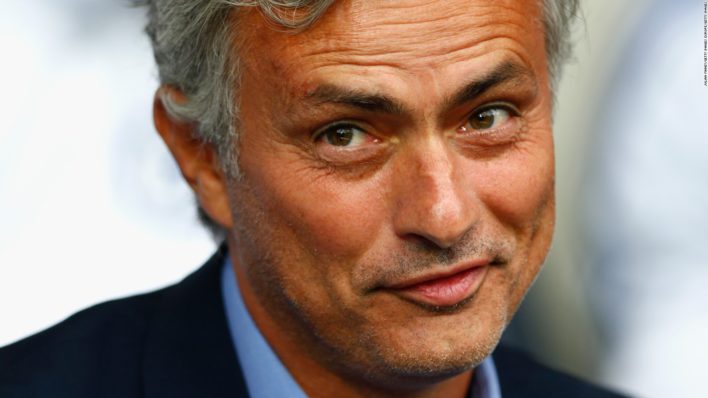 He tried to fix what wasn't broken by rewarding Martial's form with Rashford's place in the starting XI.
The sombre 21-year-old import had scored two goals and assisted on a third in less than a half-hour's playing time. Rashford had worn out defenders with his running but fluffed several chances in more than three times that span. The closest he had come was clanging a curler off Joe Hart's far post.
Conventional wisdom mandated Mourinho go with the in-form player. My counterargument was Rashford's wide play was stretching defenders, creating space for others, including Martial when he came on as a substitute. Martial's tendency to cut inside more than the English teenager allowed defences to settle into a compact group, deny space, not be drawn out.
The Leicester match bore me out. It demonstrated Martial does venture into the middle more often than Rashford. Juan Mata, whose position is nominally the right wing, comes inside even more. In fact, the Spaniard will happily venture all the way to the left corner flag seemingly on a lark. Their combined play renders United's attack far too narrow, playing into a defence's teeth. The setup looks nothing like the first two matches when Rashford stayed wide on the left flank. Instead, it's very much like last season, when the team struggled to find goals.
Against Leicester, that's exactly what happened. The Reds played narrow and struggled to find goals. Like last season, they left it late. They gave the Foxes time to find a goal against the run of play. Andy King nearly provided it but David de Gea's anticipation allowed him to get a shin on the ball, knocking it wide.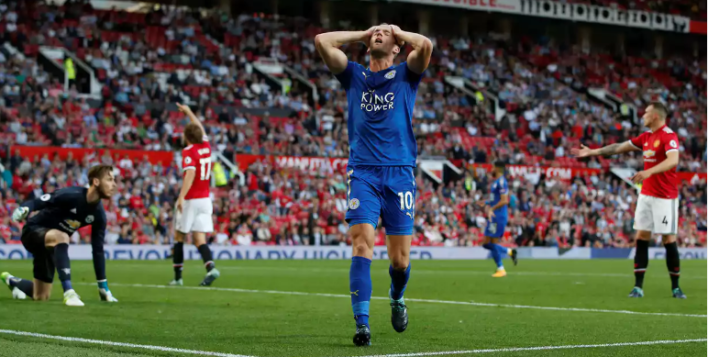 When United's goal finally came, on 70 minutes, it was triple-dipped in irony. One, Marcus Rashford, the substitute, scored. Two, he did so from directly in front of goal off a corner kick. Three, absolutely no running was required from the notoriously fleet-footed forward.
Clever players realise they needn't move when unmarked. If they're in space, they can let the ball come to them. If a marker arrives, only then should they move.–Lee Dixon, NBC match analyst
Rashford proved he is clever as well as athletically gifted. When the corner was delivered, everyone moved away from him, those in red shirts and blue. After taking half a step, the youngster recognised his isolation and stopped. The ball came right to him. He merely needed to guide it past Kaspar Schmeichel.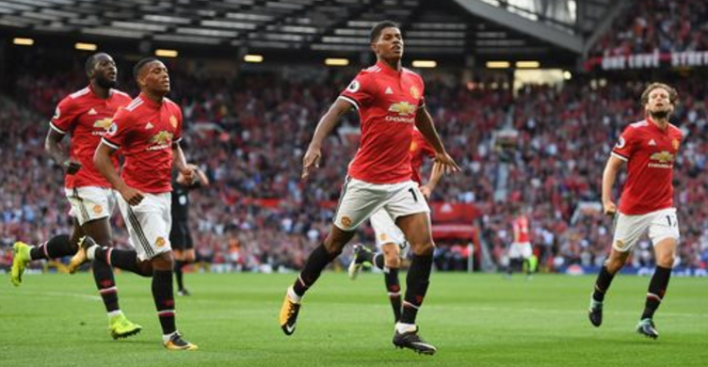 The goal's only familiar aspect when compared to this season's previous eight was that Henrikh Mkhitaryan provided the assist, his fifth, matching his debut season's total across all competitions. His renewed proclivity prompted this amusing tweet.
Mkhitaryan here assisting everybody we should be calling him humanitaryan #GGMU

— Clinton Ogetoh (@ClintonOgetoh) August 26, 2017
Marouane Fellaini similarly needed only stick out his leg to knock in his insurance marker 11 minutes later. The Belgian did have to do a jig to (maybe) get back onside for Jesse Lingard's short cross. The difference was the goal originated from Paul Pogba, standing just inside the touch line on the left side near the centre line. His through ball led Lingard outside and drew defenders after him as he curled to face goal. Fellaini was free to set up on the back door. Wide play is United's ticket to a title.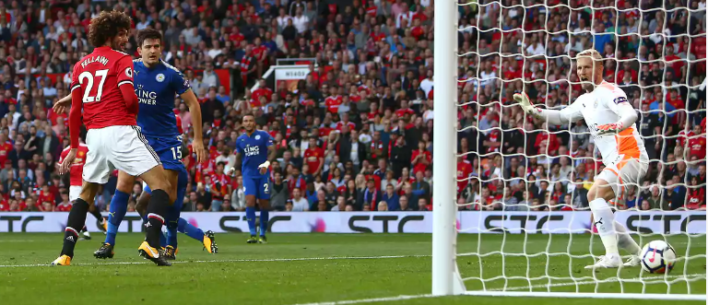 Need more proof? Romelu Lukaku failed to become the first player to score in his first three Premier League matches with a club. With Martial and Mata regularly cutting inside, Harry Maguire, a physical specimen in his own right, had help containing the bruising Belgian. Both Wes Morgan and Christian Fuchs were near at hand. Lukaku's only clear chance was a penalty against Danny Simpson for hand ball on Anthony Martial's cross after–wait for it–taking a pass out wide. The penalty was dubious. Simpson probably couldn't have avoided contact. The point was made moot when Kaspar Schmeichel came well off his line early to parry the shot away from goal.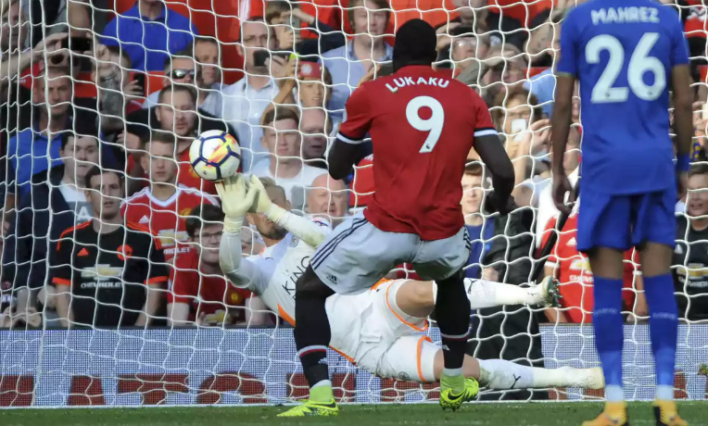 United came out on top in the end. Regardless, its third victory was markedly more difficult than the first two when it didn't have to be. Jose Mourinho may have won eight more domestic titles and cups (each), four more European titles, and five more Super Cup/Community Shields than I have. It doesn't matter. I still think he got his selection and tactics wrong against Leicester. Not that I'm expecting him to give me a call to admit as much after having a think over the international break. He's a busy man.