In putting four goals past West Ham in its season opener, Manchester United did something it hadn't in 2016-17. Jose Mourinho's squad kept its foot on the gas until the final whistle.
I think we can all agree Manchester United's biggest problem during the 2016-17 season was scoring. They managed just 54 in Premier League play. Real Madrid nearly doubled that with 106 in La Liga. AS Monaco, in Ligue 1, and Barcelona were even better. United supporters can't be happy thinking their club is half as good by any standard as its two global rivals and an upstart side that plays in a bandbox seating less than a quarter the match day crowd at Old Trafford. Still, that was last season's reality.
One game does not a season make. It bears remembering West Ham's roster was depleted by injury. No Andy Carroll. No Manuel Lanzini. No Michail Antonio. No Cheikhou Kouyate. Still, a four-nil romp is a promising start to the new campaign.
United scored four only once in 2016-17 Premier League play. Its 4-1 late September adventure against floundering Leicester was an angry response to a prior brace of defeats and a third dubious performance. It was perhaps the only few angry response that served United well on the season.
Old enemy Dirk Kuyt's Feyenoord had beaten them 1-0 in the Europa League nine days earlier. Watford then sang the Red Devils a 3-1 hymn at Vicarage Road. United's 3-1 League Cup victory over Northampton followed. The scoreline flattered to deceive. The Cobblers keeper handled a back pass to gift United a free kick inside the eighteen that led to one goal. Even so, Zlatan Ibrahimovic and Paul Pogba had to be summoned from the bench in the second half to put the game to bed.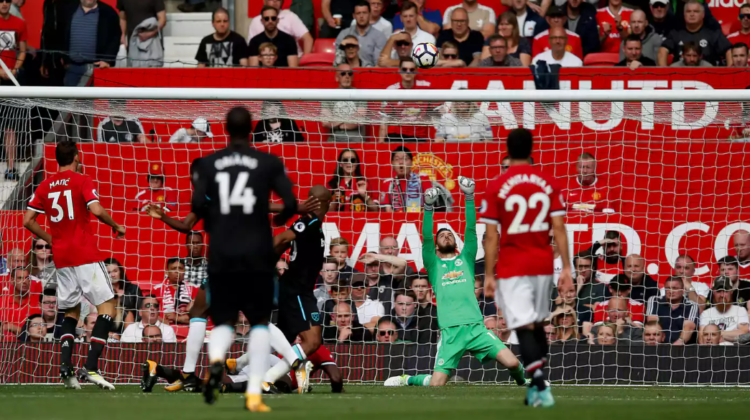 Despite there being no speed traps in the Premier League, United spent the entire season taking its foot off the pedal. Little wonder the club drew ten matches at home.
After a dominant first half against the Hammers during which Romelu Lukaku opened his United account on a brilliant counterattack and the visitors' only chance came with the stanza's final kick, United treated their lead in an all too familiar fashion after the break. Slaven Bilic's side, which hadn't been able to string together more than three passes in the first 45, suddenly began bossing the ball. My immediate reaction was: Seriously? Are we doing this again?
Over a 90-minute match, the side in control must expect at least one push from their opponent, however. Heartened by Edimilison Fernandes' volley directly at David de Gea just before intermission, this was the Hammers'.
After five minutes, United began to sort matters out. Nineteen-year-old Marcus Rashford, isolated out wide on the left flank all day against 32-year-old Pablo Zabaleta, forced a professional foul from the literal grey-beard. From just outside the 18-yard box's corner, Henrikh Mkhitaryan delivered a perfect cross to Romelu Lukaku. The Belgian found space to leap between defenders, then head home his second.

Had United actually put a game away early? The game clock read 52′. If not bite my nails, curse my monitor with every missed opportunity, and shout through the walls for my annoyed neighbours to bugger off, what was I going to do for the next forty-odd minutes?
The answer, apparently, was watch United push on to double their lead. I racked my brains. Vague memories seemed to pulling at me, telling me United used to do this all the time. Had it? That seemed ages ago. Not so long as if I were a Liverpool fan, but ages nevertheless.
When the final whistle sounded, shortly after Paul Pogba had made it four, I pinched myself. Settle down, I thought. It's just one game. What can you take from it going forward?
Three things, I think.
First, Lukaku had gained a reputation for going missing in big games and at important moments. This was only a big game in the sense first impressions are important. West Ham were undermanned, after all. Still, the opener and a vital insurance goal just when the opposition was finding its way qualify as important moments. It was other players who added garbage goals.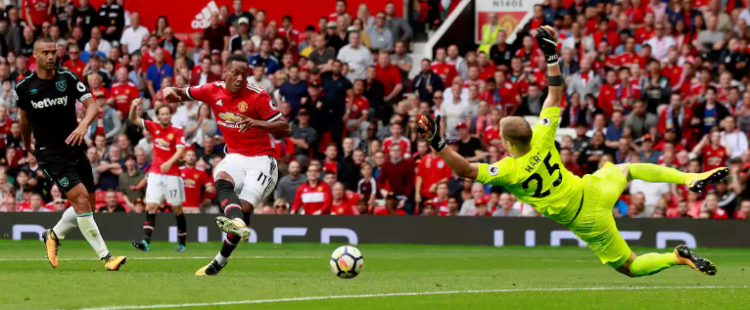 And that's the second thing. United spent most of 2016-17 wondering who besides Zlatan Ibrahimovic would provide scoring. Their pitiful 54-goal final tally revealed the answer was no one.
In this match, Marcus Rashford struggled to score, shanking two efforts before clanging a third off the far post. Anthony Martial relieved him in the eightieth minute, losing little time making a case for himself. He ran onto a perfect through ball from Mkhitaryan, who doubled his assist total from last season in just 87 minutes, and drove it past a helpless Joe Hart. This effort and Pogba's offered hope that, £90 million or not, United won't be a one-trick pony in 2017-18.
NBC's Graeme LeSaux noted that, while Martial's speed was also giving Zabaleta fits, the Frenchman was taking a narrower position than Rashford. Expect Jose Mourinho to create goals using that combination throughout the season. Rashford's wide play for 70-80 minutes will isolate and tire the full back, perhaps draw down support from his winger or out from the centre-half, too. Then Martial will come on to exploit space on the inside. All reports state he wants to start, though the young man himself has remained stoically quiet. When he goes on international duty, he might be well advised to discuss the benefits in accepting an impact sub's role with countryman Olivier Giroud.
Ander Herrera, third and lastly, needn't go anywhere to gain a new perspective. The lesson he must learn unfolded before him. Nemanja Matic's calm control was at the heart of United's success on the day. The Spanish word for calm is tranquilo. In Basque, it is lasai. Herrera speaks all three. Yet, the word seemingly isn't in the former Bilbao player's vocabulary.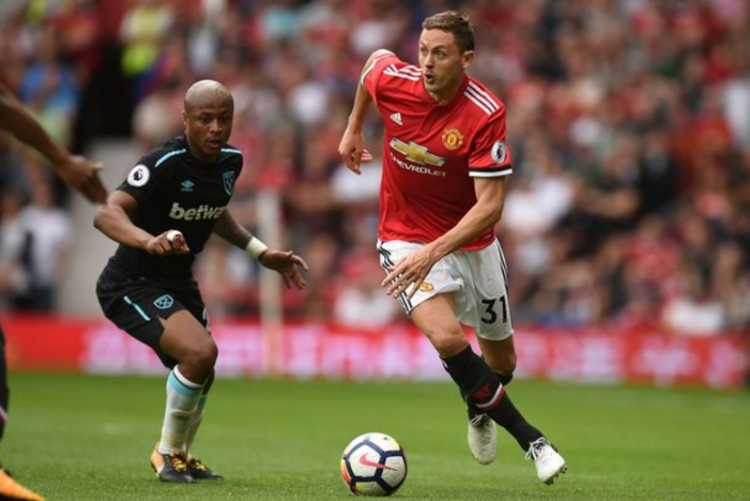 With Matic on the pitch, there were no late, lunging tackles, no beseeching prayers to referees after the fact, no dismissive waves and glowering retreats. Instead, with the match still level, the Serbian ran twenty yards up the pitch, to disrupt a West Ham player's rare moment on the ball with something other than a rash dive.
Reading his opponent's eyes and intent, Matic simply, subtly changed direction as he arrived, deflecting the pass with his shin. It caromed to Rashford and the counter was on. Dashing up the pitch, the youngster was far more precise threading a through ball through three defenders for Lukaku than he was trying to find the twine himself. The Belgian's finish was sublime, finding both posts before crossing the line. Yet, it was the new destroyer's cold, emotionless professionalism that delivered victory. That and four goals.
More of the same, please.