When a long relationship ends, people have been known to sit in the dark afterwards, wondering what the other person is doing at that very moment. Thanks to internet and social media, you don't have to wonder when your ex is Wayne Rooney.
I know, I know. If you're like the Northern Loudmouth, you're not going to miss Wazza. Everyone loved that Rooney came from the streets but many wanted him to leave that crude life behind. When he couldn't at first, the feeling grew he wasn't giving the club everything. When he finally did mature, stowing the bull-in-a-china-shop striker in the attic to fill the moment's need, be it as Robin van Persie's personal valet or an ultimately poor replacement for the twice-retired Paul Scholes, he became a poseur. The hair transplants didn't help.
Nor did the hardball negotiations with Sir Alex Ferguson. Publicly dangling the possibility he might suit up in cerulean, a la Denis Law or Carlos Tevez, sparked a jealous rage that still lingers for many. Having been married to one myself, once upon a hellish time, I understand. Rooney was a hot-blooded Latin temptress who felt she wasn't receiving her due attentions. So, he did exactly what Sonia Braga or Sophia Varga would do. He flirted with our most hated rival to remind us how much we cared, how deep our passion for him ran. It worked, too. For once, Fergie didn't have the stones to let a legendary player leave. Still, the relationship changed. Our trophy wife was still on our arm but the trust had been broken. We were both trapped in a bad marriage.

Sir Alex tried to make a clean break before he retired. Like Pope Clement VII with Henry VIII, the United board wouldn't allow it. David Moyes and Louis van Gaal ended up spending a year and two, respectively, sitting through an awkward silence, like dinner guests at a party where the hosts have had a wild quarrel just before their arrival.
If there's anyone who knows how to deal with a fiery Latin female, however, it's an arrogant Latin male. Enter Jose Mourinho. The Portuguese said all the right things, then, with Machiavellian subtlety, manipulated Rooney into a no-win situation by suggesting he would always be a number ten in his mind. Then he let another, far more beautiful and tempestuous diva, Zlatan Ibrahimovic, show Wazza his place, allowing the boss the comfortable leeway to shrug his shoulders at curious reporters, and offer a dismissive "What can I do?"
Even with Ibra injured and out of the picture in April, Rooney no longer belonged at United. Left few options, he did what heartbroken, jilted lovers the world over do. Wazza went home to mama.
Everton welcomed him home. Ronald Koeman put a comforting arm around him, held his sobbing head to his breast, rolled his eyes, and told the disconsolate prodigal son everything would be alright. What do those fools at Old Trafford know?
To get his mind off the divorce, the Dutchman took Rooney along on an African vacation. The Scouser responded by turning back the years to score a screamer from well outside the box. The highlight sparked a nostalgic conversation in the pub where I sat.
"He's not finished yet," someone said.
"Still has that awareness for where people are," another voice chimed in.
"He's rediscovered the passion he had when he was at Everton as a lad," a third fella offered.
I sipped my beer and thought how love can blind you to the truth. A goal in a preseason friendly against lightweight competition doesn't herald what a tired 31-year-old can–or more likely can't– do against world-class twenty-somethings week in and week out in the Premier League. Gor Mahia is not Liverpool. Tanzania National Main Stadium is not Anfield. Nor Stamford Bridge, the Emirates, Etihad, nor Old Trafford. It isn't even Vicarage Road. Neither is Jerim Onyango David de Gea or Thibaut Courtois. Rooney's blast was equidistant between the post and keeper. It had pace and dip but a Premier League netminder not named Claudio Bravo or Heurelho Gomes would likely have palmed it over.
Thus, I came away from the goal with three very different, more relevant thoughts than my drinking colleagues.
First, why was Gor Mahia, a Kenyan club, playing a friendly against Everton in Tanzania? The answer, as it turns out, is they won a tournament sponsored by the Toffees new kit sponsor, online bookies SportPesa, to earn the honour, with the match already set to be played in Dar es Salaam.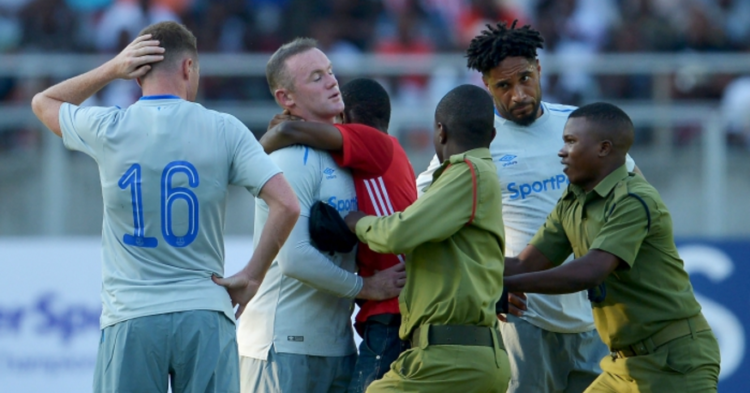 Fair enough, but how do you pronounce SportPesa? Is it like a Mexican peso but with the feminine ending? Or is it like 'I enjoy my sport with a hot fresh pizza covered in toppings'? Alas, Google was not as forthcoming with this information. Any help from someone in the know while I wait on Domino's would be appreciated.
Finally, what is up with Everton's away kit? It's an even more sickening sky blue than City's. I mean, come on you lads in the Toffees' marketing department. You must have had better options. I could do better having to make the decision pre-dawn on a Sunday morning, my head pounding from a twelve-pub crawl the night before. So could you. Spending money on that atrocity, much less wearing it in public, will be a true test of loyalty for your supporters. Poor blighters. Not just stuck with a fading Wayne Rooney in exchange for Romelu Lukaku, but Wazza in a putrid strip to boot.
Ah, better you than me, I suppose.