Looking back over eight decades on Man United's American history and players ahead of its upcoming five match United States tour, beginning on 15 July.

In the Routledge Handbook of Football Marketing, which I'm sure you've all read, Claude Boli claims "Manchester United is definitely the first club in the world to transform its success on the field into an extraordinary commercial success." Other clubs, especially Real Madrid, may beg to differ, but I suspect the author is correct when "world" is presumed to be the operative term. Boli does suffer slightly from Premier League Syndrome. His essay begins with the phrase "In the last 20 years," and quickly mentions Eric Cantona, David Beckham, Cristiano Ronaldo, and Ryan Giggs. Science tells us the planet, and football, existed prior to the 1992-93 season, however. As did United's forays into its further reaches, including the United States.
Nonetheles, Madridistas will insist their international, even intercontinental, influence goes back into the 1950s, when they were importing players such as Ferenc Puskas, Raymond Kopa, and, of course, Alfredo di Stefano. Italian clubs, for their part, were recruiting players from South America, especially Argentina, in 1930, after participating in the inaugural World Cup in Uruguay. Oddly, the United States took part in that tournament, whereas England did not. That's an entirely different conversation, though.
The problem with arguments claiming other clubs established their global brands before United is threefold. First, recruiting foreign talent is importing, not exporting. You can't become a worldwide economic power without entering foreign markets. Second, Boli specifically referenced commercial success over victory on the pitch. Third, while Spanish and Italian clubs were more popular in Latin countries, English, as a first or second language was spoken by more people worldwide. It reached every corner of the globe, not just South and Central America.
It should also be remembered that Real Madrid's first great dynasty, which won the initial five European Cups, was sponsored by an authoritarian, nationalist regime. The most excellent Generalissimo Francisco Franco–and I'm applying Spanish honourifics, not channelling Bill and Ted–was willing to sanction high-priced imported talent to make his favourite club, and by extension Spanish football, the world's best. Except for Phoebe Buffay, Franco's insular nature didn't allow Falangism to spread beyond Spain's borders.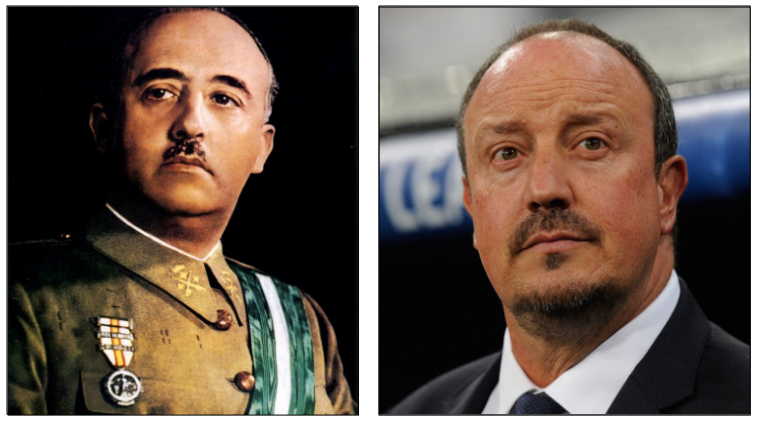 It wasn't until 2005, when Florentino Perez sent Los Merengues to Los Angeles, that the club realised its commercial potential in foreign markets. Interviewed by Madrid broadsheet El Pais, Raul, Pavon, and Iker Casillas all expressed surprise at their popularity in the United States. The report also noted former United captain David Beckham's presence drove up merchandise sales and prices for the club.
Similarly, the British Empire's 20th century decline casts English delusions of footballing invincibility into a nationalist rather than expansionist philosophy. The FA had reluctantly joined FIFA in 1906, then did its first, now forgotten Brexit, relinquishing its membership in 1928, just in time to miss the first two World Cups. England rejoined in 1946, continuing to believe in its football divinity despite the lessons taught by the Mighty Magyars and successive World Cup failures until hosting the tournament in 1966.
The Three Lions, as mentioned, did not participate in the 1930 World Cup. Had they done so, the young Scottish-American who scored the United States' only goal in a 6-1 semi-final defeat to eventual runners-up Argentina, might have been noticed sooner.
James Brown may not have been the hardest working player in American soccer, but you couldn't tell from his upbringing in Troon, Scotland. He became a shipyard riveter at 13. His older brothers and an uncle played professionally in Scotland and England. James, however, didn't join a club until he came to the United States to search for his absconded father in 1927. He first found factory work in New Jersey, then, riveting not exactly being a riveting career choice, turned out for local club Bayonne Rovers. Brown scored four goals in his first match and at least one in each of the eight he played for the side before moving on to Newark Skeeters.
As a decade, the Roaring Twenties lived up to its name in footballing terms. A power struggle the press labeled the "Soccer War" raged between the professional American Soccer League and the USFA (now the USSF) for control over the American game. Newark joined several other clubs in breaking away from the ASL to form the rival Eastern Professional Soccer League.
In 1929, Brown would leave Newark, returning to the ASL for one match with the New York Nationals, the only team with which he appeared but did not score in his career.
Back in the EPSL, with the New York Giants, he would score 13 goals in 26 appearances, an improvement on his dozen in 42 with Newark. His performance earned him a place on the World Cup squad bound for Uruguay. At 6′ 1″, 176 lbs, he was among the many physically imposing players who earned the Americans the nickname "shotputters" from the French. As well as the lone goal in the semi-final, Brown set up a key marker in the opening match against Belgium. Upon returning to the US, he would score 17 goals for the Newark Americans and Brooklyn Wanderers over a season and a half. Then United came calling.
In the '30s, the Red Devils resembled present-day Newcastle. A club with a massive following and huge stadium, United was a sleeping bear which had hibernated through its early existence, enduring more than one relegation, and having won its last league title more than two decades earlier. When Brown was signed, United was struggling in the Second Division. It was fair to say the club was desperate. Bankruptcy loomed. Players hadn't been paid. With more local talent skeptical, the board cast its recruitment net over the Atlantic. A new owner, James Gibson, settled the debt, then invested further, but the resultant turn in fortune was still some way off.
Brown played two seasons. Scoring 17 goals in 40 appearances in red may have been his career highlight. For United, though, it was a forgettable time. In his second campaign, United only escaped relegation by dooming Millwall, 2-0, on the season's final day. Brown wasn't among the scorers. Both Brown and the club would move on to greater success in the coming years, albeit following different paths.
United would finish fifth in the Second Division in 1934-35, earn promotion, be relegated, then earn promotion again in the following three seasons. After muddling through the war years, Matt Busby would guide his team to four second and one fourth place finish when peace allowed the First Division to resume. Finally, Busby's crew would break through for the Red Devils' third top flight crown. Two more titles, then Munich, loomed in the '50s.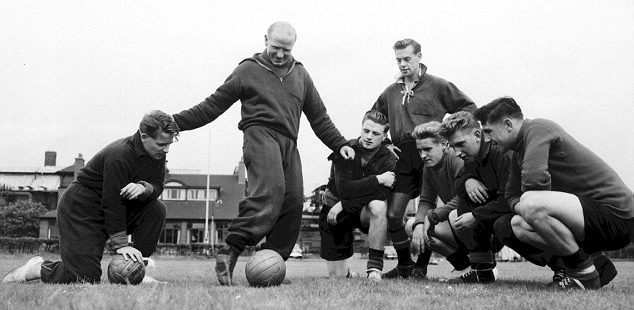 Sir Matt would rebuild the squad, then retire. In his wake,United supporters would have to wait on another knight errant to settle into Old Trafford in 1986, before living out its true golden age.
Brown, meanwhile, would move on to greater success with Brentford and Tottenham over the next three years, pumping in 74 goals in 108 appearances. Next came semi-retirement with Southern League outfit Guildford City, where he fell two tallies shy a goal per game average in 150 appearances. In full retirement, less than riveting factory work back in Troon convinced him to return to the US, where he coached high school and semi-professional football for 25 years. He passed away in 1994.
United's first tour of the United States came in 1950. America lacked a thriving professional league in the post-war years. Thus, other than its win against Besiktas, United played either high school sides or teams comprising foreign naturals.
A transatlantic crossing and back may seem a great distance to travel with so little benefit in terms of preparing the squad for the coming season in England. Nevertheless, the Red Devils didn't come away empty-handed. Busby signed United's second (sort of) Scottish-American, Ed McIlvenny, from Philadelphia Nationals. The winger had caught Sir Matt's eye as part of a makeshift All-Star side United had played.
McIlvenny's performance at that summer's World Cup in Brazil with the United States likely cinched the deal. His throw-in led to the goal in the American's famous 1-0 victory over the Three Lions. As with the US' third-place finish in 1930, its second memorable achievement at a World Cup was accompanied by an Uruguayan triumph. Rod Serling is probably spinning in his grave.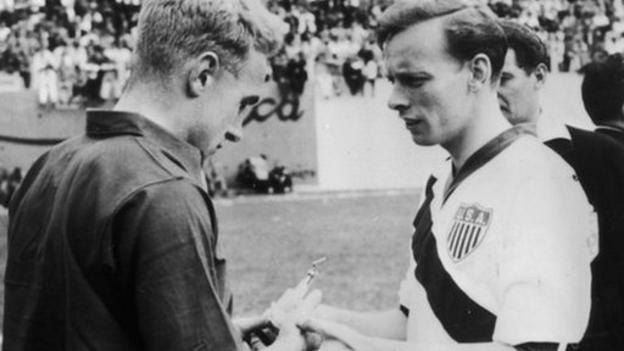 Unfortunately, Rory Delap the Greenock native was not. He couldn't make good on his Old Trafford opportunity. McIlvenny appeared just twice that season before moving on to four productive campaigns with Waterford, in Ireland. There, he scored 19 goals in 57 matches.
It's uncertain whether he ever returned to the US. He never became a citizen, having only to declare his intent to apply to be eligible for the national side under FIFA rules at the time. In the end, karma exacted mild revenge for the unkept promise.
McIlvenny had been named captain for the England game because he was British. In the film depicting the match, The Game of Their Lives, future USMNT captain John Harkes portrayed McIlvenny in a very minimalised role. American Horror's Wes Bentley, cast as regular American captain, Walter Bahr, wore the armband. Ironically, another Scott who has made a life for himself in America, Gerard Butler, was cast in the role of Frank Borghi, the goalkeeper whose stellar performance shut out England.
In the 1960s, the United States had, if not divorced, then legally separated from the rest of the world. Its relationship with European and Asian countries was predicated on its fight against communism. America's fierce pride in freedom and democracy ironically translated into rejecting alternative ideas and sports. Gridiron defined football stateside. 'Soccer' struggled.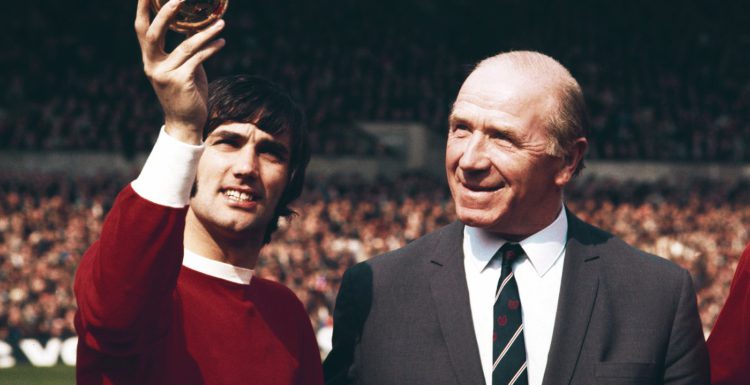 Meanwhile, United were coming to the Busby era's end. Despite the British invasion extending from music to football, the club would do far less during the '60s for American football than other English clubs.
In 1960, the International Soccer League formed as an off-season alternative to the American and Eastern Professional Soccer Leagues. The ISL featured 8 clubs. One was filled with the best American players. The other seven were visiting European and South American clubs, including, in different years, Everton, West Ham, West Brom, Kilmarnock, Munich 1860, Portuguesa of Brazil, and Hungarian champion Ferencvaros. After five years, the USSFA channeled its inner McCarthyism, felt threatened by the foreign insurgency, and declined to further sanction the league, thereby jeopardising any participating players' World Cup eligibility. The ISL was dead.
Two years later, Jack Kent Cooke, Lamar Hunt, and the other businessmen who would go on to form the North American Soccer League, established the United Soccer Association. The group had intended to begin play in 1968 but a rival upstart forced them to field sides a year earlier.
To keep pace with its competition, the USA imitated the ISL, gaining the USFA's finite blessing to import entire foreign clubs to represent their franchises for its inaugural season. Stoke City masqueraded as the Cleveland Stokers. Wolverhampton were assigned a more idyllic locale, becoming the Los Angeles Wolves a half-century before new United teammates Romelu Lukaku and Paul Pogba trained together, then pissed off rich white people by partying the day away in Beverly Hills. Elsewhere, Italian side Cagliari mobbed up, aka Al Capone, in Chicago. Dutch side ADO Den Haag were treated to a working holiday in San Francisco. Sunderland took up temporary residence in Vancouver, Canada, Aberdeen in Washington, and Shamrock Rovers in proudly Irish Boston.
Wolves defeated Aberdeen 6-5 in a wild title final in July, just weeks after United won its last league championship before the Ferguson era, a quarter-century later. Fergie never played for Aberdeen. He was with Rangers in 1967. But as the Scottish club's future boss, before coming to Manchester, perhaps the Dons' defeat was a harbinger of the drought to come at Old Trafford.
Seven years later, the NASL would be flooded with top talent when New York Cosmos signed Pele, Giorgio Chinaglia, Carlos Alberto, and Franz Beckenbauer. To compete, other clubs sought their own foreign stars. Dutch master Johan Cruyff signed with Washington. Man United and Northeren Ireland defender Jimmy Nicholl, who was actually born in Hamilton, Ontario, where I was raised, featured for Toronto Blizzard. But it was United immortal George Best who showed the US how far it had to go in catching up with the world. He played his football with Los Angeles Aztecs, Fort Lauderdale Strikers, and San Jose Earthquakes. In 1981, with the 'Quakes, he undressed the entire Strikers' defence to score the goal generally acknowledged as the defunct competition's most memorable.
United played friendlies in the United States throughout the NASL's heyday. In 1976 and '82, the Red Devils faced the Cosmos main title rival, Vancouver Whitecaps. The first meeting ended goalless but the Whitecaps took the second 3-1.
The NASL would cease outdoor operations in 1984, surviving a while longer as an indoor competition. In 1986, United would tire of its own malaise and finally get around to hiring that Scottish manager who was storming Europe with Aberdeen. The Mancunians were in such dire straits, it would take Sir Alex Ferguson six seasons to turn its rut into the smoothest, most enduring groove elite club football has ever seen. Along the way, he would welcome two more Americans–this time born and bred–into the squad.
New jersey native Tim Howard started brightly when he replaced Fabian Barthez as United's number one. His second season was a mess, however. Several gaffes temporarily cost him his place, with Roy Carroll doing no better in relief. Concern over Howard's Tourette Syndrome coloured the club's judgment regarding his ability to hold down his position. A disease that causes nervous tics doesn't exactly inspire confidence in the one player who can and must securely handle the ball. His sophomore errors embellished that concern and had the club brass and supporters frequently spewing involuntary obscenities themselves.
When Edwin van der Sar confidently completed a season between the sticks, Howard was loaned out, then permanently sold, to Everton. His career highlight would come for the USMNT in the 2014 World Cup round of 16 against Belgium, when he made an incredible record 15 saves against Belgium.
After a year's hiatus, he returned to the national team in 2016, then completed a move from Goodison Park to Dick's Sporting Goods Park, home of his new club, Colorado Rapids. Under new US coach Bruce Arena, Howard has reclaimed his number one shirt from former Villa, Hull, and Boro keeper Brad Guzan. Unfortunately, words slipped, rather than footballs, have led to doubts over his role. An ill-advised remark that German-born American players weren't as committed to the US cause brought controversy and clubhouse unrest.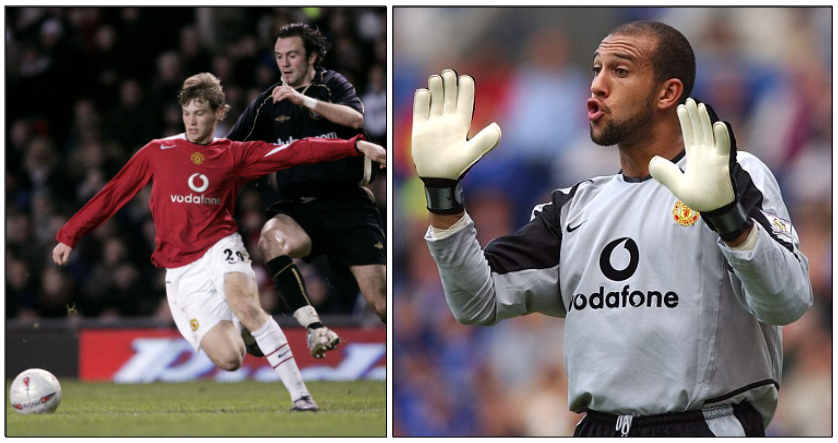 A much quieter, more discreet player crossed the Atlantic with Howard in 2003, to join United. Defender Jonathan Spector flew under the radar in England as adroitly as the evil ficitonal spy organisation which, although spelled differently, shares his name. Like SPECTRE, the Illinois native was capable but never quite able to stop the deadliest interlopers. The 007s among Premier League strikers enjoyed license to kill against the American, pushing him progressively downward. A short stint with Untied led to five years in the table's lower half with West Ham, then six more that included relegation and Championship life with Birmingham City. The 31-year-old now plies his trade with Orlando City in MLS.
Howard and Spector's arrivals came a decade after Sir Alex had restored United's championship swagger. It had taken him five years to manage that. Once he hit his stride, however, United hit the road again.
Its 1999 Champions League title against Bayern, achieved through a glorious, last minute fight back, is exactly the type of feat to attract American sports fans. David Gill and the United marketing department took advantage. Fergie's United were soon touring America with regularity. The Red Devils barnstormed stateside in 2003, '04, '10, and '11. That first tour suspiciously coincides with Howard and Spector's signings.
In any event, frequent flyer miles and constant time zone changes while traversing the US were a challenge the Scot was willing to put to his squads. If they were to win trophies every year, the players ought to be prepared to be tested from day one.
Louis van Gaal didn't feel the same in 2014 and '15, as he attempted to rebuild again. Such coddling and complaining was odd coming from a man infamous for his unsympathetic attitude towards players. This was the same boss who threw Marcus Rashford under the bus after one loss and notoriously dropped trou in the Bayern Munich clubhouse to prove he had balls. That he is no longer to be seen sitting in the player's box, notepad and pen at the ready, even with pants on, only proves you can never let up for a moment.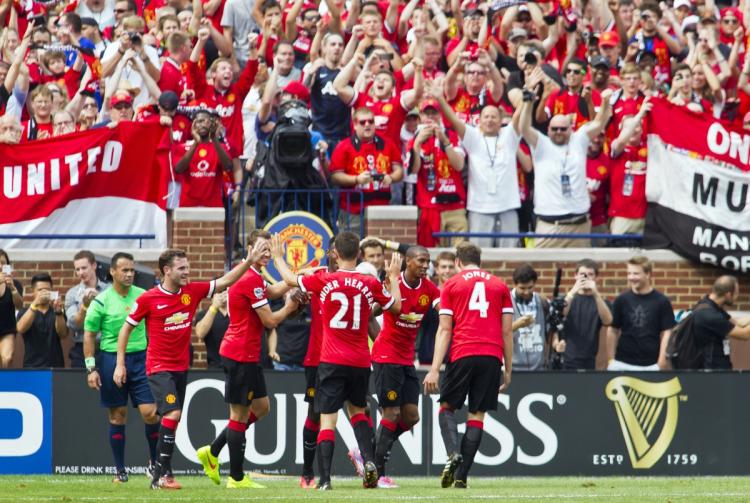 His successor, Jose Mourinho, came away from his first United preseason unhappy with the club's Asian tour. Long distance travel on its own wasn't the issue, however. Jetting to the far side of the world without getting any matches in was.
Mou's lads will begin their five match United States tour on the west coast, at the StubHub Center against LA Galaxy on 15 July. Two days later, they will be nearly 700 miles northeast, facing Real Salt Lake in the Utah club's Rio Tinto Stadium. Then it's a 1,500-mile jaunt southeast to the NRG Stadium in Houston, Texas, to make up the flooded out Beijing Manchester Derby with City. On the 23rd, they'll have reversed direction 1800 miles to the San Francisco suburb of Santa Clara to meet European champions Real Madrid. At this point, United players will already feel more taxed than former star and current Los Blancos talisman, Cristiano Ronaldo. There will still be one more match on the calendar, however, completely on the other side of the country, 2,800 miles away in Washington, DC, on the 26th.
If five matches in eleven days requiring 6,800 miles of travel doesn't strike you as sufficiently sadistic, the squad then has dates on the 30th and 2nd August, in Oslo and Dublin respectively. No rest for the weary but at least the opportunity to make a bit more American history. Mayhap even a chance one or two young Americans catch Mourinho's eye.