The season reaches its climax in dramatic fashion on Wednesday in Stockholm for the Reds in the Europa league final.  It sees Manchester United face up to Ajax Amsterdam.  Remarkably considering the illustrious European of both clubs, it will only be the third occasion where this has occurred.  United prevailing over their Dutch opponents by a narrow margin both times.  The allure of a European trophy, will be added to by guaranteed progression to the group stages of next seasons Champions League.  After an unsatisfactory domestic campaign for both clubs, this will be an opportunity for either to sign off on a high.
I spoke with Ajax fan, Vincent Van Holt, ahead of the big final.  He spoke at length regarding the importance of maintaining a club's identity and philosophy, the potential danger-men to look out for and our previous manager.
How long have you been supporting Ajax and what was your first game?
When I was old enough to watch football, Ajax was the best team of the world.  Although I grew up close to the city of Rotterdam I decided to support a team from Amsterdam. Because I was caught by the entertaining and successful team that Ajax had in the mid-nineties, instantly I became an Ajax fan.  I can remember my first game very well. It was an UEFA Cup game in 1997 against N.K Maribor from Slovenia. I couldn't have a better 'debut'.

The game ended 9-1 for Ajax.

I don't have a season ticket but I try to visit at least three or four games each

season.
Have you any memories of the famous Louis Van Gaal side of the early nineties?  Manchester United fans may remember him slightly differently.
During the successful period I was just a young boy. Because of the time games started I was not allowed to watch them on TV. But my parents did allow me to listen to the radio when the Champions League games were played. Listening to it on the radio made it an even bigger myth for me. I was able to use my own imagination and in my mind the goals were even more beautiful then in real life. For me as an Ajax fan Louis van Gaal is a legend. He won many trophies and really represented the Ajax philosophy.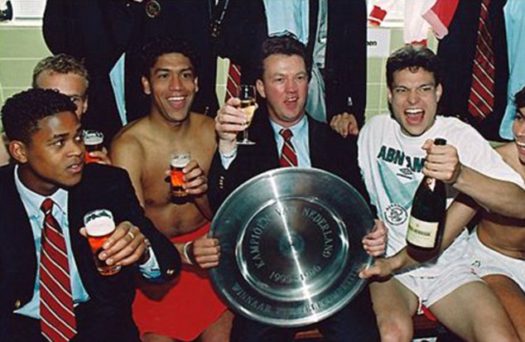 During his career as a manager Louis van Gaal showed that he is able to work with young squads who are eager to learn and accept his direct way. The players at Manchester United had much more experience and have their own opinion on subjects. If someone tells you what to do in a direct way it will not be accepted by an experienced player. Louis van Gaal had success with a defensive way of playing at the World Cup in 2014 with the Dutch national side. He thought he could use this system as well at Manchester United. Manchester United fans were used to spectacular football and were not happy with the negative style of football. 
It is just over a year since the death of Johan Cruyff.  For an outsider, can you explain how much he is still revered today?
Johan Cruijff is the biggest player that has ever played at Ajax and in the Netherlands. He perfectly represented the Ajax philosophy. Adventurous, innovative and eager to improve. In my opinion Ajax is the club it is at the moment because of him.  It doesn't matter where you go in the world, if you say that you are from The Netherlands people will automatically say Johan Cruijff and Ajax. When Ajax was having difficulties and didn't play the Ajax way, Johan Cruijff was the first person to give his opinion and tried to come up with solutions.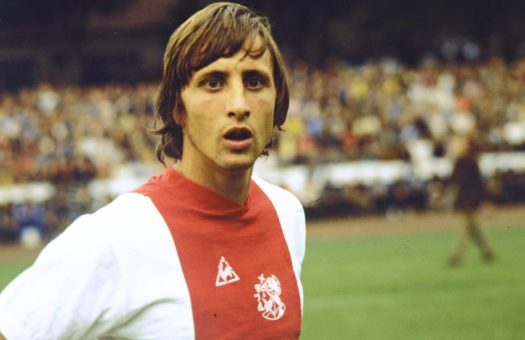 In September 2010, after Ajax was smashed 4-0 in the Champions League by Real Madrid, Johan Cruijff sounded the alarms in an article he wrote. He said that the didn't recognize his Ajax and asked all former players to come together to make sure that the love of his life would become the club again that conquered the world. Ajax was playing a way of football that didn't represent the Ajax philosophy. A revolution was started and this led to the sacking of Martin Jol. Former Ajax player Frank de Boer was assigned as the new head coach and from that moment little by little Ajax became Ajax again.
Frank de Boer implemented young talents that were trained at De Toekomst (this means the future in Dutch), the youth complex of Ajax. Bayern Munich was an example of how a football club needed to be managed. Former players  must have important positions within the club. With Edwin van der Saar as general manager, Marc Overmars as director of Football and a lot of former players as youth trainers, this was exactly how Johan Cruijff wanted it. This philosophy nowadays is still the main guideline for the club to be managed and this lead to four consecutive championships and finally this year the Europa League final.
Does the involvement of former players such as Edwin Van Der Sar, Marc Overmars, Richard Witschge and Aron Winter on the coaching side help the younger generation?
If you walk around the youth complex, De Toekomst, on a Saturday afternoon, there is a big change that you walk into former players of the the first team of Ajax. For young players, you can't have a better example of how to improve your technique than watching Dennis Bergkamp or Richard Witschge shoot a ball, or Winston Bogarde is showing a young defender how to make the perfect tackle. This has a big influence on the development of young talents. 
With the presence of two former Ajax players in the United squad (Blind and Ibrahimovich), what do fans recall of either player?
Daley Blind always had the pressure of being the son of the 1995 European Cup winning captain, Danny Blind.  He was a talent but never world class.  He often heard that he was only at Ajax still because of the fact his father was in charge of the youth squad.  In the beginning, Daley wasn't even very popular.  Fans even cheered when he was substituted in games.  But he showed a lot of character and eventually fans sang the same songs about him as they had for his father. 
Zlatan wasn't very good in the beginning.  He didn't realise what it meant to be a professional player.  There was a number of incidents with fellow team-mates, especially Rafael Van Der Vaart.  The two hated each other.  After a champions league tie away to Arsenal in 2002, Cruiff said of him: "He has a good technique for a bad player, but a bad technique for a good player".  His famous last goal for Ajax, against NAC Breda, where he dribbled past 6 players, was the perfect send-off for him. 
Considering the concession of the championship to bitter rivals Feyenoord, do fans considering this a disappointing season?
The fact that Ajax is in the Europa League final covers the disappointment of losing the title to Feyenoord. But if Ajax ends up losing the final it  will go done as a disappointing season because a club like Ajax needs to win at least one trophy each season. The last Dutch league title was already three years ago.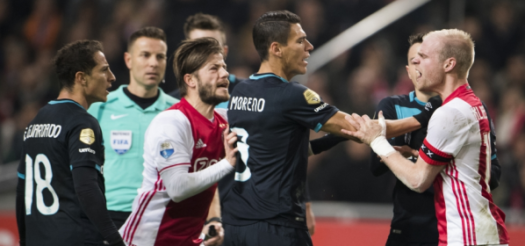 Ajax have already qualified for the champions league due to finishing second.  Who has the greater incentive in your opinion?
Finishing second in the Dutch league doesn't mean you automatically qualify for the group stage of the Champions League. You have to go through two qualifying rounds before you are in the group stage. For a Dutch side, this is very difficult because you end up playing against teams that have much higher budgets. So both Ajax and Manchester United are both eager to win the trophy because of the guaranteed qualification for the group-stage.  
With the travails of the national side, and Dutch clubs generally struggling to progress in Europe, is an overhaul needed?
The general saying in The Netherlands at the moment is that we have to focus more on the physical and mental part of the game. A report was written after a seminar with all the big names of Dutch football and guidelines were made to make sure that in 2026 Dutch football is at its peak again. Ajax is showing this season that with a style of play that made Dutch football famous all over the world for decades you can still have success. Ajax needs to show that this is not an incident but can be a structural thing. Money-wise we are not able to compete with the big clubs from England, Spain and Germany but by having a unique own style there are still possibilities. Johan Cruijff once said, I have never seen a bag of money score a goal.
Away from Dolberg, Kluivert and Traore, who should Manchester United be wary of?
Central defender Davinson Sanchez arrived at Ajax last season from Colombia and showed that he didn't need much time to adapt to his new environment. He is already linked with the top teams in Europe and is almost like a new Jaap Stam. Recent years Hakim Ziyech showed at SC Heerenveen and FC Twente that he was one of the best players in the Dutch Eredivisie. But these are mid-table clubs. At first, Ajax said that they didn't need him, but because of bad results in the beginning of the season they had to do something and signed him after all.  Looking back, this was the best decision of the summer and he showed that he can make his mark at the a top team in The Netherlands. 
Dutch fans are known for their loyalty and travelling in large numbers.  Does the ticket allocation of 9,500 for each club stop many from going to Stockholm?
There might be a lot of Ajax fans travelling to Stockholm without a ticket but at a big square in the city of Amsterdam, called Museumplein, at least 100.000 are expected to watch the final on big screens. Also all over the city and country people are gathering around to watch the game.
Finally, what are your predictions for the game?
I am confident that when Ajax is able to play it's famous high-pressing game it can become a historical night. Result will be 2-1 Ajax.