A football match is ninety minutes long but a moment here or there defines it. Fans watching Man United play Swansea on Sunday might have thought two moments reflected United's season: the ninth and sixty-first minutes when Luke Shaw and Eric Bailly respectively departed due to injury.
One one level, that's a fair assessment. Injury has been a dominant theme in United's campaign for a month or two. The side goes to Spain for its Europa League semifinal first leg against Celta Vigo without a legitimate centre half and, overall, seven first-team players: Shaw, Bailly, Chris Smalling, Phil Jones, Marcos Rojo, Timothy Fosu-Mensah, and Zlatan Ibraimovic. It would be eight but Juan Mata was surprisingly included in the weekend squad, trained after the match without complaint, and appears likely to travel.
Yet, no one is arguing United would top the table had its squad been luckier or more durable. The side was dropping two points in home matches long before its defensive corps began falling faster than Donald Trump's approval ratings. No, there are other issues Jose Mourinho still must resolve.
For me, the moment from the Swansea match that epitomised how far Mou's United have yet to go was the confusion just before Gylfi Sigurdsson's set piece equaliser. While Jose's side is an indubitable improvement over Louis van Gaal's, issues with trust and commitment remain.
To recap, just as David de Gea had lined up his wall and Sigurdsson prepared to strike the ball from the most ideal position imaginable, Ander Herrera retreated to man the near post. In response, Fernando Llorente crossed beyond United's high line to take up a far-post position just outside the six-yard box. De Gea hastily gestured for Herrera to go back. The Basque complied. Sigurdsson delivered the ball directly to where he had been standing, a helpless De Gea rooted to the ground.
The devil is in the details or so it's said.
First, it was the three Spaniards among everyone on the pitch who most quickly recognized the tactical implications involved in the set piece. What that says regarding English football or United's chances in Galicia on Thursday are discussions for another day. More importantly, Herrera realised the danger, Llorente saw the opening afforded by Herrera's solution, De Gea understood the danger Llorente represented, and, despite his own tactical awareness, made the wrong decision.
Naturally, it's easier to sit at a keyboard thirty hours later condemning the keeper's choice. Hindsight is twenty-twenty. Still, had De Gea thought for a moment, or been less sure in his own reputation–I'm not sure which but am uneasily leaning towards the latter–he'd have appreciated Herrera's instinct and left him in place.
A live set piece is more like a fine Swiss watch than a FIFA17 game. It comprises up to ten moving parts, eleven in the dying seconds when the other keeper may rush forward to help his side's cause. Of course, the attacking mechanism must overcome the one defending, with its ten or eleven components. The more pieces involved in the movement, the more complicated, and therefore difficult it becomes to score. Sigurdsson kicking the ball directly on goal from just outside the box was the simplest method to level terms, ergo most likely to succeed. By taking away his target, Herrera was gumming up the works.
Yes, Llorente was suddenly standing alone with an excellent chance for a free header, but moving Herrera back to the high line to put him offside only played into Sigurdsson's hand, restoring his original intent. Whoever was tasked with marking Llorente must have known where his man had gone. He may not have understood, however, that Herrera was playing him onside. De Gea, whose remit is to organise the defense, should have ordered the marker, from the image below most likely Antonio Valencia, to drop back to cover his man.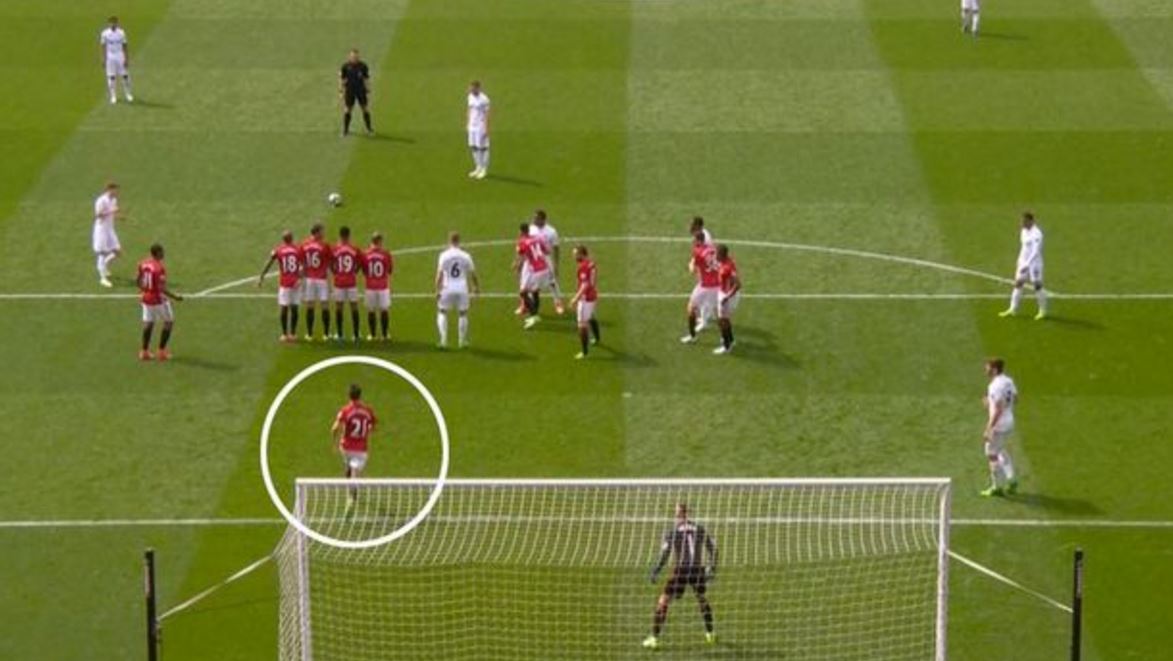 In doing so, Sigurdsson would have been forced into a last-second choice between beating both De Gea and Herrera in goal or delivering a cross to Llorente. With Bailly out, the tall Basque striker held an advantage over any defender. A perfect ball might have resulted in a goal even with the best defensive positioning. Or it might draw a penalty. Those are acceptable risks given a head is a smaller target than a gaping goal. Nor would Sigurdsson have had all day to make up his mind. Neal Swarbrick had blown his whistle when Herrera backed into the goal. Seconds had already passed as Llorente advanced. The Icelander couldn't delay forever. Complicating matters made the situation more difficult for Sigurdsson. For United, it just meant defending a set piece more like a corner kick. De Gea should have forced Sigurdsson to do it the hard way.
After the draw at Goodison Park, I questioned De Gea's focus. He had appeared distracted in consecutive matches. Rumours had resurfaced regarding Real Madrid's interest in the hometown boy. Had his head been turned? I'm not a puppeteer and De Gea is not John Malkovich so I cannot crawl inside the United netminder's brain. Even if I could, I'm monolingual. One has to assume he thinks in Spanish. I'd have needed to bring an interpreter.
Under Louis van Gaal, De Gea remained professional despite being frozen out until signing an extension that suspended Los Merengues' meddling. Now tapping up has resumed. Worrying whether the player is planning to force a summer move is a valid concern. So is wondering if he's bought too deeply into his own legend as a shotstopper.
Claudio Bravo's ongoing misadventures at the Etihad illustrate to all except Pep Guardiola why a keeper who can make the odd save is critical to a club's success. That said, humility and commitment to cause are even more important qualities.
Even before De Gea dismissively waved Herrera from his goal, his gesticulation towards defenders had become noticeably more pronounced, angrier. Goalkeepers tend to mature in that fashion, however. From the outside, it's impossible to tell which between De Gea's authority and ego is growing.
Whatever his mindset, De Gea has matured to the degree poor choices are less forgivable. Meanwhile, Herrera has been mitigating his temper and making increasingly better decisions. While he still struggles with self-control, accurately reading Sigurdsson's intent then quickly improvising to thwart it reveals why some have tabbed him as a future captain.
That is where United now stand. The clubhouse is once more filled with players possessing otherworldly talent. It is time for Mourinho to take a page from Sir Alex Ferguson's book by recognising who among them is not placing the club before his own ambitions. Rightly and wrongly–and I'm not certain in which camp my suspicions regarding De Gea lie–players such as Jaap Stam, David Beckham, and Roy Keane were shown the door despite their undeniable talent. The club survived, even thrived on their departures. With Sergio Romero on the books, former academy product Tom Heaton outgrowing Burnley, and Jordan Pickford possibly looking to stay in the Premier League, maybe it's time to ease the doubt by to giving the Madridistas what they want.