Let's be honest. If dispensing justice was easy, we'd be living in a much happier world. The Irish question would have been answered at the first asking. Jews and Palestinians would live side by side in harmony. Fundamentalist Christians and Muslims would both understand their respective religions are–ahem–fundamentally about living in peace. And Theresa May would be married to David Schwimmer.
Instead, life is difficult. There are too many complex issues for society to be utopian. What's astounding, though, is how many simple issues we can't get right. For once, though typically at the wrong time and place, the FA is in the vanguard in this regard.
Its eighteen month suspension handed down to Joey Barton for personal gambling on football and the red card given to Marouane Fellaini for nuzzling foreheads with Sergio Aguero are the latest examples of the association's misguided sense of justice. Don't misunderstand. In both cases, punishment was warranted. Still, the FA, as a whole in the Barton affair and through referee Martin Atkinson in Fellaini's, were excessively heavy handed with both players while completely ignoring other complicit parties.
For years, Barton gambled on football matches, against FA regulations. Yet, he did it to support an emotional need. He did not fix matches. In fact, he lost approximately £16,000. On the few occasions he bet against his own team, he did so when not named to the match day squad, rendering him unable to influence the outcome. In his personal statement on the matter, he admitted he bet on his team to lose because he was enraged over not being included.
Obviously, Barton's gambling was an extension of his already well documented anger management issues. To suspend him eighteen months, longer than many who bet against their own team in matches they played, is kicking someone when they are down. Motive and state of mind should be taken into account when meting out any punishment.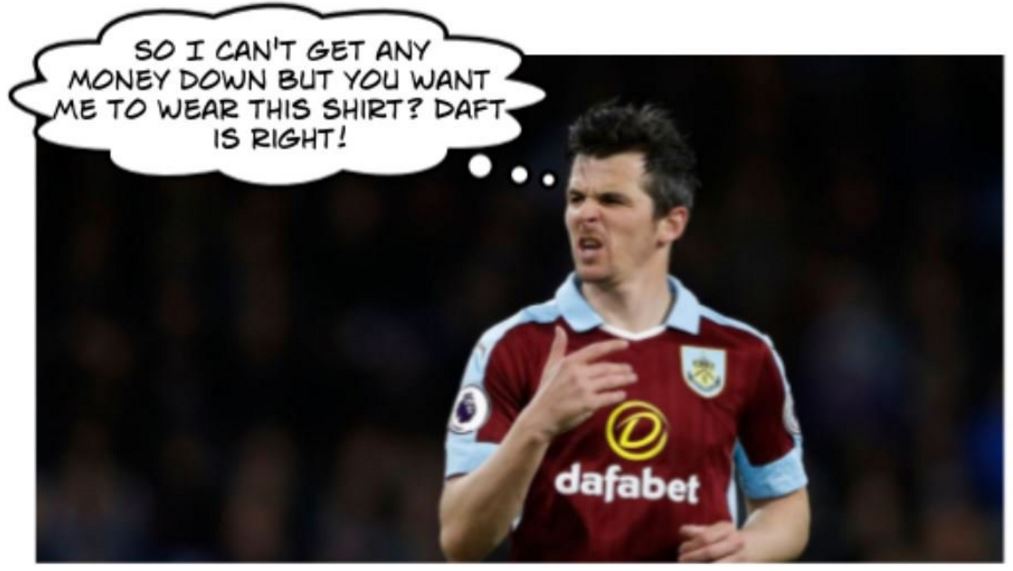 Then there is the hypocrisy. The FA, Premier League, and numerous English clubs freely engage in commercial sponsorship with betting companies. Barton's club, Burnley, have online betting site Dafabet as its kit sponsor. How can the FA hold players to a higher standard than ownership?
Moreover, the FA would have remained in the dark regarding Barton's gambling had Betfair, the bookmaker he placed bets with openly, using his own name and tax information, not accepted his money to the tune of a £16,000 profit, then ratted him out. Why isn't the FA speaking out against Dafabet for doing business with its players? Why isn't it severing all ties with the company and mandating its member clubs do likewise? That would be equitable. It would be just.
The FA can argue gambling companies wouldn't cooperate with it were there consequences. Only, Barton cooperated. Fully and openly. Betfair were just as complicit in breaking FA rules as Barton, probably because both thought it was harmless fun until the FA began paying more attention to the problem. Yet, the player is the only one who, at thirty-four, will almost certainly no longer do business as a Premier League player.
Fellaini's punishment, while not career-ending, is similarly excessive and skewed.
More than eighty minutes into the Manchester Derby, the Belgian had just received the game's first yellow card, when there easily could have been more, for spinning Aguero to the turf. Like Barton, though to a lesser degree, Fellaini has a reputation for losing his temper. He did so here, haring off after Aguero immediately after Martin Atkinson booked him, clipping the City player's heel, drawing another foul.
At that point, had Fellaini simply looked to the referee, shrugged, then calmly walked away, he probably would have been allowed to do so, or, at worst, been scolded. Such was Atkinson's tolerance level on the evening.
Instead, when Aguero popped up, got in his face, standing on his toes to manage it, Fellaini leaned into him for a light Glasgow peck on the forehead. Aguero reacted like a WWE jobber, throwing himself backward, covering his face while writhing on the ground as though he'd just been skinned by Buffalo Bill.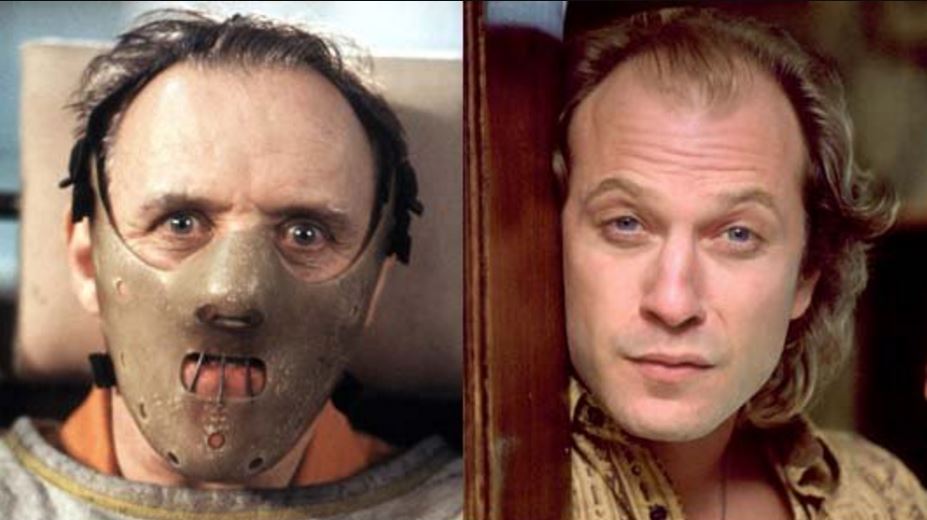 Atkinson, perhaps ten yards away, saw the entire incident. He bought Aguero's act, pulled a red card from his pocket, then brandished it towards Fellaini. There was no discipline for the Argentinian's obvious deception. According to FA policy regarding post-match action, there never will be, because the official saw the simulation then chose not to act.
Fellaini will now miss three matches, including Arsenal and Tottenham, where his presence might have been useful. Had Atkinson stopped to consider everything he had just witnessed, rather than acting as impulsively as the Belgian, he probably would have issued a deserved second yellow rather than straight red. Fellaini would still go off but be banned for just one match. After doing so, Atkinson should have also cautioned Aguero. The FA seems to hold the opinion both players can't be sanctioned simultaneously, however. Its reasoning is there was either a foul or simulation; there can't be both. That's horse hockey.
In fact, National Hockey League officials are mandated to call coincidental penalties for tripping, or some other obstruction, and diving when both occur in that sport. Why? If you've ever had children or babysat, you know why. You don't ground one child for kicking the other in the shin after her hair has been pulled, or even if her brother just goaded her by sticking out his tongue and calling her a doodyhead. You punish both.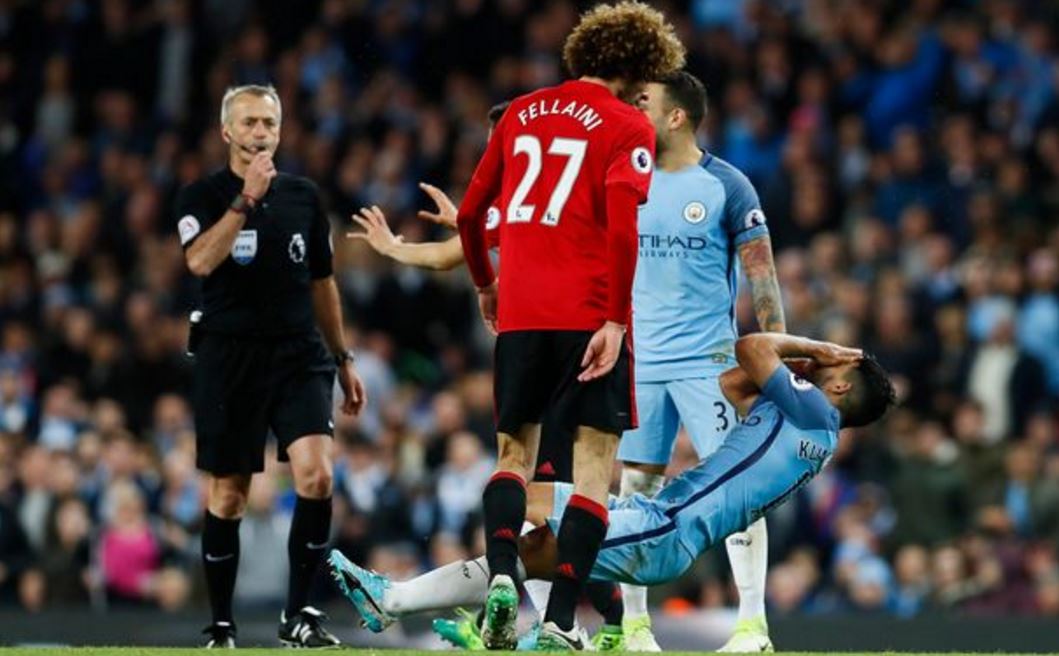 Fellaini engaged Aguero, ignoring he'd only just been cautioned. He deserved to booked again. Aguero, as he's been known to do, tried to deceive an official into believing Fellaini's head butt was far more violent than it was. He deserved to have his name taken, as well.
In both Barton and Fellaini's cases, the FA could have done better. It should have done better. Plain and simply, if it wishes to be taken seriously as an organization, it must do better.