The best transitions are smooth and seamless. They're neither forced nor rushed. For the entire season, Manchester United has been criticised for its heavy dependency on Zlatan Ibrahimovic's scoring. Two questions were consistently mooted. How badly would his presence hinder Marcus Rashford, Anthony Martial, and Jesse Lingard's development? Worse, and in direct contradiction to that sentiment, what would Man United do should Ibra suffer an injury? The last ten days suggest such questions were completely off the mark. It's possible–and only possible–we've just seen the torch passed from Ibra to Rashford and United's next golden generation born.
The club's last four matches have been a mixed bag.
Sitting sixth in the Premier League, the gap to fourth place four points, the Red Devils enjoyed two dominant wins, one away to the league's bottom side, one at Old Trafford to its top club. Unfortunately, those six points, regardless the comprehensive, ruthless performances, were merely one hundred eighty minutes treading water. Despite dispatching Sunderland and Chelsea by an aggregate 5-0 score, United remains four points off the pace.
In the Europa League, both at Anderlecht's Constant Vanden Stock Stadium and Old Trafford, United played more in the manner to which supporters have become frustratingly accustomed. Chances went wanting. Opposing centre halves and goalkeepers looked more like anchors for a Premier rather than Jupiler League leader. Yet, United squeaked through, its next challenge Celta Vigo.
Ibrahimovic had carried United from August to April in its 2016-17 journey. After returning from his three-match ban, though, the Swede was not at his best. He scored early, beautifully at the Stadium of Light; then his game turned ugly. Everything that could go wrong did. Suddenly, he couldn't hold the ball, pick a pass, or find the target. It was like a black cat had crossed his path.
Zlatan's poor form, ill luck, or combination thereof continued in Brussels. After the match, Jose Mourinho specifically named the man for whom he'd previously only had praise in his criticism regarding United's attacking players. Ibra accepted responsibility, surprisingly humble in admitting he was tired. Ignoring unrivaled contributions he has made over forty-one starts and five substitute appearances–twenty-eight goals, eight assists–some pundits adopted a ridiculous I-told-you-so attitude, suggesting the Premier League has proven too much for Ibra.
Given the weekend off to recover both his fitness and legendary pride, I'd have bet the chinchilla farm on Zlatan producing an epic performance in the return leg against Anderlecht. Instead, he remained out of sync. Clear chances went horribly wide or right into Ruben Martinez's waiting arms. Defenders picked his pocket more often than street urchins in Rio de Janiero. Ibra was playing so badly he couldn't even sell a penalty to a Spanish referee with Uros Spajic's arms wrapped around his torso.
Then the worst case scenario happened. An answer to the second what-if was finally demanded. Fighting to win an aerial battle, he landed awkwardly, hyperextending his knee on virtually the last action in regulation time. Marcos Rojo suffered a similar injury in the first half. According to Mourinho's post-match presser, both knocks are significant.
Earlier in the season, Ibra's would have been the more serious loss. No one else seemed able to find goal. At the moment, with Chris Smalling and Phil Jones also shelved, Rojo's absence will be the more difficult to cover. Daley Blind hasn't the pace or physicality to step into a central role. He struggled after coming on for the Argentine, finding himself turned around and unable to clear a ball that caromed off the bar, then his calf, then to Sofiane Hanni for Anderlecht's leveler. Yet, Mourinho has no better option. Matteo Darmian and Timothy Fosu-Mensah haven't played centre half. United's only other player who has is Michael Carrick.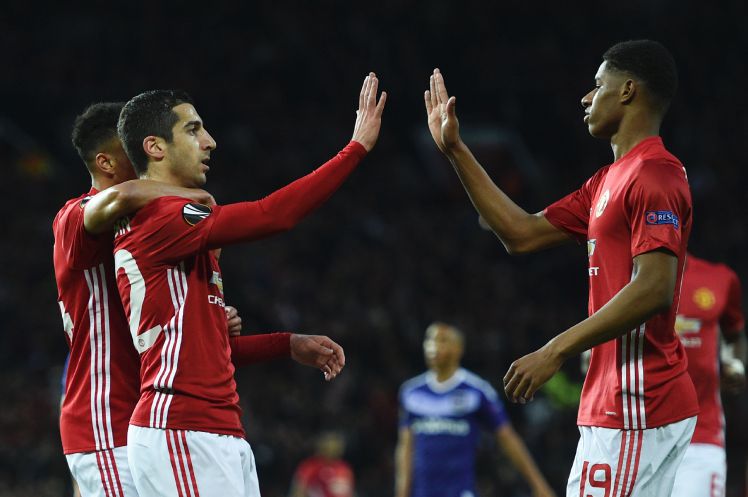 Meanwhile, on the weekend, Marcus Rashford crept into Chelsea defenders' heads and behind their backs repeatedly, scoring early in United's win. Moving inside in extra time against Anderlecht, to replace Zlatan, the youngster did it again.
He had already set up Henrikh Mkhitaryan for United's first goal. Reacting well after his first cross was blocked back to him, the teenager settled the ball, then squared it for the Midfield Armenian, who volleyed low inside the near post. Rashford could have had a second helper had Lingard's drive from a similar play not been palmed beyond the far upright by Ruben. He could have had a third had Paul Pogba's bicycle kick from the youngster's cheeky rabona cross not been directly at Ruben. Since his mates appeared unable to convert his service, Rashford took responsibility upon himself.
Ninety seconds after the restart, midway through overtime, Carrick launched a ball into the box. Marouane Fellaini headed it down to Rashford. With two defenders between him and goal, Marcus calmly executed a Cruyff turn to his left, then slipped the ball past Ruben before Kara Mbodji could recover. Job done.
After being played out of position or from the bench throughout the campaign, United's wunderkind has been thrust to the fore at the season's most critical juncture. He has responded with a veteran's poise, calm, and confidence. And why not? His manager has played him beside a legendary finisher who wafts those qualities more strongly than your granddad's aftershave, affording Rashford the ideal opportunity to learn first hand.
Still nineteen, it may yet be premature to trust the boy entirely. Mourinho and United must, however, perhaps for the season's remainder. If Rashford can carry the squad to a top four finish and/or a Europa League title, the torch surely will be passed in 2017-18. If he cannot, there is always the option to re-sign Zlatan and continue Rashford's education.
Ibra's future with the club was in doubt before his injury. The Swede had yet to agree a second year with the club. Meanwhile, rumours linked him to MLS flagship LA Galaxy. The American club, having lost a coaching legend and a handful of aging veterans, is struggling this season with a younger lineup. It's not unlike the situation Ibra walked into at Old Trafford, only the weather is much nicer. Truthfully, he has nothing more to prove with United. Nor is Zlatan likely to be undroppable should he stay for a second season. Not should Rashford stake his claim. He will only be convinced to stay if he's desperately needed.
Rashford's continued emergence could also reshape Mourinho's transfer strategy. Rather than another prolonged negotiation to land Antoine Griezmann, Romelu Lukaku, or Thomas Mueller, the Portuguese can prioritise his fragile back line. He can set his sights on Leonardo Bonucci, Virgil van Dyke, or another experienced centre half to partner Eric Bailly. Meanwhile, he can identify a solid forward to act as Rashford's understudy.
Marcus Rashford's ascension should also put to bed any doubts whether Jose Mourinho can handle young players. Rashford hasn't been buried. Instead, he's been partnered with the perfect veteran to round out his skill set and improve his football IQ. While he has played apprentice, best mate Lingard has earned a contract extension. Ander Herrera is shaping into a midfield destroyer. Even Luke Shaw is responding to Mourinho's tough love.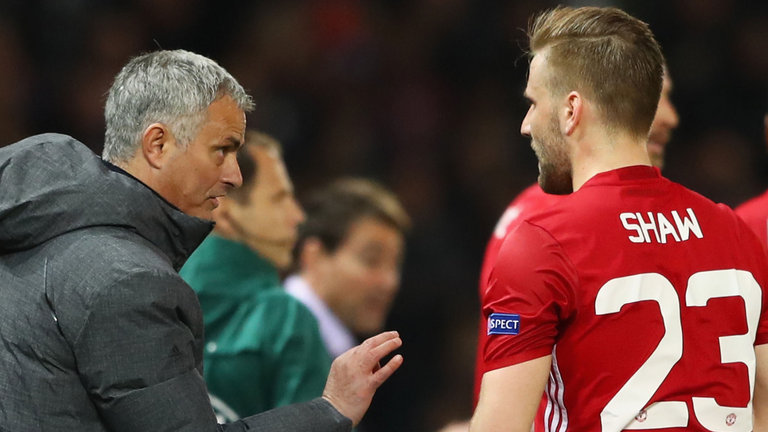 Mou's worst enemy has always been his own ego. United supporters can't be certain he's finally tamed it for another season or two. Still, for the first time since his Porto days, and maybe his debut season at Stamford Bridge, Mourinho is demonstrating he can build a squad rather than just fine-tune an inherited one by shopping at Harrods.
United's season began with outsiders questioning how far its veterans could take it, whether new signings and youngsters would fit around that aging core, and if the team would rediscover the United way, passing the torch from generation to generation. All those questions were answered positively this week. The transition has been so smooth and seamless, we didn't even see it coming.