Manchester United defeated Sunderland 3-0 at the Stadium of Light, on Sunday. As it was not three points won at home and the Black Cats are only a Premier League club because it isn't yet June, the victory wasn't very noteworthy. As matches go, United deserve no more acknowledgment for job done than you or I would for remembering to pick up dry cleaning or bring trash bins in from the street after the garbage man has come. Still, there were some things to be taken from a good nap spoiled, with apologies to Justin Rose.
Luke Shaw played well. In keeping with tradition, he came off after Sunderland's Lamine Koné trod on his ankle. Don't be surprised if he resumes his pinochle marathon with Phil Jones. Shaw did receive an expansive hug from José Mourinho when coming off. It's difficult to read anything into the moment. On one hand, it could have been appreciation for a genuinely positive performance. On the other, José may have been channeling his inner Michael Corleone before the summer window.
Another moment in the match was more significant. Marcus Rashford scored. It was his first tally in nine matches, the last being against Blackburn in the FA Cup. Further, it was his first Premier League goal since 24 September. Much had been made of that particular drought in the press, many blaming Zlatan Ibrahimović for being undroppable at thirty-five, thereby stunting the teenager's growth. The nerve.
It was Ibra who drew the assist after the two played a little game of "after you–oh, no, no, after you" with the ball. Having seen his selflessness, maybe critics will finally lose their notion the top-knotted Swede places himself above the team. Yeah, maybe Donald Trump will win the Nobel Peace Prize, too.
Ibra produced the opening goal on the half-hour, from nothing, after United had started listlessly. His back to Billy Jones, Zlatan took in a pass from Ander Herrera, then nudged it forward so he could step into a low volley, driven under Jordan Pickford just inside the far post. Naturally, broadcast commentary centered on United's over-dependence on its number nine. Twenty-eight goals in all competitions. Shameful.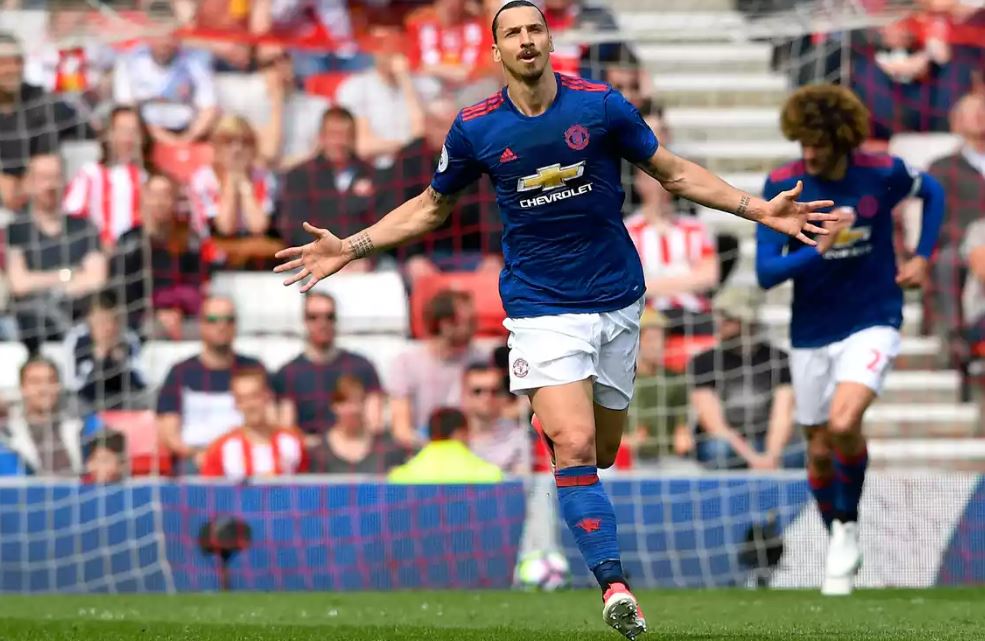 Commandeering a set-piece twenty-five yards or so from goal, shortly thereafter, his effort not quite clearing a leaping wall, only poured fuel on that fire.
In the second half, the subject reared its ugly head again. When Paul Pogba stood over a free kick from a nearly identical placement, Ibra loomed behind. The commentator suggested Zlatan was attempting to bully himself into a second opportunity. However, a camera behind goal perfectly captured the Swede sizing up the wall and keeper as they positioned themselves, then dispensing advice from a second set of eyes to the young Frenchman. Pogba's curler went narrowly wide to the right. There was absolutely no comment on Ibra's willingness to mentor the squad's younger players.
The observation was notably absent again after Rashford's goal. The youngster was quick to thank the man who's been keeping him down all this time. Ibra smiled, clasping hands with his understudy in a Manchester bridges going up fashion then engaging in a hug definitely not in the Corleone style. In the background, Anthony Martial could be seen running over from the far flank, an arm raised in exultation, smile on his face. Marouane Fellaini next arrived. The captain for the day also embraced Rashford.
Consider, for a moment, Ibra, Martial, and Fellaini represent three disparate groups within the United squad.
Zlatan leads the untouchables, a group that also includes Ander Herrera and, until this match at least, David de Gea. Whether de Gea is on the trainer's table or in the doghouse is debatable and a discussion for another day.
Martial is among the underachievers. His contribution and future are as dubious as Shaw's, Chris Smalling's, and Wayne Rooney's. He has skills Mourinho values, but just hasn't impressed.
Fellaini is the manager's chia pet. To outsiders, his skills don't impress, as can be said for Ashley Young and Marcos Rojo. Yet, they continually appear in the starting XI or, in the Belgian's case, first off the bench. Matteo Darmian has probationary membership in this group, being groomed, I think, to fill Young's role when the veteran goes to China, MLS, or calls it a career.
Such is Rashford's influence on the clubhouse, all three factions were eager to congratulate him for finally breaking his duck. If nothing else from the Sunderland match was noteworthy, that certainly was.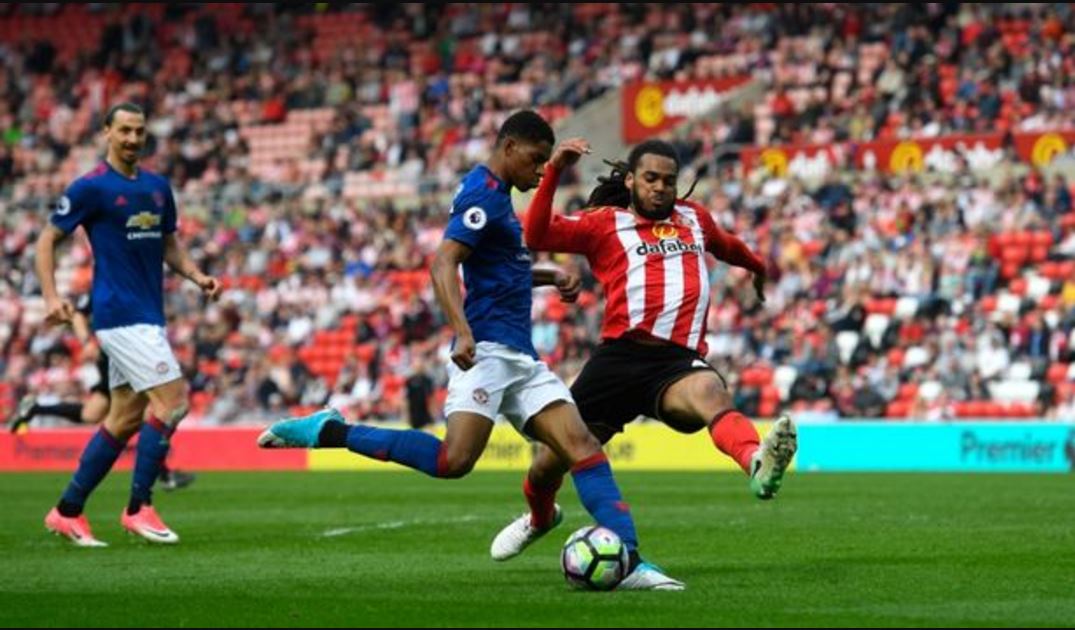 There has been speculation Rashford may become United's next Paul Pogba, forced out through Mourinho's stubborn refusal to give him a regular place in the squad. I don't credit the notion. Jesse Lingard's new deal screams in its face. Lingard is Sundance to Rashford's Butch Cassidy, Barney to his Fred, Stimpy to his Ren, Beavis to his Butthead, the Pinky to his Brain. They're inseparable off the pitch and both are planning to conquer the world. Extending Lingard four years sent a clear message to Rashford; he has a future at the club and, if he just keeps putting in the work, a similar contract for him is not far behind.
He's already endeared himself to the entire squad and his manager. He's the little brother everyone looks out for. That was made clear late on at the Stadium of Light. Everything waits for Marcus Rashford at Old Trafford. He just has to let time take its course.