Manchester United's trials and tribulations at home, what was once the lion's den for petrified opponents, can almost be scripted presently: Teams setting up solidly in the knowledge that United will be unable to break them down.  United will dominate possession, with the opponents intent on maintaining that solidity and bank of ten behind the ball. United will invariably create umpteen chances but spurn a shed load.  Afterwards, they rue their supposed bad luck, blame the officials (and generally sub-par is a kind description) and say it was just not their night. No! This story-line has happened too many times now to bemoan ill-fortune.  If or when United fail to achieve a top four spot, they will have only themselves to blame.  A damning indictment sees Burnley having a better home record.  With a club the size and might of United, some serious questions have to be asked.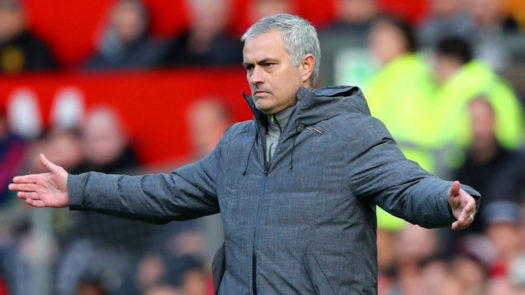 Many saw last summer as a turning point in United's fortunes. The considerable attacking talents of Pogba and Mkhitaryan were recruited- the two stellar players of Italy and Germany of bygone seasons. They have followed up their FA Cup success, and binning of Louis Van Dull, by claiming more silverware in the form of the EFL Cup. That, however, was won with the utmost fortune and some divine Swedish intervention.  United would be in the relative doldrums yet again were it not for Ibrahimovic's stunning goal tally this season.  Seemingly the burden of having to single-handedly drag United back to the promised land of Champions League football is proving too much even for his broad shoulders.  That is unless United can make the Thursday-Sunday grind all the while by going all the way.
There is a lot wrong with United currently. The revisiting of the Van Gaal days stylistically recently, Mourinho finding every excuse under the sun to try and defend an abysmal 38% Premier League win ratio at home, the setting up involving two defensive midfielders at home against attack-shy and defensively minded opponents, a nightmarish but typically mounting injury list and a huge over-reliance on the talismanic Swede.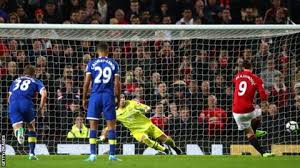 United have had countless opportunities to not just impose themselves on the top four, but even challenge leaders Chelsea had they sorted out their charity in front of goal. The will they, won't they nature of their attempted ascent on the Premier League hierarchy, has seen United become the butt of many painful joke.  Almost like a hamster stuck on its wheel. United are seemingly taking great pride and joy in their unbeaten run stretching to 20 games.  However, when you consider the draw represents nigh-on half that stretch, and United have climbed a grand total of 1 position, it is clear where the problems lie.
So automatically you think, right more goals and firepower needed, Ibra will stay no problem. But will either of those things materialise? We all love a hypothetical debate: let's say United do not lift Europa League silverware and miss out on the top four in the league, does that represent progress from last year? In a nutshell, no. Even Van Gaal delivered silverware and suffered the ignominy of Thursday night treks to deep Ukraine.  Can we convince our top players to stay around with another year out of Europe's elite competition? Ibra will not hang around forever surrounded by overwhelming mediocrity. Big Dave who will almost certainly have the lure of Madrid and the world at his feet in the years to come.  No matter how far United dig their heels in, we would be looking at both a major struggle.  It would take major guarantees to convince them that this club is emerging from the shadows and becoming the force they once were. You can mention we got Pogba, Mkhi and Ibra without the carrot of Champions League football.  The Mourinho factor and the history the badge represents certainly helped.  We know that players and agents deal in the here and now, and right now? There are so many uncertainties with our club.
United are now faced with a catch-22: Forgo the league and solely focus on their Europa League exploits against Anderlecht and hopefully beyond, or give both a real shot, refusing to be discounted from the reckoning. If it is the latter, they need to buck up their ideas quickly ahead of the weekend. Sunderland have been typically diabolical, haven't scored for two months, cannot win a game for toffee and are now the favourites for relegation.
You can see how Sunday is going to pan out now: Sunderland, driven on by a former United disaster intent on a revenge mission, will set out their stall akin to many of the other teams we have struggled against.  Galvanised by a raucous following, They will focus their intent on being well organised, while looking to hit United on the counter and from set pieces.  That might give their despondent fans something to shout about.  
United will dominate the ball, create a wide range of chances and will fluff their lines. Sunderland pull out all the stops, inconsistent with their sheer ineptitude shown all season.  Jordan Pickford will have likely have another blinder in net and they will emerge with a 1-1 victory.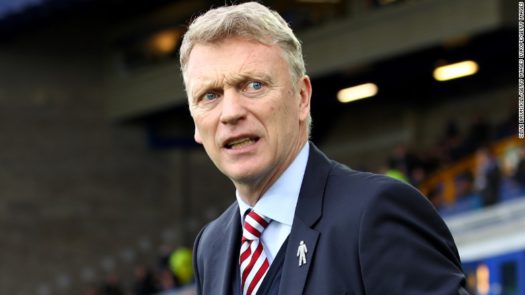 There will be people who will call my opinion a huge overreaction. I want to make things clear, I believe Mourinho will get it right at United. But they had yet another opportunity to gatecrash the top four and yet again they blew it.  Twice in the space of four days on home turf. Remember when United used to blitz the league's run of the mill teams without thinking twice? I'm fed up of crap teams coming to United prancing out with points they have not had to work hard for. Now, it seems we should have a drink or ten if United even score more than one goal at home. You do not deserve top four if you spurn this many opportunities, it is that simple. The table does not lie. Unless United miraculously rediscover that winning feeling in the league, their get out of jail card is the Europa League. Who'd have thought that as Mourinho rocked through the doors?