Not to worry folks, Smalling and Jones, more formally known as Messrs Chris "Mike" Smalling and Phil "New Duncan Edwards" Jones haven't been banned from following England after attacking Turkish waiters in The Ruhr Valley. No, this is not a reference to hooliganism, even if it seems since last June following England has become Brexit Boys on Tour. Football bigotry for the new century. Just like the old one.
This is a reference to sheer, staggering inability to capitalise on talent. Theo Walcott. Alex Oxlade-Chamberlain. Ryan Shawcross.  Jack Wilshire. Adam Lallana. To a lesser extent, you can claim Wayne Rooney, Gary Cahill and Steven Gerrard. For all their team honours, are sufferers of this disease. It'll be an ailment the likes of Ross Barkley and John Stones could also succumb should they not get their act together soon.
The English disease of disappointment and failure.
Phil Jones, despite flashes of great promise, is now back on the injured list.  Again, due to carelessness in training. Even before his most recent mishap, Jones appeared to have returned to his familiar bumbling high farce after a brief flourish of good form. Unfortunately, the brain stimulants he seemed to be taking have worn off. As evidenced by his silly foul against Bournemouth recently, he has returned to unthinking, kamikaze tackling, and slapstick comedy. Less the new Duncan Edwards, more the new Frank Sinclair.
Alongside the new Frank Sinclair is Smalling. Like Jones, he demonstrated great promise and was a bright spot under Louis Van Gaal. That, however, was merely a bellwether for how far standards had dropped under the dour Dutchman. Smalling was a fine centre half when his team was forced to play thoroughly craven football, because he never needed to actually defend.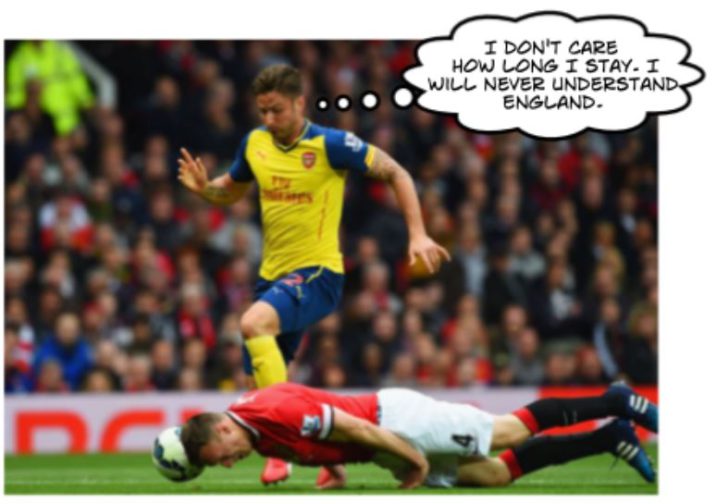 In a team playing a more aggressive, proactive brand of football, Smalling looks like a man attempting to play with his smart phone crooked in his neck as he orders a pizza with customised toppings. The man has all the concentration and certainty of Boris Johnson when forced to talk about the economic nuances of Britain's Brexit plan. Plainly because there isn't one but that's another rant for another day.
Smalling is a man without a plan. He's utterly lost at sea, where Domino's doesn't deliver. As English players so often look these days without someone holding their hands every second, repeating tactical specs so specific and easy to carry out they could be successfully executed by a blind giraffe.
In an interview this week, a former youth coach for Liverpool (boo) and Chelsea (hiss) stated young English talent was as good as anywhere in the world, just not given ample opportunity. Unless, he was talking young British Asian footballers, and it seemed this particular thread of racism in the game had escaped him, his notion is complete bollocks.
He went on to insist the likes of Nathaniel Chabolah, Ruben Loftus-Cheek, Dominic Solanke (Chelsea), and Sheyi Ojo and Ben Woodburn (Liverpool) would be considered top young talent in Brazil, where he now coaches with Sao Paulo. If that is truly the case, why aren't these players asking for a release and going to Brazil? Or moving to other countries to broaden their horizons? Something Gareth Southgate, just a week ago, insisted more English players need to be doing.
If you think you're good enough to play in the Champions League, head to a foreign land where a club in European competition needs players. They'd snap hands off to get some of the brightest and hungriest talent out there.
Of course this isn't happening. The likes of Joe Hart, who was forced through the door, and David Beckham are rarities today. Decades of anti-intellectualism and xenophobia in our national culture have created a generation of shallow, lazy philistines. Don't believe the hype about youngsters being paid too much. Young foreign players get paid that same money, yet they reach levels of excellence on a consistent basis.
English players, are simply too thick and ignorant to succeed at the top. Smalling and Jones are symptomatic. Jones should have realised some time ago his injury problems were self-inflicted through brainless play and worked to change his game. Yet, the motivation and intellectual curiosity to do so was lacking. The same goes for Smalling and his regular on-field mind farts.
Both players, now in their mid-twenties, are no longer spritely young starlets.  The duo are clearly living on borrowed time. Mourinho's public interest in acquiring new defenders is not coincidental.
Luke Shaw, unless he succeeds at another big club, will be reduced to the same fate. Not keeping himself in shape and seeking to stick Mourinho's reservations and personal grudges up his Iberian backside has left him out in the cold. This late in the day, it is Shaw's own fault.
Mental dullness may also explain why Ingerlund haven't done anything of note for quite some time. Simply put, we are too dim-witted to get ourselves out of trouble once it arises.
It is why the nation's top clubs go abroad to find stars who do strange things such as read books, learn other languages and develop their own distinctive disposition away from a football field. Those crafty, foreign buggers and their learning.
Smalling and Jones are just two of the latest sufferers of this endemic disease. It will likely end their United careers prematurely. Still, without the requisite competition raising its head anytime soon, they can still turn out for country. Playing in front of half empty crowds, singing about wars that ended over seventy years ago, the IRA, and sporting drab prison tats on their chests. Come on Ingerlund!