The default league to use in the headline would have been La Liga but Real Madrid and Barcelona's duopoly has been tested by Atlético for several seasons. This year, Jorge Sampaoli has brought Sevilla into the act. With its famous sporting director, Monchi, departing and Sampaoli being touted to replace both Luis Enrique at Barça and Edgardo Bauza with Argentina, the Sevillistas may not stick around. Still, the Spanish league is not the one-team competition the Bundesliga usually is. Bayern don't win every season. Everyone on the planet who follows football, Rekordmeister supporter or not, just expects they will. Reading comments on Facebook, Twitter, and elsewhere regarding the scoreless draw at Old Trafford against West Bromwich Albion, it would seem there is a section among Man United fans with similarly unrealistic expectations for their club.
Terms like "no excuses," "we were shite," and "expect more from such a quality squad," were thrown about. All three are irksome for two reasons.
First, there were at least five excuses whose absence through injury or suspension were all significant blows to the squad's quality. Second, there is a long distance between keeping the Premier League's seventh-placed club at bay and playing like shite, especially when its coach is renowned for his stalwart defensive system and his side has just systematically dismantled Arsenal.
Chris Smalling and Phil Jones may not be everyone's favorite center half pairing but they had been seeing most of the action for United in its past few matches. Eric Bailly was coming off injury. The Ivorian wasn't fully match fit. Nor were he and Marcos Rojo used to playing with one another. This is why José Mourinho elected to play two defensive mids.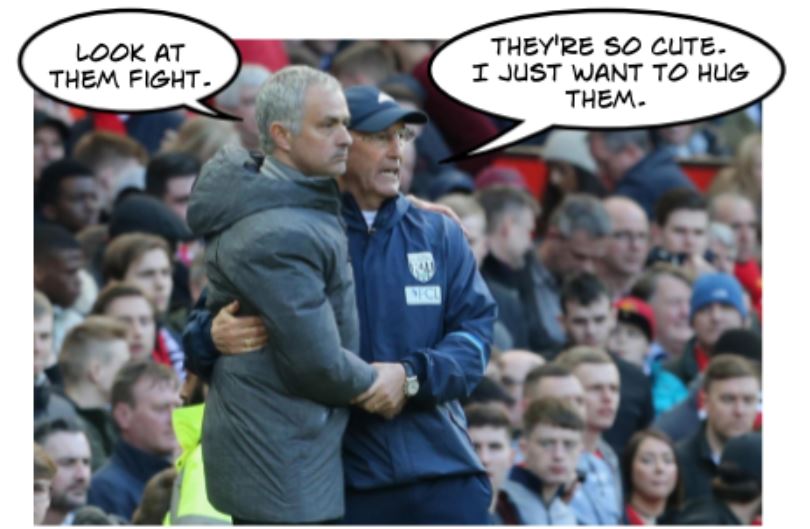 Mourinho and Tony Pulis are known to be BFFs, as well as two defensive-minded peas in a pod. The Portuguese was perfectly aware West Brom would cede possession, soak up pressure, and look for opportunities on the counter.
With Ander Herrera serving a two-match ban, Mou could have elected to give Daley Blind a run out in the midfield. The Dutchman lacks pace but is both defensively sound and can pick out a pass. It was an opportunity to experiment with an idea pundits have been throwing about since Blind arrived in Manchester. On the other hand, the Baggies are a tall side that frequently scores from set pieces. Marouane Fellaini and Michael Carrick were safer options. Antonio Conte, who regrettably chose to start Cesc Fàbregas over Nemanja Matić against Sam Allardyce's similarly 'impotent' Crystal Palace, would probably agree.
As it was, West Brom's only real chance came when a less than immersed David de Gea mishandled a volley driven directly at his head. The Spaniard and United's blushes were saved only by the woodwork.
After the match, Mourinho rightly applauded his defenders. They followed his instructions to the letter. Ashley Young and Antonio Valencia were as defensively responsible as they were a thorn in the Baggies' side when attacking. Bailly and Rojo anchored the defense, the Argentine venturing forward on just one occasion, very late on.
I don't believe Mourinho was as justified in throwing his attack under the bus. This was the most one-dimensional group United had fielded under his stewardship. Henrikh Mkhitaryan, Marcus Rashford, and Anthony Martial do just one thing. They run at people. It's predictable. A well organized defense, understatement for a Tony Pulis coached unit, can handle them with ease. Jesse Lingard has picked up some of the gravely missed Juan Mata's ability to come for the ball, run diagonally, and shift defenders. Not yet enough, however, to make a difference in this contest.
Mata's unexpected loss to groin surgery was easily the most critical blow to United's attacking chances. He runs away from trouble more than his teammates run into it. He knows how to distract defenders, creating space for Rashford, Martial, Mkhitaryan, Lingard, and especially Zlatan Ibrahimović. Johnny Kills also knows how to find an open space in the box from whence he can redirect passes beyond helpless goalkeepers, capitalising on Rashford and Martial's cutting runs to the end line from the left flank. Those qualities are why he is the only United player other than Ibra in double figures for goals.
In his absence, Mou might have asked for sixty to ninety minutes from Wayne Rooney to add another dimension in attack. If the captain was fit, he might have given Baggies defenders more to consider than raw athleticism. Ibra's continued ineligibility meant there was no central focus for United's attack, no one to deftly lay balls off to runners. Rooney wouldn't have done that but his trick for setting up on the left, then either crossing the ball or making diagonal runs might have created space.
The simple truth is Man United fans can't simply condemn West Brom as relegation fodder. For the past decade, Tony Pulis has earned a reputation for developing defenses as difficult to crack as Fort Knox's vault. The best attacking sides have difficulty scoring against his clubs. Again, ask Arsenal. United did not have its best available. They didn't have the diverse pieces to create different, unexpected combinations. They could only be predictable. For a Tony Pulis side, predictable is easier than buttoning a coat. It's a zipper and the Baggies zipped up United's attack to earn a predictable point.
So don't blame Rashford, Martial, Mkhitaryan, and Lingard for these two dropped points. Don't claim they have no excuse. Don't call them shite. Criticise Herrera and even Zlatan for lacking sufficient discipline to be available when their club needs them. And save some blame for the manager who too often values athleticism over technical ability and creativity.