If you take him at his word, José Mourinho never saw it coming. After eliminating FC Rostov from the Europa League, the Portuguese reverted to his default persecution complex, yet again complaining the Premier League has no interest in supporting its teams when they perform well in other competitions not named the Premier League and which do not accrue revenues for said Premier League. It's not exactly a news flash that, when you're outside the top four, it can suck that everything is about the Premier League. Really selling his despair, Mourinho suggested United would travel to Middlesbrough on Sunday and "probably lose." Ah-yup. The only traveling Riverside blues Mourinho's side experienced on the day, however, was the away kit they wore. The squad came away ridiculously easy 3-1 victors, moving past the misfiring Gunners (3-1 losers to West Brom) and Everton, who had temporarily slipped into sixth on the combined strengths of goal difference and having played three more matches than United. The win also spoiled caretaker boss Steve Agnew's debut and severely dented Boro's survival hopes, leaving them five points from safety with only ten matches remaining. If nothing else, Mourinho will have to lament his squad have left him with nothing to complain about.
Although Boro appeared interested in ending its (cough) Premier League scoring drought, which was approaching eight hours at kick-off, Gastón Ramírez's low strike, earmarked for the corner just shy the quarter-hour, was the only question the hosts asked David de Gea 'til it was too late. Given Boro actually dominated possession throughout, by close to a 2-1 margin, that may seem odd.
You have to hand it to Mourinho, though. The man has guile. Faced with one match remaining before an international break which, for a talented United squad, merely means extensive travel added to more matches, rather than rest for most players, what does he do? He tells his club to allow the (ahem) Premier League's least potent attack to possess the ball. Take it easy, he says. Sit back. Win the ball when they come to you. Then get it to Marcus Rashford and Jesse Lingard on the counter. Let them do all the running at Boro's defenders.
Even better, Steve Agnew played into Mou's hands, leaving pacy Adama Traoré on the bench, as well as Rudy Gestede, who probably shouldn't have even been in the squad, having picked up a hamstring injury just last week. Dangerous Álvaro Negredo found himself totally isolated. When Boro gained possession, its players seemed puzzled as to why the pitch lay open before them. Sensing a trap, they continually passed the ball back whenever a United shirt loomed.
Early on, it appeared Boro might not be lost in its hesitation. Former United goalkeeper-slash-Louis van Gaal whipping boy, Victor Valdes, seemed determined to be the latest netminder to mysteriously obtain super powers when facing the Red Devils. The Spaniard stopped Rashford on seven minutes after Lingard had split the defense with a perfect pass. On twenty-three minutes, he made a splendid double save on Rashford and Antonio Valencia, parrying the youngster's effort from the left, then scrambling to his feet to close off the right post against the Ecuadorian.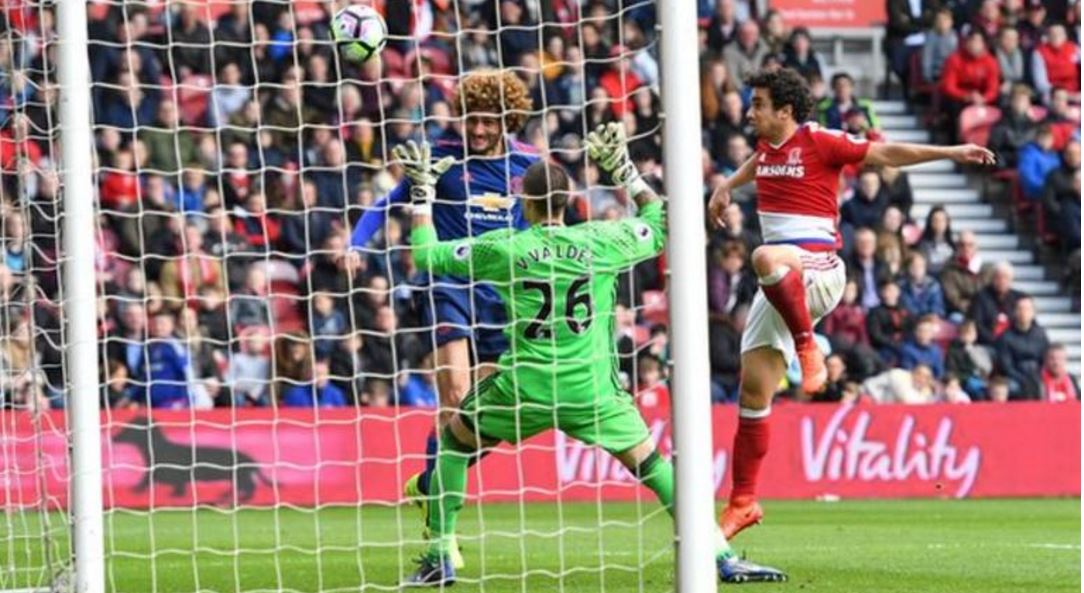 Still, Boro were eventually made to pay. Ashley Young, pressed into relief duty at left back rather than England call-up Luke Shaw, found space on the flank, sent a perfect cross to the far corner, then watched happily as Marouane Fellaini squeezed a header between Valdes and the post. United had found some goalkeeper kryptonite and a one goal lead.
From there, Boro's survival tangibly threatened, you would think the home side would step up the aggression. Not so. Boro continued to shy away from every resistance to its incursions into the attacking half.
Now, every so often while watching a match, a commentator will say something intelligent. It doesn't occur often, but when it does, it's golden. Glen Hoddle truly earned his pay for the week when he noted how useless a stat possession is. While Boro were dominating the ball, it was almost exclusively in its own end. Astutely, the former England boss suggested a new, more meaningful, statistic be created: possession in the attacking half.
Old school Steve McManaman groaned audibly at the thought of yet another number to absorb, but the idea is an excellent one. Nothing positive ever occurs in the defensive half. If you give the ball away, your opponent is more likely to score than when they must first come all the way up the pitch and not even Xabi Alonso is a lock to bulge the twine from such distance.
Boro can't sign him, anyway. He's retiring at season's end. Someone needs to explain the fundamentals to Steve Agnew. To win, you must score. To score, you must attack. There is little point waiting until you're a goal down. Even less after you've conceded two.
United's second goal came when Eric Bailly nicked the ball, then went route one for Lingard. Rashford and Lingard's speed had frustrated Boro defenders the entire afternoon. Not wanting either to flash past them again, they gave ground, then gave some more, until Lingard was inside the eighteen. From there, he calmly picked out the upper ninety, let fly, leaving an infuriated Valdes rooted in quicksand in center of goal.
Only then, did Agnew send in Traoré and Gestede. Minutes later, the latter was clutching at his hamstring. All credit to the Benin international for toughing it out, however. During a stoppage, he came to the sidelines to have his thigh wrapped, rejoined the fray, and was on hand to put a loose ball past De Gea. The chance came courtesy Chris Smalling who whiffed on a wrong-footed clearance.
Emboldened, Boro finally pressed the attack in United's end. Mourinho sent on Marcos Rojo, sans banane, for Juan Mata. With Phil Jones, Bailly, and Smalling still in the match, Hoddle remarked he'd never in his time seen United deploy so many center backs. When United gained possession, all four would stay in their own half, as would Michael Carrick and Valencia. Suddenly, Boro was having its way because United was too timid.
In stoppage time, Valencia decided enough was enough.
Tired with sitting back, allowing an inferior side to dictate terms, he pushed the ball down the right touchline, well into Boro's half, until he was finally cut off. Seeing Rashford and Anthony Martial, who had come on for Lingard, peel away as the ball rolled toward Valdes, he decided to chase. Why not? There was only a minute or so remaining. His United mates should have had no appetite for seeing an opponent afforded a chance to equalize with the final kick for the second match running. Force Valdes to rush his clearance and maybe it would fall to a United player.
Some people refer to this as killer instinct. It's a quality Mourinho has publicly wished more among his players had.
Valdes clearance did not find a United player because he never got it off. Alarmed by Valencia bearing down on him, he slipped when planting his foot in preparation to deliver. Valencia darted past, collected the ball before it could go over the end line, pushed it to his left foot, then tapped it into goal. Game over.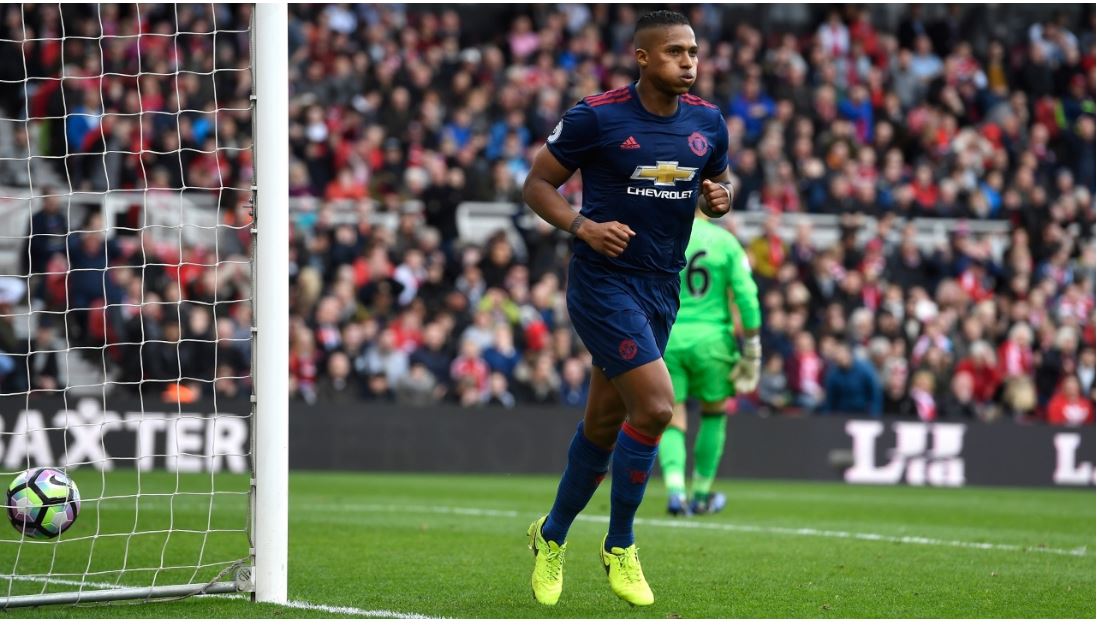 Maybe the goalkeeper's kryptonite had lingering effects. Perhaps the football gods were smiling on Valencia. Another god's son has been quoted as saying "Seek and ye shall find, ask and it shall be given, knock and it shall be opened to you." Job done, Antonio Valencia.
Meanwhile, someone more mortal once said, "He who hesitates is lost," which perfectly describes Boro's survival hopes.