Just when you thought Manchester United were becoming predictable, yet again courting disaster against a second banana by taking a patient approach to breaking down FC Rostov's 5-3-2 during their Europa League round of sixteen second-leg clash, the game clock struck seventy minutes. Prior, there had been a few notable moments, some concerning ones, but nothing decisive. When Robbie Savage is complaining your club isn't playing positive football, you know things aren't going as well as they ought.
Savage and his BT Sport cohort, Darren Fletcher, played broadcasting tennis with two particular comments. Savage would serve up the observation United's back three were flat, both Rostov's forwards were dropping off, leaving ample space for center backs to push forward rather than settling for lateral passes. Fletcher would volley back United's away goal at the Olimp-2 last week put it in "the driver's seat." The duo must have repeated those lines four or five times each.
Not that Savage wasn't correct. When United did push forward in a direct manner, they frequently found space between startled defenders. Zlatan Ibrahimović hit the near post from close range after Marcos Rojo had a strong header parried away by Rostov goalkeeper Nikita Medvedev. Zlatan then smashed one from long range just after the half hour mark, rattling the same upright. His second near-miss came just after the Swede laid off for Juan Mata, the Spaniard sending Henrikh Mkhitaryan between defenders, only for the Armenian to curl his shot narrowly wide. Daley Blind was as alone on the left side as Captain Jack Sparrow waiting on sea turtles for the entire half but United failed to send more than two players into the box for most crosses from the flying Dutchman.
Albeit in a different manner than the first leg, things began to unravel for United after the break. Two minutes in, Paul Pogba pulled up, signalling for a substitution. The young Frenchman, a day after his twenty-fourth birthday, walked slowly but deliberately to the clubhouse after being taken off for Marouane Fellaini with what seemed a hamstring injury. Not what I would call a belated gift. Considering Ibra and Ander Herrera were already ruled out for the weekend meeting with Middlesbrough for disciplinary reasons, this was not good news for José Mourinho. When Daley Blind sat down on the pitch, head in hands, moments after taking a noggin knock, bad news became worse.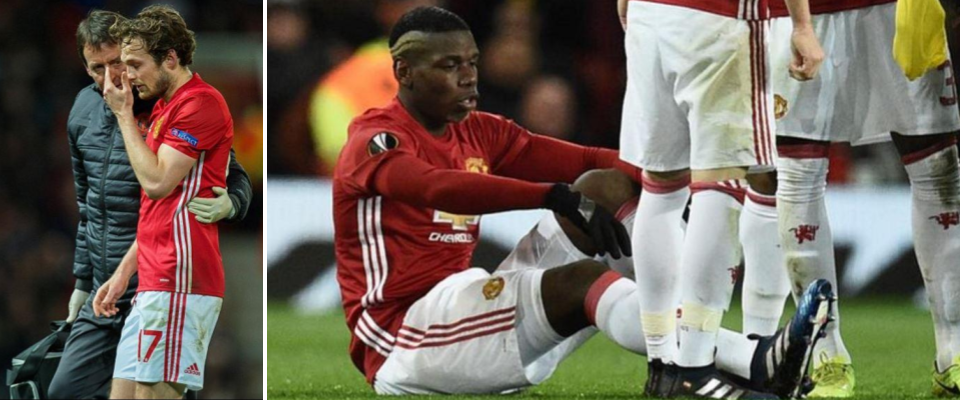 At least there will be an international break after this weekend's Boro clash, affording some players much-needed respite. Luke Shaw will not be one, surprisingly summoned by Gareth Southgate despite his recent inactivity. On the bright side, any action he sees may help him become match fit for his club.
Phil Jones will also be on England duty. He did see action on the evening as Blind's replacement at left wingback. The lumbering center back appeared as puzzled by the assignment as everyone else, displaying a strong reluctance to push forward until one run very late on.
Mourinho may have put Beeker on the flank because his counterpart, Rostov assistant Dmitri Kirichenko, had sent on Aleksandr Bukharov, who had crossed up Jones and Chris Smalling for the Russian side's goal in the first leg. After Fellaini's arrival, United enjoyed a brief flurry. Then Rostov began to find some joy. Sardar Azmoun forced a save from Sergio Romero on fifty-four minutes, Rostov's first shot on target. One minute later, Christian Noboa delivered a second with a glancing header Romero had to reach back to deflect beyond the far post. Dmitri Poloz's effort for a third was blocked by Eric Bailly's lunge. Finally, Rostov made a hash of a free kick won just outside the box by Bukharov.
Happily for Jones, he'd only been involved for six minutes when United finally broke through. Perhaps motivated into urgency by Rostov's ascent, the home side attacked quickly on the counter. Mata began the movement with a run straight up route one. After dribbling through the center circle, the Spaniard slipped the ball to a waiting Ibra. Zlatan turned outside to feed Mkhitaryan on the right, then made for the box, Mata trailing as the Iceman to his Maverick, a wingman on the left. Mkhi whizzed the ball in, slightly behind the big Swede, whose backheel would have gone wide had Mata not been there to finish.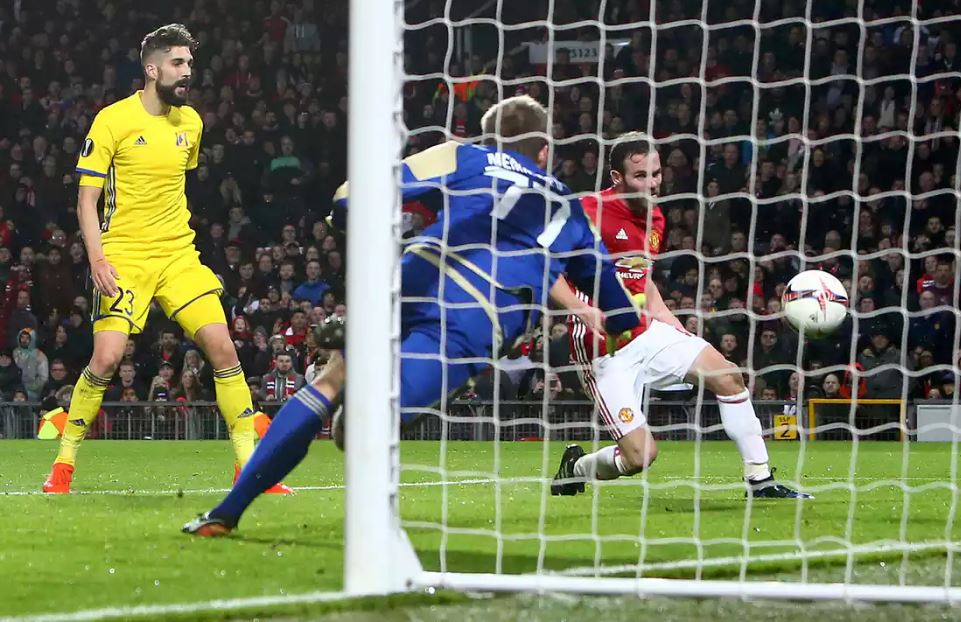 It was at this point BT Sport's Fletcher finally realized United weren't quite so comfortable in the driver's seat as he'd been suggesting. Rostov had to score, yes, but could have won and might still force extra time with one strike as matters stood. They would get an opportunity, as well. Before it arrived, though, matters took a surreal turn.
Still disoriented on the left flank, now much more populated by Rostov players looking to test his mettle than it had been for Blind, Phil Jones was seen sucking on an inhaler. Whether he's asthmatic, might have been suffering from a chest infection during his recent layoff, or simply hadn't sufficient time to warm up is uncertain. Google apparently doesn't have an answer for everything and United isn't telling.
Jones' difficulty breathing had caused Mourinho to call back Marcus Rashford, who had been waiting to replace Mata since just before the latter's goal. Ashley Young was sent down the line to get his blood pumping. After a moment, however, all appeared well with Jones. Young sat back down. An eager Rashford went back to the fourth official.
Then Marcos Rojo had a word with the gaffer. Rashford was again pulled back while Ashley Young stripped down. The camera returned to the match, commentators attempting to determine what ailed the Argentine. Yet, it soon refocused on the sideline. Mourinho could be seen approaching a bearded man in the stands. After briefly returning to the match, the camera was on the boss again. Despite not looking particularly happy to see anyone, there was now a banana in his hand. Intrigued, BT Sport's director kept the feed on José who passed his edible yellow baton off to Ashley Young. The jack-of-all-positions casually trotted down the line, where he was met by Rojo, who surreptitiously (why, I don't know) accepted the snack. As play continued on the far side of the pitch, the center back could be seen contentedly munching away. You would have thought this was a Sunday kickabout at the Hackney Marshes rather than a Europa League tilt at the Theater of Dreams.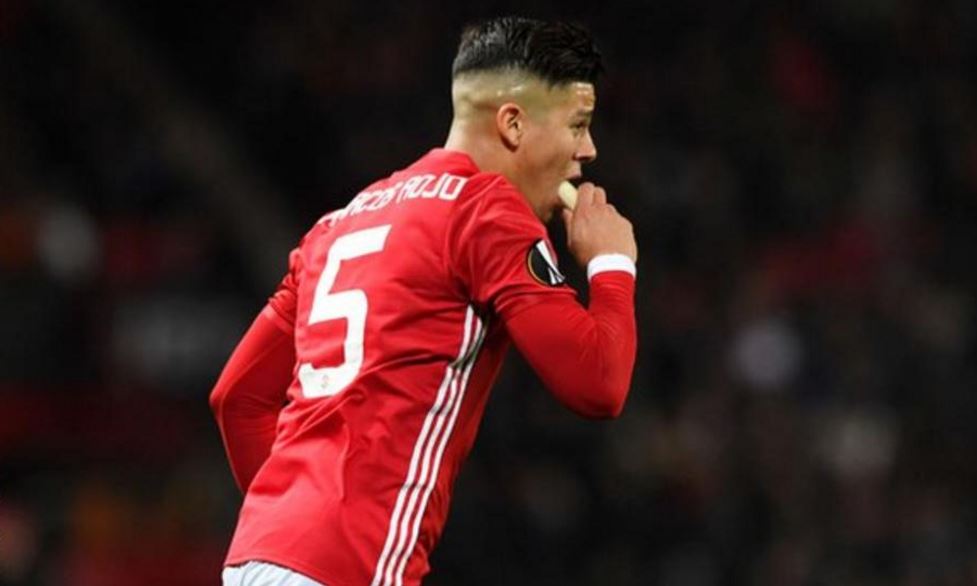 With Rojo's hunger sated, though no report forthcoming as to how he disposed of the peel, images of unintended red cards flying through my mind for a Rostov player's mysterious slip, the match returned to its more vegetative state. Robbie Savage took the opportunity to thrill his captive audience with tales of stopping post-match cabs so he could nip into shops, purchase (I'm assuming), then binge on chocolate and cola. Apparently, they didn't offer a buffet at his favorite pub.
Meanwhile, United had lost its urgency, once more content to pass around the perimeter rather than seeking to kill off the match entirely. Inevitably, Rostov were given a glorious opportunity to extend the contest. It came, literally, on the last kick in stoppage time. The inhaler hadn't been sufficiently effective for Phil Jones not to get caught out and  forced to commit a foul just outside the box to the United goal's left. Christian Noboa's well-taken free kick curled around the wall, destined for the top corner. Sergio Romero's lungs were full, however, and he was there to palm it harmlessly away. David de Gea's stand-in received a hug from Rojo for his trouble, but refused any kiss, likely due to his compatriot's banana breath.
United are through to the quarterfinals as tournament favorites. Celta Vigo are the lone Spanish or Portuguese club remaining after a seven-year period during which the Iberian nations almost completely dominated the competition, only Rafa Benitez's Chelsea spoiling a perfect run with a Final victory over Benfica in 2013. Beşiktaş, Schalke, Ajax, and Roma are the other name sides remaining this season.* The Italians knocked off Lyon, thereby preventing an early reunion between United and Memphis Depay.
More importantly for Mourinho, though, is who will be available to play on the weekend against a Boro side that may be dangerous, given performances from other relegation threatened clubs who replaced managers in 2017. That and how to motivate his squad to play to its own capability rather than its opponent's.
* Less than twenty-four hours after their victory, the Europa League quarter-final draw took place. United were paired against Belgian side Anderlecht, their matches scheduled for April sixth and thirteenth.