José Mourinho is no Bill Belichick. Yes, they are both successful coaches obsessed with winning. Each has also accrued a cult following despite pissing off more than their fair share of pundits and fans. That is pretty much where their commonality ends, however. Belichick is more like Sir Alex Ferguson, having found his team, established almost absolute control, then created an enduring dynasty. He's a stabilizing force. Mourinho is the evangelical firebrand who comes to town, stirs up the populace, then, just as everything comes unglued, hightails it out of town with the mayor's daughter. There's something to be said for both, especially if you're the mayor's daughter, but I only make the comparison because Monday's FA Cup quarterfinal at Stamford Bridge between Chelsea and Manchester United brought to mind a conversation regarding situational awareness I had with my uncle after Super Bowl LI.
Bruz, that's my uncle, can take sport or leave it, which is how I feel about the NFL. I only watched this year's Super Bowl to exact revenge on a friendly stranger. Bruz was dragged to the television by my aunt, a genuine gridiron fan, when it became apparent Belichick's New England Patriots might actually overcome a 28-3 fourth-quarter deficit to win. Like me, a moment's anatomy and connectivity interest my uncle. Which is why we had our conversation afterwards.
He was fascinated by the post-game consensus among Fox pundits that Belichick was a better situational coach than Atlanta's Dan Quinn. To me, the notion situational coaching is a specialty in the NFL, rather than a comprehensive job description, seemed ludicrous. We're talking about a game wherein, after brief spasms of frenetic action, players pick themselves up, dust themselves off, then gather for a meeting, coaches patched in on conference call, to plan further progress or damage control. American football is nothing but a lengthy sequence of dead ball situations. While position coaches may focus more on technique, coordinators and head coaches are all about situational awareness. Their time, during games as much as in preparation, is spent informing players regarding opposition tendencies in different downs and field position, what to expect, when to expect it, and how to exploit it. To my mind, Fox analysts were trying to earn their pay by inventing a fancy way to say what everyone already knew; Belichick is simply the better coach.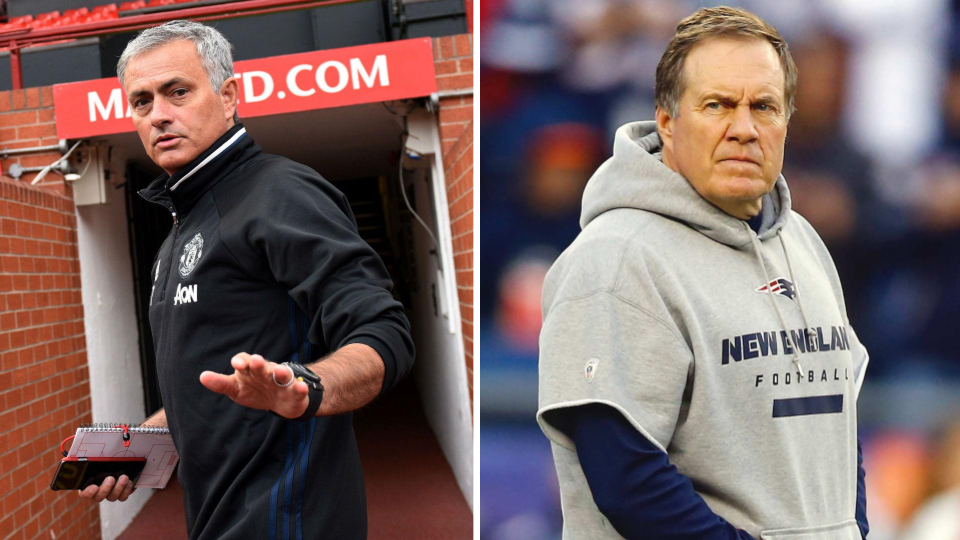 In the global football variation, where the two nouns which comprise the word are far more familiar with one another, infrequent, irregular stoppages mean situations blend together, making them less defined, more difficult to recognize. Dead ball situations are rare. Overall, there are precious few pauses to assess, analyze, and reorganize. Nor are managers permitted headsets, like NFL coaches. John Terry and Wayne Rooney don't wear helmets with built-in communicators like Tom Brady and Matt Ryan, either. A gaffer's options for communicating during play fall somewhere along what I will call the Yosemite Sam/Sigmund Freud coaching spectrum. He can either shout, wave, and leap about angrily, as Antonio Conte does, sit calmly in the players box with notebook and pen at the ready, a la Louis van Gaal, making it seem all tactical problems are rooted in the type of soccer moms his players had as children, or settle somewhere in between. Mostly, a manager's contribution is limited to pre-match preparation, half-time adjustments, and substitutions. His influence during play is, by the game's design, minimal. Therefore, situational coaching is a specialty in the beautiful game, some bosses better at it than others.
In Mourinho's case, I think situational coaching is a work in progress. In some instances, he displays a knack for it. In others, it's like he's woken up not realizing clocks have been changed for daylight savings time. Having done the latter myself this Sunday, I can empathize.
United's Monday defeat at the Bridge illustrates Mou's situational hits and misses in equal measure.
The match started brilliantly. United were pressing everywhere. Chelsea players were in fits every time they tried to move up the pitch. The Beeb had a sideline reporter sitting next to Ruud Gullit. The Dutchman noted Mourinho had his side paying particular attention to Gary Cahill, a right-footed player on the left side of the back three, extremely discomfited, prone to errors when harassed. This is excellent situational coaching. Recognize who has possession, then act accordingly.
On the other hand, even though United dictated play early, Chelsea have been the better squad this season. It was inevitable they'd find ways to cope. Soon enough, they began looking the more likely side to score.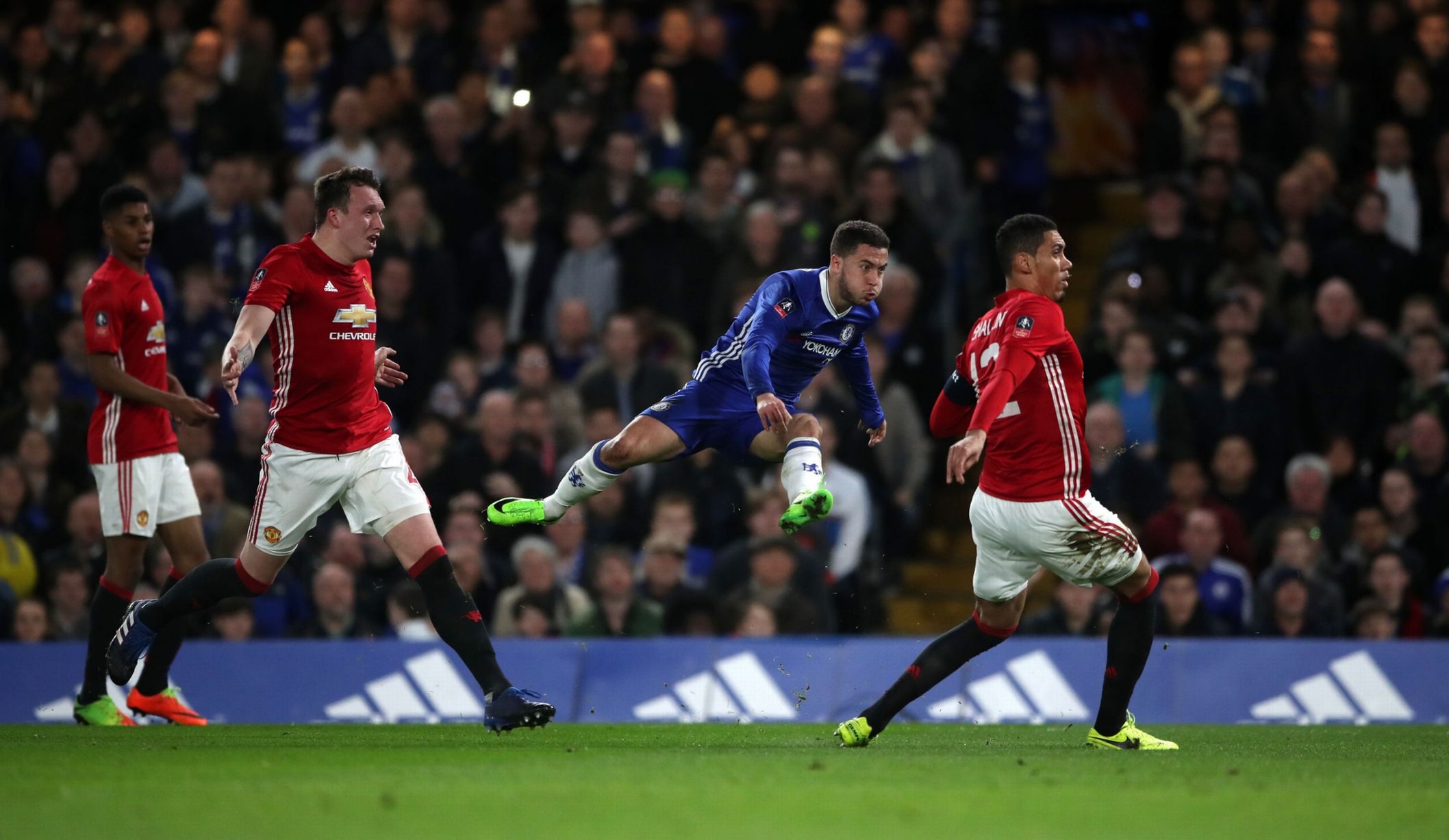 Although he didn't provide Chelsea's goal, Eden Hazard had much to do with that. A player in his face is not a threat best handled by forcing low-percentage passes, as Cahill attempts, but a minor annoyance to be left behind. A feint here, a Cruyff turn there, finds the Belgian in open space, wreaking havoc.
Mourinho should have anticipated this, instructed his squad to keep their calm, provide support, perhaps shunt Hazard to the outside or turn him parallel to goal, as well-drilled defenses do with Lionel Messi and Arjen Robben. That, too, would be recognizing the situation and acting accordingly.
Instead, United ratcheted up its aggression, fouling at a dangerous rate. Had the Portuguese properly scouted the assigned official, he'd have known this was a doomed strategy. In the past two FA Cup quarter-final rounds Michael Oliver has taken charge of a match. In both instances, Man United v Arsenal in 2014-15 and Everton v Chelsea in 2015-16, he issued second yellows for red cards, twice in the latter contest. That is a trend worth knowing and communicating to your squad.
Mourinho obviously loves Ander Herrera for his fiery passion. It's almost like having a son on the pitch. Yet, Mou knows firsthand the consequences for failure to control one's passion. He didn't tone down his own act until banned twice in November. Whether booked or not, I cringe every time I see Herrera wave a hand angrily as he turns his back on a referee or offer both in supplication as he attempts to justify his excesses. He did both with Oliver after being warned, then booked the first time. Not taking officials seriously can only lead to disastrous results like Monday's.
After keeping the camera on Herrera's extended, fruitless appeal, the Beeb returned to Ruud Gullit, who lamented a thoroughly fascinating match had been killed off. Yet, you can't blame Michael Oliver. He had twice just patiently lectured players to be more careful. You can't blame Hazard, either. Yes, he went down easier than a Catholic girl on prom night but it was Herrera who stuck his leg in when the Chelsea player was on the flank moving away from goal.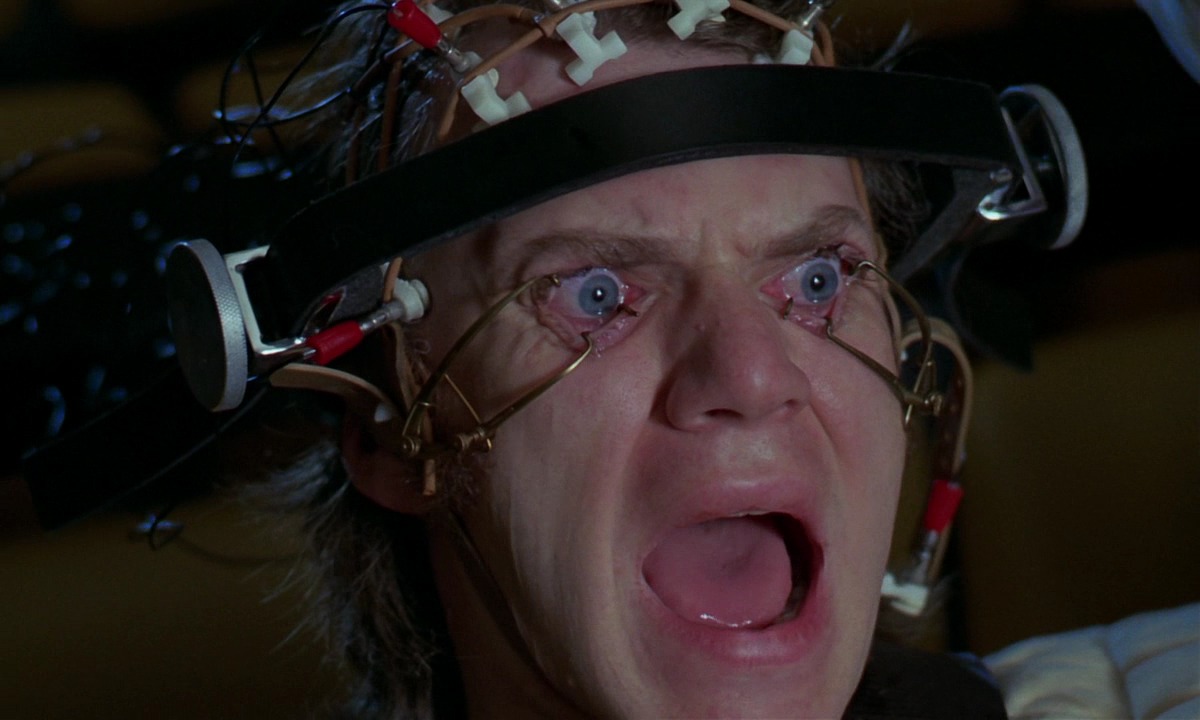 Prime responsibility falls on Herrera's for lacking situational awareness. Next, look to his coach, who should have kept the Basque locked in a dark room over the weekend, restrained in a chair, eyelids held open, forced to watch replays depicting Oliver waving red cards at players over and over until the message was irreversibly imprinted on his consciousness. Do. Not. Push. Your. Luck.
I'm not saying Herrera's fire must be extinguished, rendering him as completely docile as Malcolm McDowell ended Clockwork Orange. Herrera's heart belongs on his sleeve, beyond question. Still, there are times his head must prevail or he will ultimately prove more dangerous to United than its opponents.
You can ask Henrik Mkhitaryan's opinion on that. He was the player immediately brought off for Marouane Fellaini when Herrera finally left the pitch. Mourinho's quick switch showed astute awareness of the situation his side faced, although it would have been more perceptive to have seen it coming and taken preventative action. Then, rather than sharing Ruud Gullit's loss, we all might have seen the Armenian play "anything you can do I can do better" with his blue-shirted Belgian counterpart. One thoughtless tackle deprived United of both its answer to N'golo Kante and Eden Hazard.
What's more, if Memphis Depay can learn situational awareness, so can Herrera. The Dutchman scored his second against Bordeaux, last week, from the center circle. He turned away from pressure much like Hazard, then, without looking up, launched the ball towards goal. Whether he'd seen Cédric Carrasco loitering at the top of his box before winning the ball, or Lyon had scouted the tendency, Memphis showed something he rarely had at Old Trafford: his head in the game.
The only positive to be taken from the match was United put up such a fight, testing Thibaut Courtois more than once despite being down a man, that Chelsea supporters hadn't nerve to sing until the eighty-eighth minute. Had Herrera been more aware, both to situation and self, they might not have sung at all.