When Manchester United needed a spark to give them the extra edge over their rivals on the eve of the 2012-13 campaign, they managed to secure one of the league's hottest properties and Arsenal's big gun. United will fall short again this time around just like that galling year. It is not beyond the realms of possibility, with United treading similar ground, that history could repeat itself.  It was recognised that a shortage of goals and inability to score on crucial occasions was the difference between another championship and a runners-up position.
That driving force that catapulted United back to their title winning ways was, unmistakably, Robin Van Persie. The Dutchman engineered himself into a serious bargaining position by allowing his contract to reach the tenterhook stage of 12 months to run. It was expected his future destination would have been to Manchester, but to the Emptyhad.  With each stellar weekly performance, he was making the best possible audition for potential suitors. United, typically at the time, swooped almost unnoticed to get their man.  Upon announcement, many sneered at his desire to fulfill his childhood ambition, and saw it instead as one last pay day.  Twenty plus goals later and the championship was returning to Old Trafford.
In that regard, I am shocked that United have yet to be mentioned in the same breath as Alexis Sanchez, an increasingly forlorn figure, evidently disillusioned at the annual Arsenal crumble. Much like Van Persie was. Sanchez is a winner, so accustomed to clenching silverware from his Barcelona days. Now United are currently not ready to compete with the club of Barcelona's ilk and have hardly distinguished themselves domestically to suggest a 21st  league title is on the horizon, but if they are serious in achieving that goal, there can be few better options on the market than a proven Premier League performer, who has next to no time left on a contract.
There have been countless associations with Paul Pogba's pal Antoine Griezmann and whether United are preparing to test Atletico Madrid's resolve in the summer with a mega offer. Sanchez guarantees performances on this stage and few would have any reservations about whether he could adapt to Mourinho's and United's ways. He is a grafter too, with Sanchez on song you rarely see a defender get a moment's peace. Few players can boast that explosive X-Factor, the ability to conjure something out of nothing. He is undoubtedly Arsenal's pocket dynamite and his goal input continues to impress, as well as the appetite to work.
Much has been made of player power in recent weeks, with Leicester's decision to bin their immortalised manager Claudio Ranieri. Sanchez has been subject to untold Cockney spleen being vented at reports he has had rifts with players and manager alike and was pictured joking as Arsenal were getting taught another Bavarian footballing lesson. Players know how to wriggle themselves into positions of strength and engineer a potential exit, they are advised as such by men in suits with money on their mind.  Most players of his standing would have found the situation far too ludicrous to keep a straight face.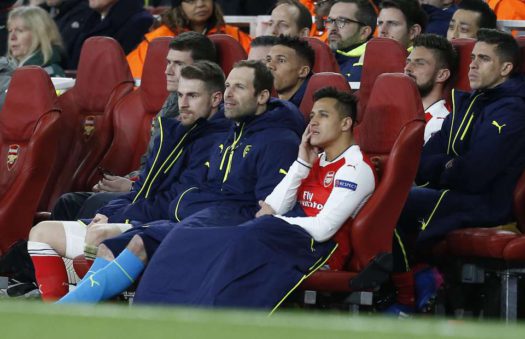 It seems as though Sanchez has lost his tether with Arsenal's annual promise to deliver, fail to achieve mantra. All is not rosy in their camp and there is potentially a situation to exploit there.  It has been noted that many players are holding court on their contract situations until the future of their manager is known.  Now could be the time to get ahead of the pack to make their intention known to the players representatives.
Marcus Rashford and Anthony Martial are two unpolished diamonds, learning their trade on that left flank for United. Of course, their time will come at United but the links to Griezmann show United are intent on upping the stakes next season. We have struggled badly for goals this year, goodness knows the numbers were it not for Zlatan Ibrahimovic consistently delivering the goods. It is an obvious area to address in the summer, which is why Griezmann is also getting touted to make the move to Manchester. A move of that nature would obviously be welcomed, but surely Sanchez cannot be discounted.
This is a man in the peak of his powers at 28 years of age. He has nothing to prove in the Premier League and could propel United into genuine title contenders once again. Earlier this season, Jose Mourinho bemoaned the fact that United can no longer cherry pick the best players from Arsenal or Tottenham for instance. With Sanchez's contract situation incredibly enticing, United have the opportunity to at least restore that cheeky, old habit of testing the water and snaring one of the division's best players from a direct rival. The long-standing prickly relationship between Mourinho and Wenger could act as a deterrent, but if United are intent on securing elite talent and delivering more goals next season, they ought to consider that similar scenario which presented itself in 2012-13 and what that delivered.