A substandard pitch exacerbated concerns over Zlatan Ibrahimović's last game with Manchester United before going on 'holiday.' Whatever else United and its supporters may have deemed untowards about traveling 3,000 km to Russia for this tie, that the young man Ibra escorted onto the pitch sported a mohawk made for an apropos match. The youngster's beaming smile as the anthem played suggested he knew it, as well.
In what may have been a career first, José Mourinho fielded a three-man rearguard. The Olimp-2 ground was thawing in the Yaroslavl Oblast spring but hell was apparently freezing over. The Portuguese's plan suggested he held less respect for Rostov's countering capabilities than he did Zorya Luhansk's. Nor did he expect this affair to mirror the technical brilliance on display between Barcelona and Paris Saint-Germain over those two clubs' amazing Champions League tie.
Owen Hargreaves, commenting for Sky Sports, astutely noticed it was only the center grass in shambles. The pitch's wide areas were in near-perfect condition. While a 3-5-2 corresponded with the home side's shape and allowed for five defenders should Rostov surprise United, it also suited conditions otherwise beyond the coach and players' control. Ibra, Henrikh Mkhitaryan, and Paul Pogba might struggle to keep the ball under control, but Daley Blind and Ashley Young on the wings would be able to provide good service.
Play was physical from the outset as the Russian side looked to neutralize United's skill advantage. United gave as good as it got, though. Mkhitaryan drew a caution for an inadvertent elbow as he attempted to bring down a long pass. Ibra had his legs taken out from under him by Alexandru Gatskan. The Rostov captain's yellow ruling him ineligible for next week's return leg at Old Trafford.
Although the substandard pitch contributed to a season low sixty-five percent accuracy rate in first-half passing, United eventually exploited the greener grass on the flanks. Marouane Fellaini brought down a diagonal pass on the left. The Belgian deftly maneuvered past two Rostov defenders, then slipped the ball into Ibra's path. Zlatan showed his sublime skill, stopping the ball from going over the end line with his left foot, then flicking it to an unmarked Mkhitaryan in the center of the box with the outside of his right as the Swede's own momentum took him out of play. Mkhitaryan calmly filled the Rostov goal's empty half to put the visitors in the driver's seat after thirty-five minutes.
Ten minutes into the second half, Rostov also took advantage of firmer footing to the outside. Aleksandr Bukharov split Phil Jones and Chris Smalling, then ran inside to chest down a perfect Timofey Kalachyv pass that Sergio Romero never considered coming out to challenge, driving it past the Argentine with his second touch. The match was level.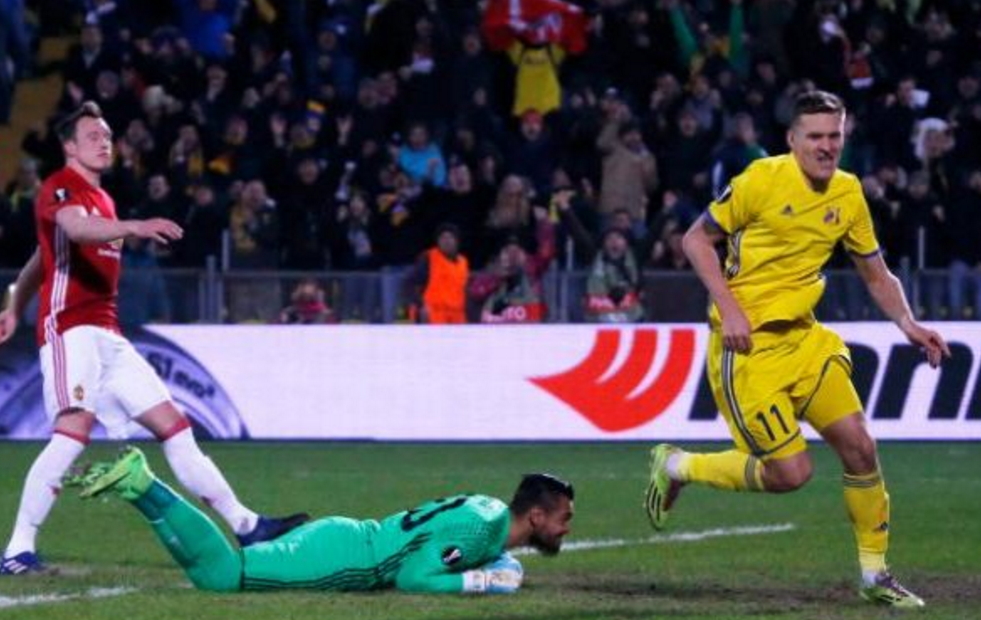 Rostov was emboldened by the equalizer and, more accustomed to playing on a substandard pitch than United were in a 3-5-2, continued to work overheads and flick-ons to test the visitors. Mourinho threw Anthony Martial on for Mkhitaryan to force the Russians to respect United's own ability to counter. United failed to make hay from two superb Daley Blind set pieces while Martial spent more time dealing with his man than the reverse. Perhaps the most significant development turned out to be Kalachyv's yellow card, leaving the Selmashi without two key players for the return leg.
One minute into three added, Mou wasted time by sending on Michael Carrick and Antonio Valencia for Ander Herrera and Blind. With ninety seconds or so to operate, Valencia created a pair of chances with his patented work from the right. Martial flubbed both.
The obvious question was what took so long? With more time, the Ecuadorian might have unlocked the Rostov defense. or Carrick may have found a crucial pass. Regardless, United come home in reasonable shape. Rostov must outscore United at Old Trafford, where the home side's skill should tell on a more pristine pitch. No one was injured and their opponents are the ones who will be without important players due to suspension. On the other hand, Bukharov's goal probably rules out any possibility United will employ a 3-5-2 against Antonio Conte's Chelsea in Monday's FA Cup quarterfinal. So, don't pack your skates for a long weekend in Hades quite yet.