Many thought Manchester United were taking a desperate last roll of the dice when they acquired the proven services of Zlatan Ibrahimovic in the summer. Riddled by two lifeless atrocities in the post-Ferguson era, United needed something to wake them from their slump. In Jose Mourinho and Ibrahimovic, they have two ingredients that can see them start to return to their former heights.
When Ibrahimovic was plying his trade in the French capital and plundering goal after goal, many saw it has a lack of ambition and the start of easing into retirement. It was more symptomatic of how bad a powder-puff French League was rather than a goal machine showing no signs of slowing up. Even before Paris Saint-Germain were blessed with having his services, many skeptics had belittled the Swede has nothing more than a loud mouthed ego. The widespread aberration from naysayers was that he was this Nicklas Bendtner Mark II. Why have a flash bastard when you can have a solid dependable forwards like Andy Carroll.  All talk, all bravado but never 'doing it' when it mattered. Only Zlatan can back up his confidence in himself with the numbers, silverware and accolades to match.
This United side have been devoid of characters, big names and personalities in recent years. People who would grab a game by the scruff of the neck when the chips were down. United were convincingly outplayed for the majority of the EFL Cup Final. Southampton, with vibrancy and energy in abundance, deserved to win the final, or at least to get to extra-time.  However the script, hand written by the Swede himself, had Ibrahimovic's name all over it. Because that is how big game players gain their reputation. You just knew when Ander Herrera floated that beautiful cross into the box there was only going to be one outcome. Ibrahimovic has already written himself into United history. What should have been the Gabbiadini final will always be remembered as the Zlatan final.  Reds fans were already celebrating even before it hit the roof of the net.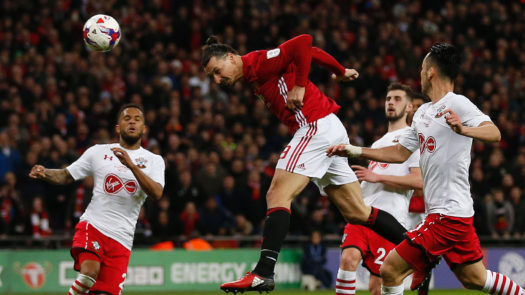 As soon as he set foot in Manchester, Ibrahimovic set out his stall. Players have wilted and buckled under the intense spotlight of playing for United. Others embrace it. Ibrahimovic falls into that category and draws huge similarities with the legendary Eric Cantona, who himself was entrusted with being the catalyst for greater things after a period of decline. Both arrived with huge personalities and a swagger fitting of a club of United's stature. Both had an incredible self-belief that can only be infectious on the younger players who are still learning the ropes and not achieved what Ibrahimovic has. They brought this infallible winning mentality and the ability to drag others through when the going got tough.
Ibrahimovic has won everywhere he has been and this Midas touch is paying dividends already at United. Their unrelenting title winning sides year after year were soaked in tough players with nothing other than a first is everything mentality. United have now won 3 trophies in the past year and have started to replicate the attractive, entertaining football for good measure too. Ibrahimovic bailed United out on Sunday, but it does not describe how you won a final when your name gets engraved onto that silverware. It was hallmarks of vintage United: Winning games in the dying embers, pulling rabbits out of the hat in a game changing moment.
United unearthed two unpolished gems last season in Anthony Martial and Marcus Rashford. Credit has to go to Louis Van Gaal for that. Many thought that their progress would be stunted with them having to play second and third fiddle to Ibrahimovic as the main striker this season. For their limited time centrally this season, and perhaps the next too, Ibra's arrival could be the best thing that has happened to United for a good while.
You do not get more proven track records than that of Ibrahimovic's. He is a born winner and the amount of knowledge he must be passing off to these youngsters, not just on the pitch but also in preparation, how he maintains fitness and goes about his day to day life, can only serve these guys incredibly well. Le Roi brought about a change in mentality and the whole dynamic, Ibra is surely having the same effect. You feel just watching from the stand that you are in the presence of greatness, so imagine what rubbing shoulders with him on the training pitch and dressing room is like.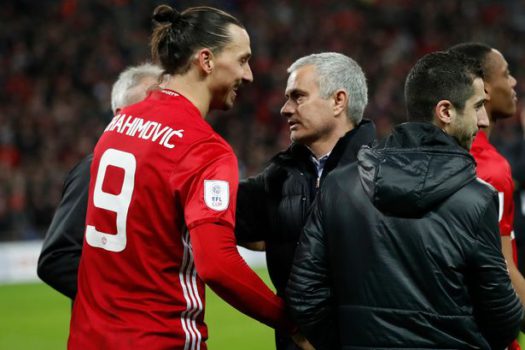 Martial and Rashford will undoubtedly get their time in years to come to become mainstays at United for as long as they want. These two apprentices are learning from the master, and he is a master. He has come to England and won hearts and minds of United, but also proved to the doubters that he is in fact the real deal.
United have the option, and what an option, to extend the Swede's stay by another year. Truth be told, he is as indispensable as they come. United can ill afford to lose a man of his calibre, stature and presence. He has shown no signs of let up this season, surely eclipsing 30 goals in a season for the first time since Wayne Rooney's golden 2011-12 season. Ibrahimovic has rubbished speculation that his stay hinges on whether United can return to Champions League football. He can clearly see that, with Mourinho at the helm, United are gradually showing signs that a return to prominence is not too far away.
Whether Ibrahimovic eventually can say he has won the league in England or not, he has left an indelible mark on United's history and is helping restore some good old familiar feelings of winning silverware. He has helped United rediscover that winning feeling and is leaving his mark on our great club. Hopefully, we will see plenty more of Zlatan next year too, but if United return to a period of success, we sure as hell will be seeing Zlatan's imprint. The effect he is having at United is extraordinary.
Typically, Zlatan is stealing the show and is potentially leading United into another era of success.